Happy holidays! Are you in a panic or as calm as a silent night?
Thought I'd share what I've been up to besides workshops.
Behold! I bring you tidings of great joy and sparkles! I've been baking and decorating for a Wilton Treat Team Member Secret Santa Cookie Exchange project that will be revealed on Friday's blog post! Here's a sneak peek – a very tiny sneak peek as in tiny fondant decorations I'm making for the cookie decorations. Shhh, it's supposed to be a surprise!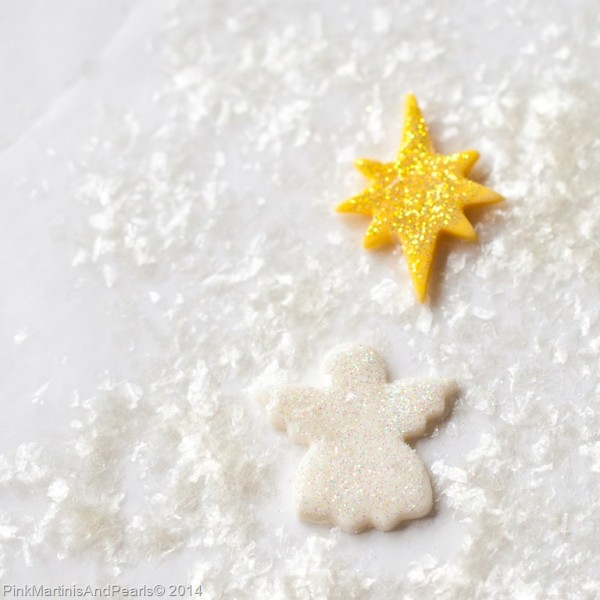 I'm also adding professional gift wrapper to my resume by request this season, so I'm setting up shop on Thursday night and the gifts will be arriving. It'll be fun!
To thank my friend, Shelly, for her assist at my West Elm OC Cookie Decorating Workshop, I wrapped up something special for her and added these mini spatulas from Sur la Table nestled into the bow.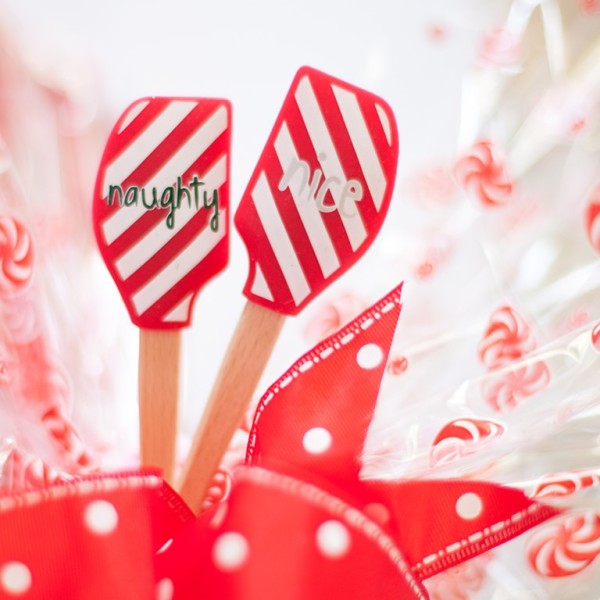 Sur la Table has the cutest holiday themed goodies this year. My candy cane striped mug and snow flake mug were a couple of my favs. I use them each morning to hold my hazelnut girlie-brew. I don't know if it's the caffeine or the cheerfulness of the cups themselves but by 8:00 AM I've got my fa-la-la-la goin' on!
Speaking of Sur la Table, last Sunday I took a holiday mac class. I've taken a mac class before a couple years ago, but since I don't make them regularly I like to keep up my skills. Lauren at Newport Beach was a great instructor. Learned so many little tips from her. Did you know for macs to keep their color while baking you need to almost over color the batter before baking? Covering the baking macs with foil after 3 minutes in the oven will also prevent them from becoming brown. Continue baking another 4 minutes. Wow! Who knew? I don't remember that tip from before.
Here's our pistachio mac with rum buttercream, gingerbread with orange buttercream and peppermint with dark chocolate ganache with the rim dipped in crush peppermint candies. I also met the nicest gals in class. Win-win for me!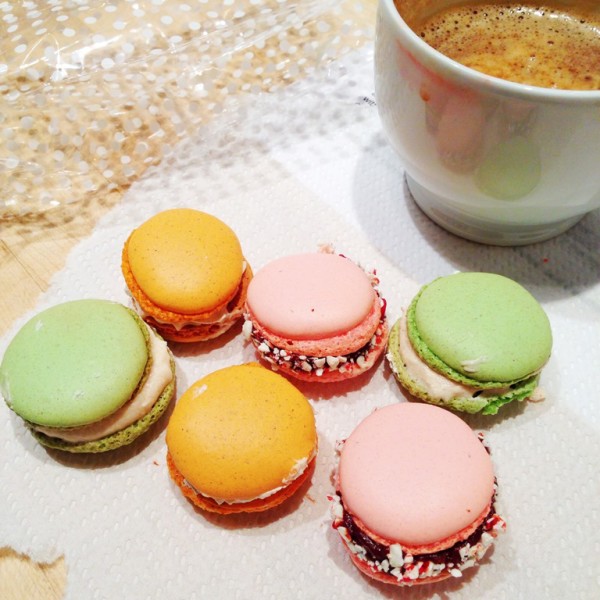 Thanks to my mac crush, a tamis is on my Christmas list. Just in case, you know.
We also managed to have a short trip overnight to Pasadena to celebrate our good friend's surprise birthday party. I baked my OC Fair blue ribbon winning Dutch apple pie for him as apple is his favorite. He was happy to supple the side of ham for the camera. Funny fella.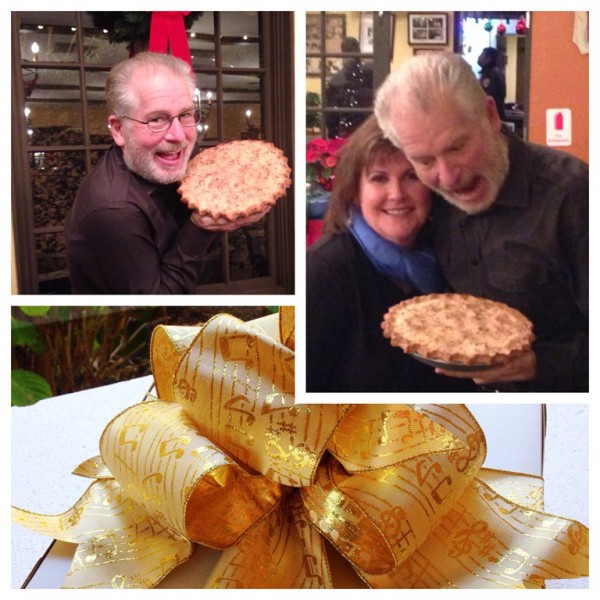 After the party, we went up to Colorado Blvd. and had a night cap at one of our favorite outdoor cafes and people watched for awhile. It's always entertaining.
Of course, we had to sample one of their signature pastries. Oh my, so delish. I enjoyed deconstructing it and we both enjoyed sharing it. The things I do for my art.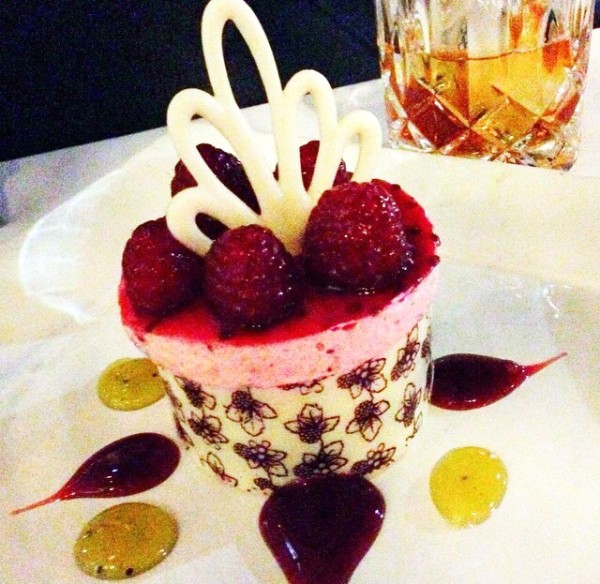 The next morning we awoke to the bells of the church where my mom attended high school. We could see the the bell tower from our room and it made me miss her knowing this place was such a big part of her life. It was hard for me to leave that day.
All these snaps are on my Instagram page which I have a lot of fun posting images I take here and there that don't add up a complete blog post.
I've also been working on a new blog design that will have gallery pages for easy organization and searches and the ability to print recipes! Yay!
I hope you're having a good holiday season! Please come back on Friday for some fun Christmas cookies!