I love the celebrations of weddings and the anticipation of the big day. I've had the delight and honor to be involved with numerous nieces' and nephews' wedding preparations from making hundreds of rosettes to hang to baking and decorating hundreds of cookies favors for every guest to enjoy so when Shutterfly asked me to style and photograph a bridal shower theme party using their products of my choice, I couldn't wait to get started on a bright and fun event but I didn't stop just at the bridal shower.

Among the sherbet, macarons and hand-painted decorated cookies, you'll see six of Shutterfly's products that I customized to be part of the dessert table, but wait there's more! I'm also sharing ideas on customizing fun little personal gifts for a bridemaid's spa day and pillows for the sweetheart's table at the wedding reception.

But let's start where all the inspiration began…

The Invitation

With so many colorful and fun invitations to chose from I decided on the Floral Watercolor Bridal Shower invitation for its fresh contemporary feeling. Like many of the invitations available, I had the choice of which color I wanted to feature.

This invitation immediately gave me the idea to decorate cookies that resembled the watercolor flowers on the invitation.

To decorate the cookies, I took a short-cut and bought packaged cookies that were round and flat. After the shock that I actually bought cookies while betraying my oven and liking it, a lot, I cut out rounds of rolled fondant a little smaller than the cookie and painted the cookies using luster powder in pink and orange for the flower and blue for the leaves. For the 'paint', I mixed each powder with a few drops of lemon extract for the consistency I needed. That's all there was to it. A few swirls for each cookie and you've got mini masterpieces ready to serve up.

"Advice for the Bride"

The dessert table is a perfect place for a little shower fun. When I saw the Shutterfly notepads I was inspired for guests to share their advice with the bride and drop it into a decorated box to be read by the bride-to-be. The notes, in each guest's own hand, I feel, are also cherished keepsakes.

I chose two pads Bubble Up and Flower Power.

Flower Power's colors and style go perfectly with the invitation's swirly floral design.

I customized the notepads to be titled – "Advice for the Bride".

When I saw the Bubble Up notepad, I just had to include it as well. On this design, each bubble has a heading space so I designed mine with the titles –

Entertaining
Gardening
Cooking
Happy Hubby
Homekeeping

What advice would you give a new bride in each category? It's fun to think about.

Making the wrapped box to hold the notes is simple. There are two ways you can do this –

1. Wrap the top and bottom of the box separately (I used a shoe box and stood it up on end to give it some height on the table) so the top can be lifted off to retrieve the notes.

or…

2. Completely wrap a box where the bride will have to rip it open to reveal the slips of advice. I think this way is kind of exciting!

Whichever wrapping you choose and whether its displayed vertically or horizontally, take a craft blade and cut a slit in the top to drop in the notes. I did this after I wrapped the box and tucked the wrapping paper edges into the slot.

Finish with color coordinating ribbon.

I also found a pretty frame and printed "Advice for the Bride" on cardstock to add to the table display.

If you like the entire "Advice" theme, you could also include a notepad sheet along with the mailed invitation and print up a little description on the back of the invitation. Did you know Shutterfly lets you design the back of the invitations and announcements? I love having this option available to add a little something extra as directions or bridal registry information.

Acrylic Photo Blocks

Who is this pretty girl in the acrylic photo blocks? It's the lovely Rebecca June. She's my easy – breezy, best friend's Suzi's daughter who was nice enough to let me take my pick among her hundreds of beautiful engagement photos.

I chose two black and white photos for the Acrylic Photos Blocks. These acrylic blocks are gorgeous! They're 1" thick and crystal clear. It's such a clean and contemporary look. Ordering was very easy. There are two sizes to chose from 5×7 and 5×5.

Gift idea – The photo blocks would make a thoughtful gift to present to the mother-of-the-bride at the end of the shower. And let's not forget the mother-of-the-groom too! Hopefully, someday I'll be one, twice!

You'll find the Acrylic Photo Blocks under the Home Décor tab.

One very nice feature of the Shutterfly site was that I could upload all my photos and then decide what products I wanted to use them on. You'll find this feature under the "My Shutterfly" tab.

The page also keeps track of all my history so I can go back and edit at a later time if I haven't quite made up my mind in one visit. I usually take my sweet time on decisions like this so I really appreciated this feature.
Water Bottle Labels via Address Labels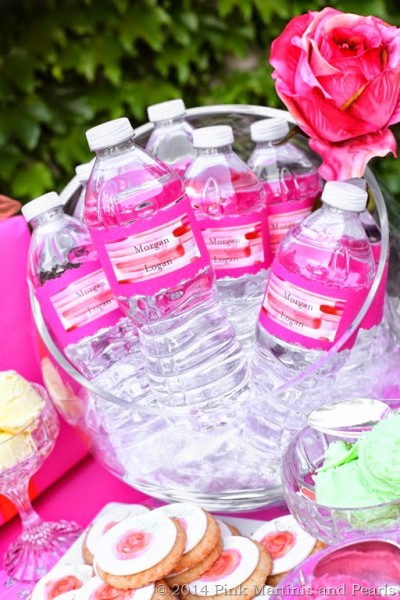 Making personalized water bottle labels could not be any easier! To keep the theme of watercolors going, I found the perfect label under "address labels" called Watercolor Love Girl.
Instead of inputing an address, I customized the label with "Morgan + Logan". Logan is my maid-of-honor's son who is getting married at their lovely home in 2 weeks!
You won't believe how easy these bottle labels were to make with the address labels –
1. Take the original paper label off the bottle. Save one to use as a template.
2. Using the template, cut strips of colored paper to coordinate with the party. I cut mine a little wider than the original label so I could cut my strips using scissors with a decorative edge.
3. Wrap the color strip around the bottle. I found the adhesive on the bottle was enough to adhere the strip but you could also secure with a small piece of tape.
4. Place your personalized "address" label on the front of the colored strip of paper.
See? How easy was that?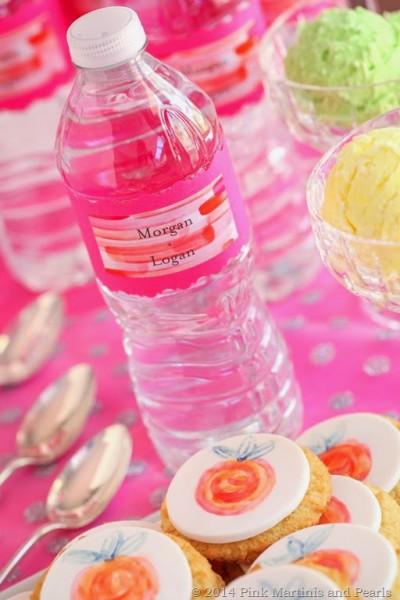 Bridemaid's Spa Day
A spa day with your best friends. I can't think of anything more enjoyable with a group of gal pals. Before being pampered and pedicured, let's really make it a day to say thank you to the lovely ladies who will walk down the aisle with you.
I'd pamper them with fun personalized gifts that showed them how much their support and friendship meant to me.
Tapping into the friendship of my niece, Mizz, and her best friend, Kristen, I put together a Shutterfly Tote Bag full of friendship goodies.
How adorable is this tote with their picture on it?
I could envision a row of these totes lined up to greet the girls when they arrive at the spa with photos of the bride and each one of her bridesmaids. No mistaking whose tote is whose. And how about a personalized luggage tag to go along with that tote?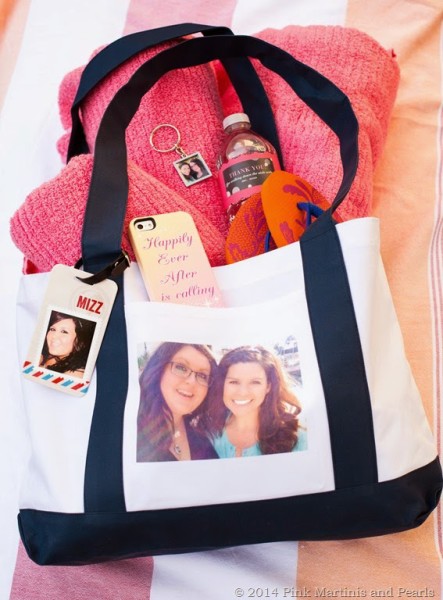 I chose the two-sided metal tag, Stamped In Love with the buckle strap. I love this. On the back of the tag you can customize it with anything you'd like – London, Paris, Rome, or any global destination you care to call home. You'll find more luggage tags under the photo gifts tab.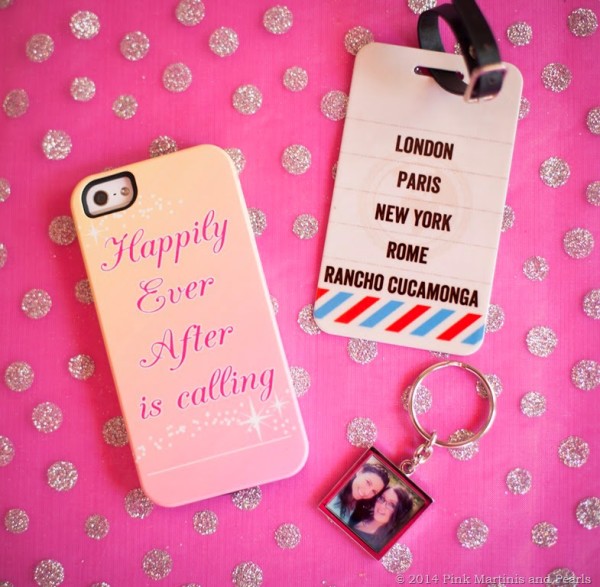 Check out this cute-as-can-be The Keys To Your Heart pewter key ring! It's bright and shiny, small and compact at 1" x 1" but holds lots of love. I'm thinking couples, grandkids, pets… a nice remembrance to dangle and catch the light.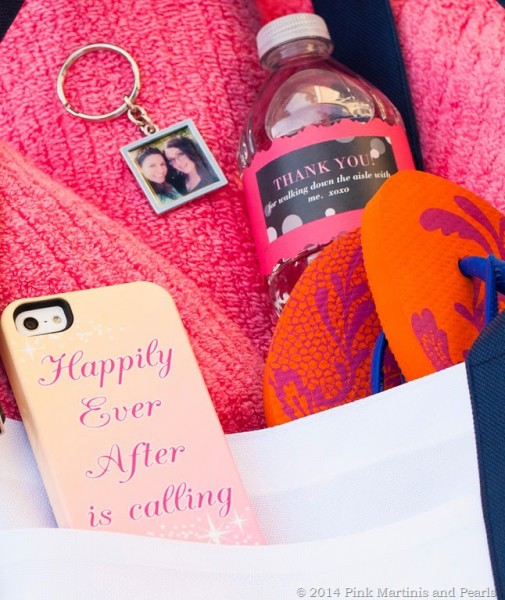 And yes! I even designed a cell phone cover and downloaded the file! I used the Photo Gallery case which gave me a blank slate to work from. I had never heard of a silicone liner for a phone case before but after one recent drop of my phone that rendered it useless, I wish I had a liner. I'm loving this added protection this case offers.
Notice a recurring idea? I used the address labels Over Time in pink and created them for the spa day the same way as for the water bottles for the bridal shower.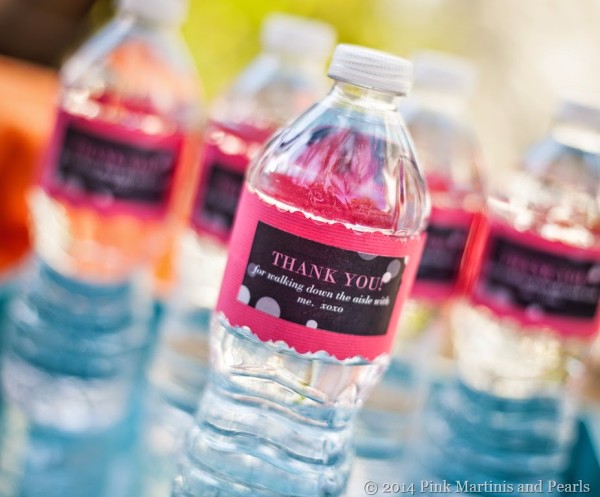 A little side note here – A service from Shutterfly that I used and found invaluable was their customer service line. I was able to 'speak' to a real person online that helped me figure out a few pixel resolution questions I had for the tote bag and pillows that you'll see below.
When creating a photo item on the website and downloading a photo to use, you might get a little pop-up that tells you if your photo resolution is too low for an optimum printing outcome. This happened to me a couple times when I tried to use my niece's images from her Facebook page. Knowing what would work and what wouldn't, via the customer service rep, was a huge time saver and frustration buster for me. They walked me through a project when I needed it and directed me to a page where I found which image resolutions are recommended for certain products.
Romantic Pillows for the Wedding Reception
If you think Shutterfly is all about fabulous photos books, invitations and announcements, you're in for a big, beautiful surprise. Have you experienced their Home Décor section? I say 'experience' because it will blow you away!
When I saw they offered pillows with my own images printed on them, there was no holding me back! I thought it would be a sweet touch to add a little decoration to the chairs at the bride and groom's sweetheart table since these imitate settings are a center of attention.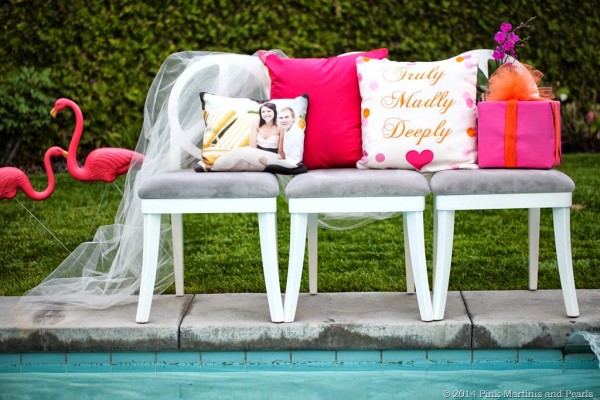 Many reception venues have lounge areas for guests to mingle so wouldn't a few personalized pillows add to the sweet ambiance of the day and then they can take their place on the master bed?
I used the Photo Gallery pillow because it gave me a blank slate to work with. I began with the sizes I wanted to use – 12 x 16 and an 18 x 18.
Since I wanted to design a graphic for the larger pillow, I utilized Shutterfly's customer service to guide me to what resolution my artwork needed to be.
Both pillows turned out better than I ever could have imagined. I was so excited to receive them! I am truly, madly, deeply in love with them.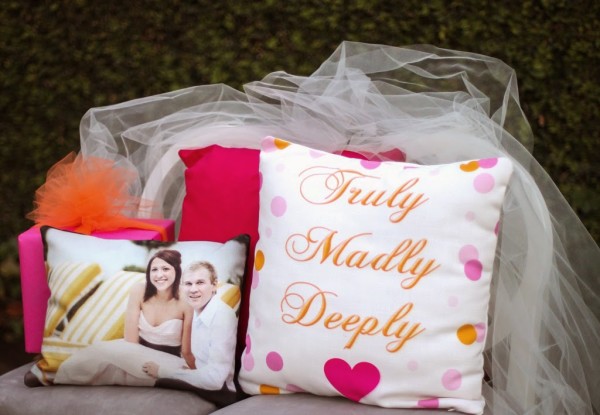 I hope this gives you some ideas and inspiration to use for any celebrations in your lives.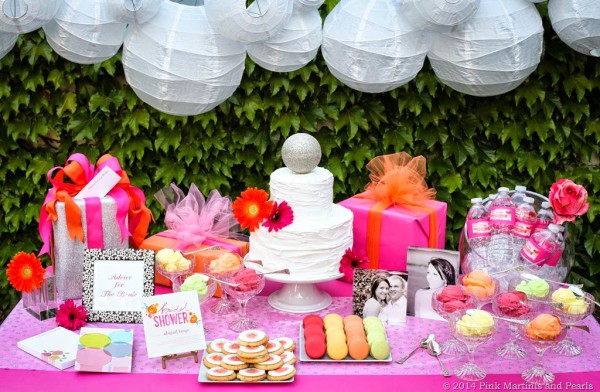 Thank you for visiting today!
Featured Shutterfly Products –
Invitation – Floral Watercolor Bridal Shower
Notepads – Bubble Up and Flower Power.
Acrylic Photo Blocks – Acrylic Photos Blocks
Bridal Shower Water Bottle Labels – Watercolor Love Girl Address Labels
Tote Bag – In the Bag Tote
Luggage Tag – Stamped In Love
Pewter Key Ring – The Keys To Your Heart
Cell phone cover with liner – Photo Gallery
Spa Day Water Bottle Labels – Over Time Address Labels
Pillows – Photo Gallery
This is a sponsored post. I received compensation and/or product from Shutterfly. All opinions and endorsements of the products I mention are my own. If I didn't love them… you know. 🙂
Acknowledgements –
Thank you to Shutterfly. Your products always inspire me and I love working with them, and you!
Rebecca June – For the use of your lovely engagement photos.
Mizz and Kristen – For your bestie photos. Obviously "the two best friends anybody could ever have".
Suzi – For the use of your beautiful private collection pieces and assisting me in 100+ heat. We melted but the sherbet didn't!
Cake and decorated cookie designs by Marilyn Johnson