Only the most glam birthday cupcake would do for my wonderful friend, Suzi, and her most fabulously stylish daughter, Rebecca June, who describes herself on her blog as an ~
Interior Designer. Jewelry Addict. Clothes Horse. TV Junkie. Wife and Mother to a Rescue Dog.
Suzi and Rebecca sparkle. Some people just seem to do that.
I knew my design had to include glittering stars – (made from thinned royal icing, piped and filled in on top of cloth covered wire and sprinkled with pink and rainbow Disco Dust, of course)…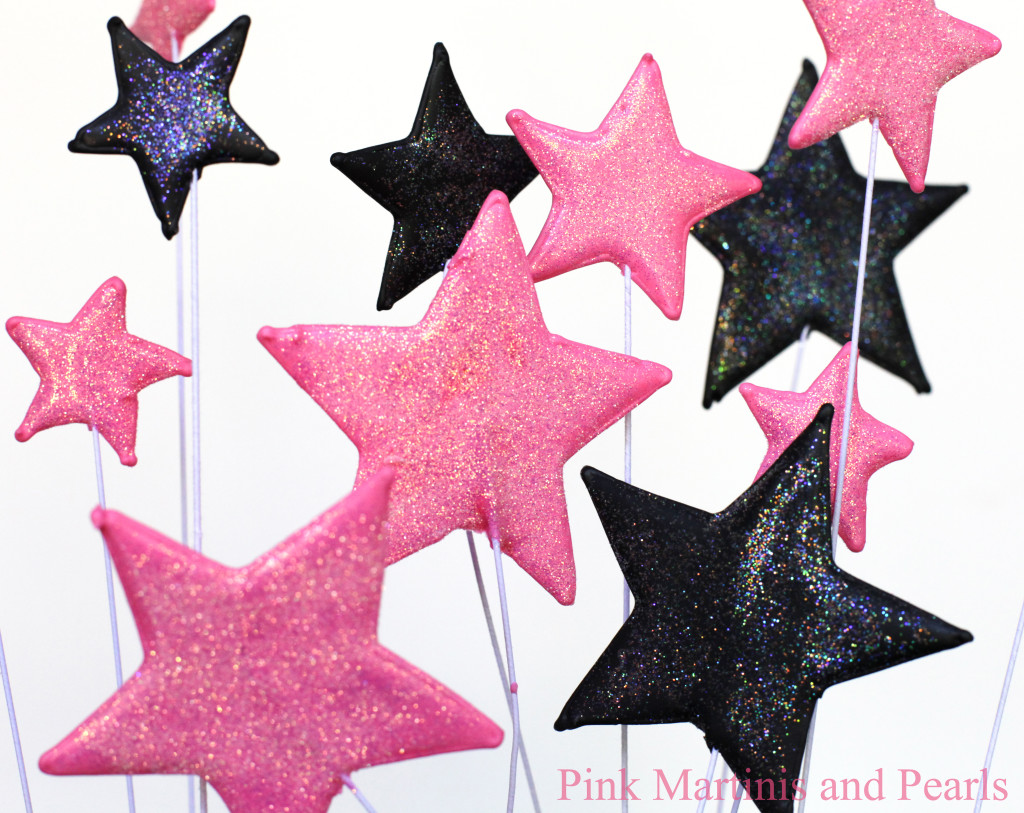 … and ribbons galore (made from gum paste, which dries hard, and twisted into festive shapes then brushed with pink pearlized luster powder on the pink ribbons and rainbow Disco Dust on both colors).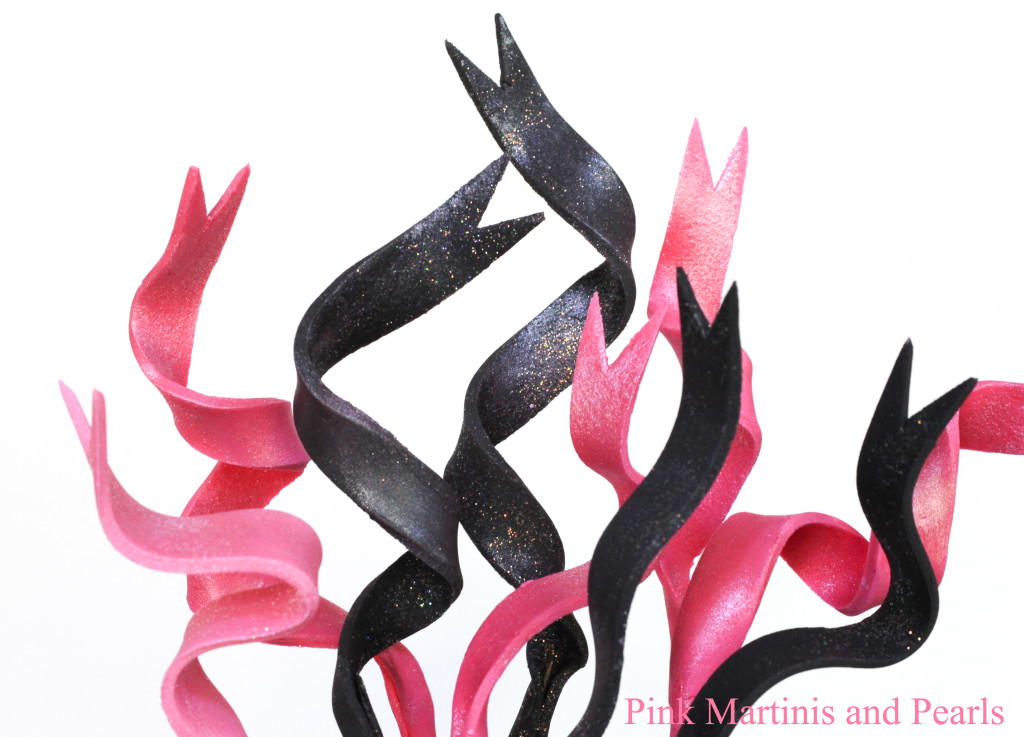 Both brought together…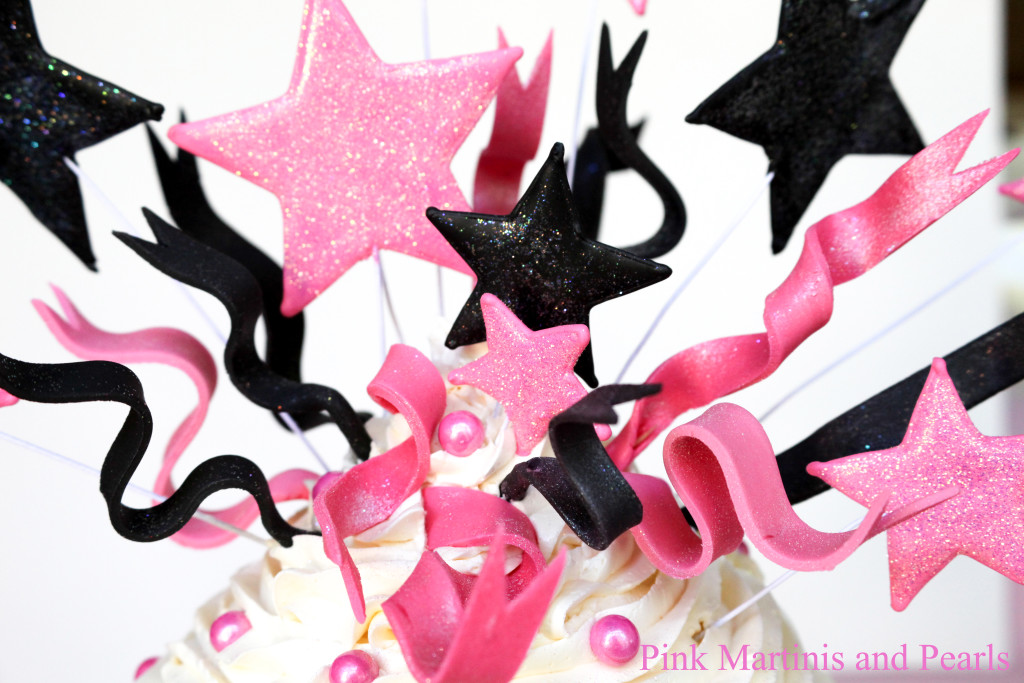 …for one spectacular celebration and one very festive birthday cupcake!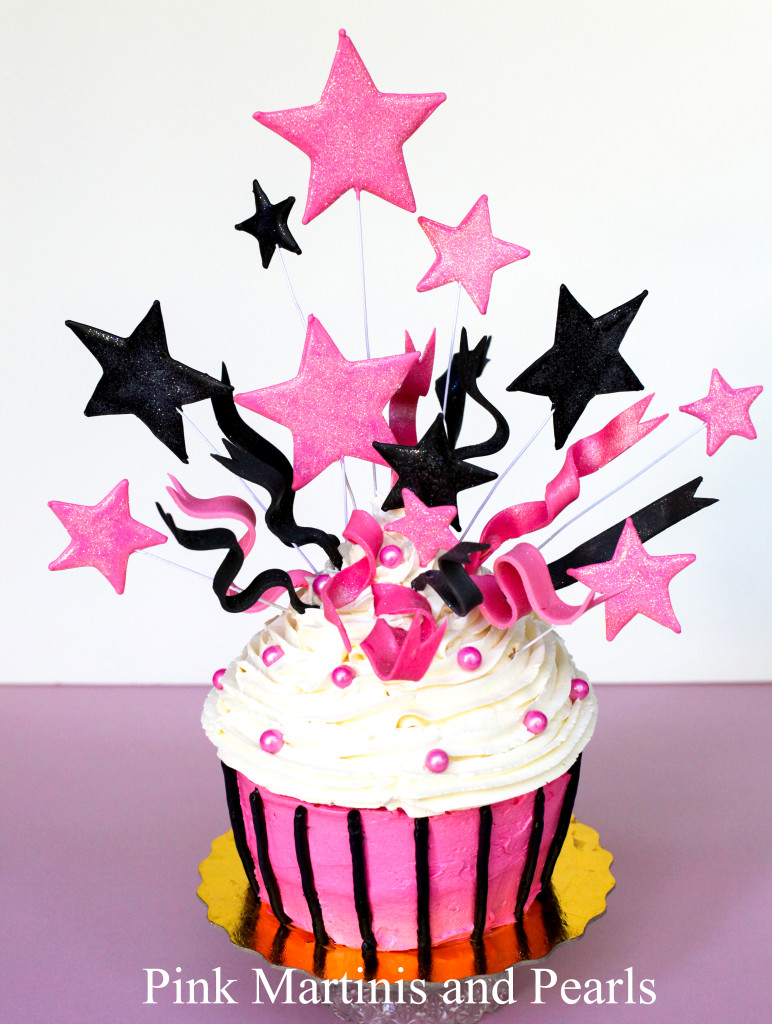 For the big cupcake, I started with the Wilton Jumbo cupcake pan. It's one pan that makes a separate base and top. There's a recipe on the cake pan box but I used 2 boxes of Funfetti cake mix, the birthday girl's favorite. The base of the cupcake takes 4 cups of batter. I then filled the top of the cupcake pan and had enough batter remaining for 9 regular sized cupcakes.
Do you know how to make a regular white cake a Funfetti cake? Add a handful of colored jimmie sprinkles. Something I might do in the future when I have assorted jimmies on hand but the Funfetti boxed mix worked just fine.
Bake to baking, I found the top of the jumbo cupcake baked quicker than the bottom part so I laid a small plate on top of the bottom part to keep it in the pan and flipped the cupcake top out and baked the cupcake base awhile longer. When I first poured the batter into the pan, I was tempted to insert a metal rod into the cupcake base from a dome cake pan I had to make sure the center of the cake was baked to perfection but I wanted to see how well it baked on it's own since this was the first time I had used the pan. It turned out fine with a little more baking time although it started to brown a little more around the outside edges.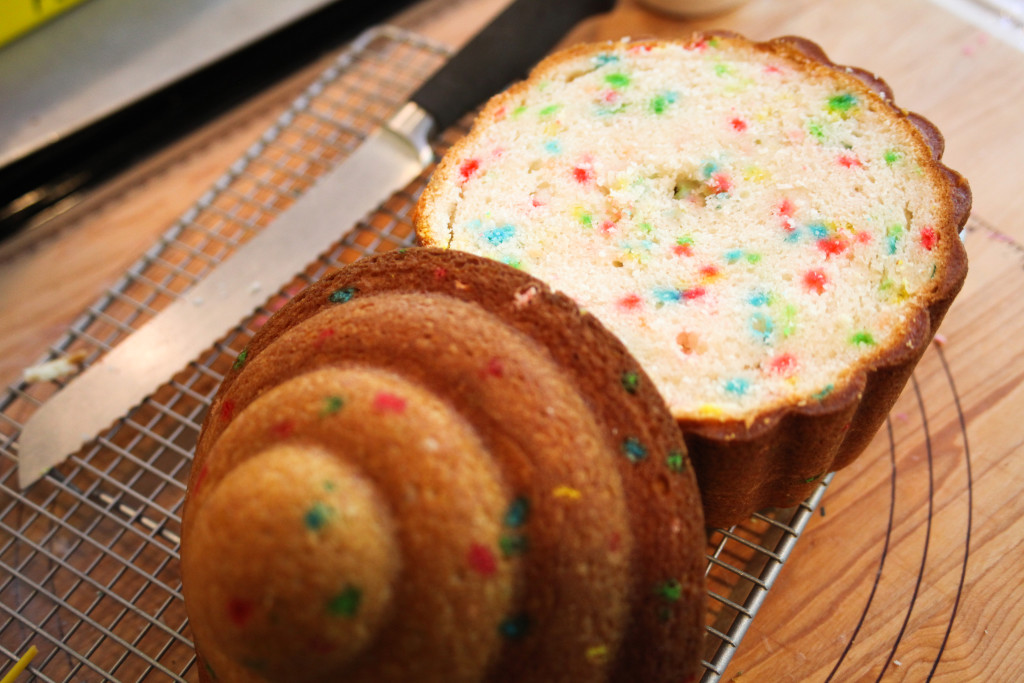 I cut off the domed tops on both the top and base. I also cut the base horizontally to add a layer of icing as you would for a layer cake and iced the top of the base before adding the swirly cupcake top. I would recommend icing and decorating the base before adding the top.
Oh my! Not more Tushie Cookies! The birthday girl has an obsession or should I say "collection" of pretty little panties. My recent philosophy is, "Those who can wear them – do, and those who can't – bake and decorate. I guess you know which side of the cookie I frost. lol!
Rebecca's hubby Jim loved the special 'tushie tat' in his honor.
You'll find more 'Tushie ' Cookies at these links:
'Tushie' Cookies I – Bridal Shower
'Tushie' Cookies II – Valentine's Day
'Tushie' Cookies IV – "Gone Wild"
'Tushie' Cookies V – "Surf's Up" Bikinis
'Tushie' Cookies VI – Bridal Shower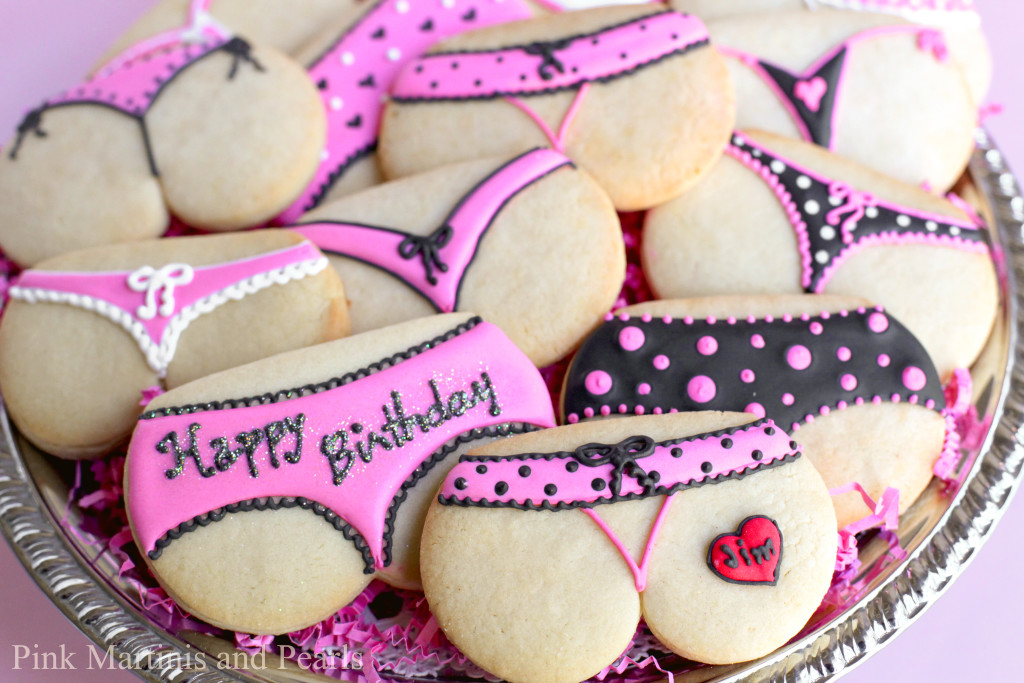 A whole plateful of pink party panties just for Rebecca!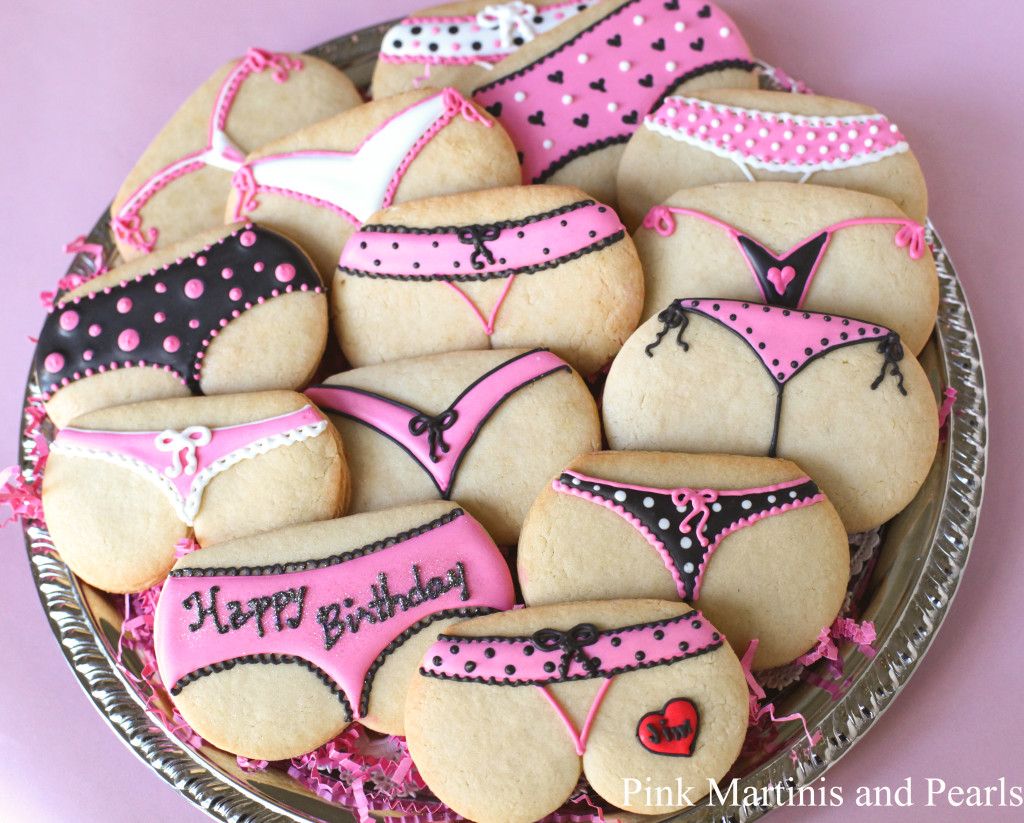 I hope to share photos with you of the party when they are sent to me since I didn't bring my camera to the party and Suzi did an incredible job of decorating. There's something about bright pink balloons hanging from sparkling crystal chandeliers that is magic.
If anyone has questions about working with the jumbo cupcake pan and decorating it, feel free to ask.
Have a great week ahead!