Last weekend, we, along with other Theta Chi parents, had the pleasure of spending a special parents' weekend with our sons.
I made a few batches of chocolate chip cookies and Theta Chi cookies with Greek letters and the fraternity flower – the red carnation.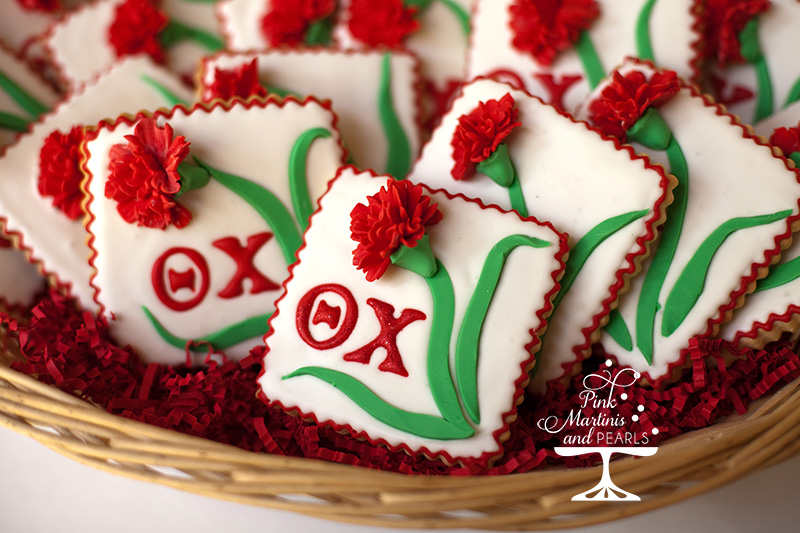 The Greek letters are made from thinned royal icing that has been allowed to dry and harden. They peel off the waxed paper. I then placed them on top of the white wet royal icing.
Recipes for sugar cookie dough and royal icing at the end of this post.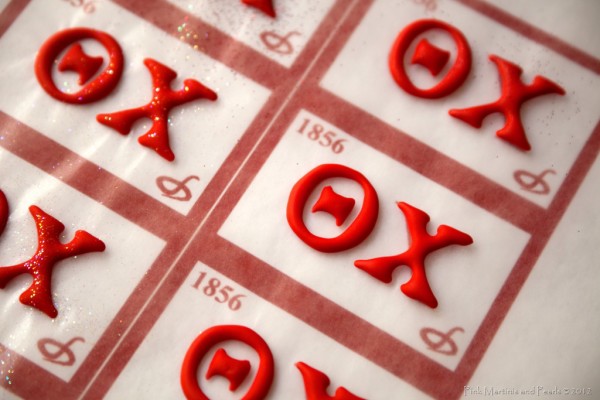 The carnations are made from red fondant. A cutter is used to create the base shape. I then rolled the ended of the petals with a toothpick to thin and ruffle the edges. I placed two ruffled rounds together, folded them over and pinched the stem end to cover with a bit of green fondant. I cut the leaves and stem free-hand with a knife from rolled out green fondant.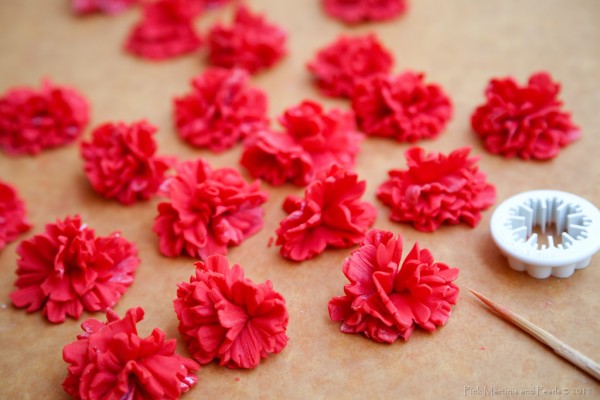 BBQed Tri-Tip greeted us Friday night at the fraternity house. The boys even wore plastic gloves in handling the food. Very impressive.
But what was even more impressive was many of the boys came over to me to tell me how much they appreciated the cookies and how much they liked them. So sweet. Who knew chocolate chip cookies went so well with beer in red cups!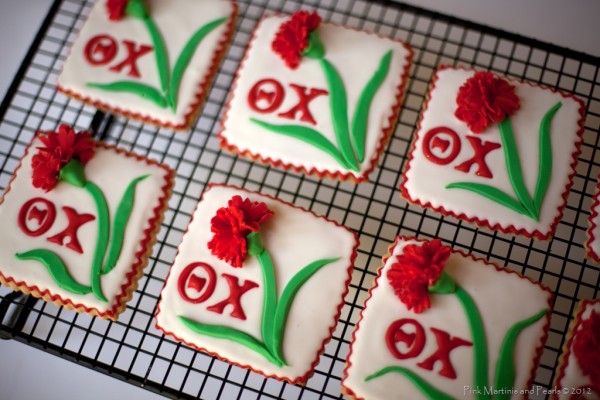 On Saturday morning, the parents and sons met and hopped on a chartered bus to tour three wineries they had planned for us to visit in Paso Robles.
The temperature had to have been at least 15 degrees hotter than on the coast. We learned it was one reason this area is known more for their red wines as white wines need a cooler climate to grow. I found this really interesting.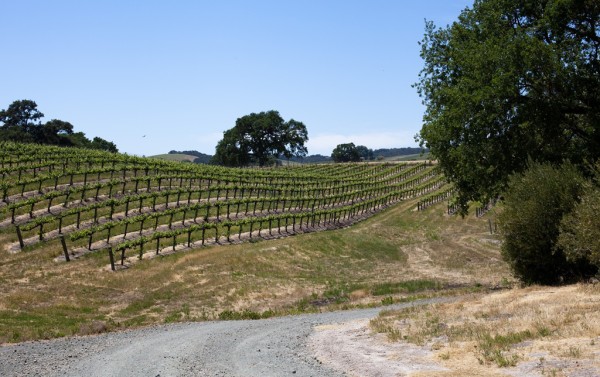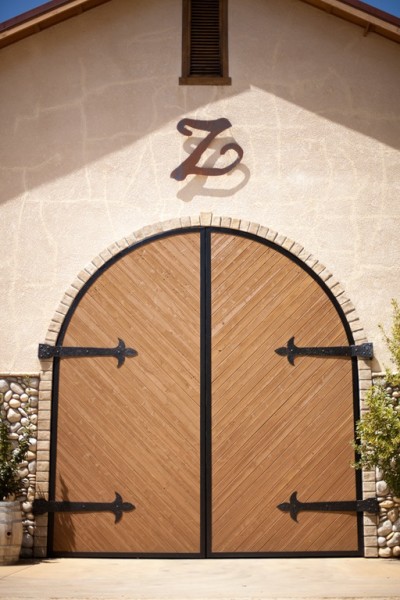 Our group.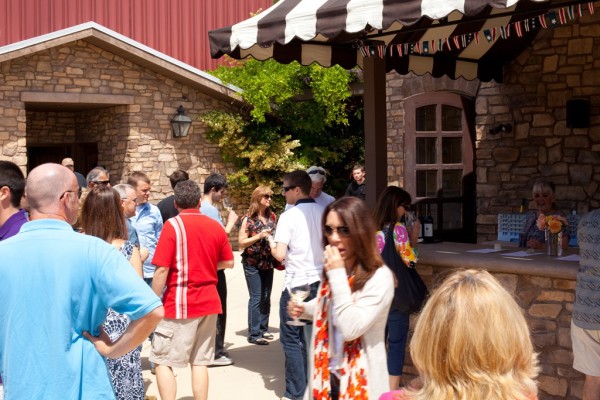 In one of the wineries, one of the boys just sat down at the piano and began to play. It was so delightful. Many of us thought it was a player piano but no, this bro had talent and was nice enough to share it with everyone!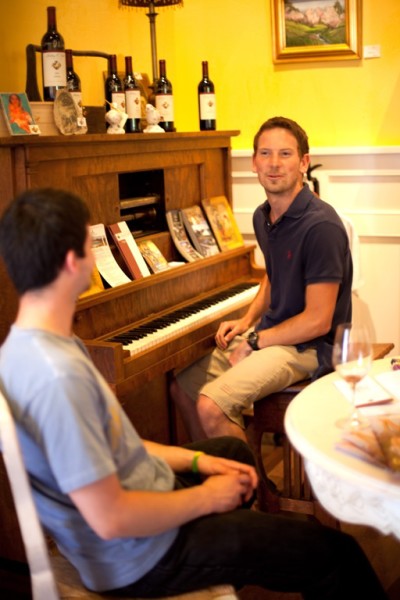 Loved the rusticness of the surroundings.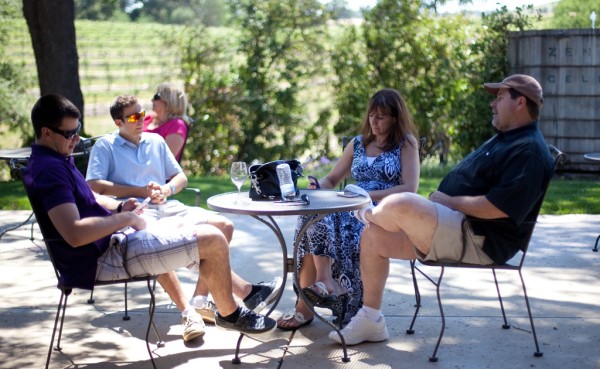 At the second winery, the boys set up lunch for everyone.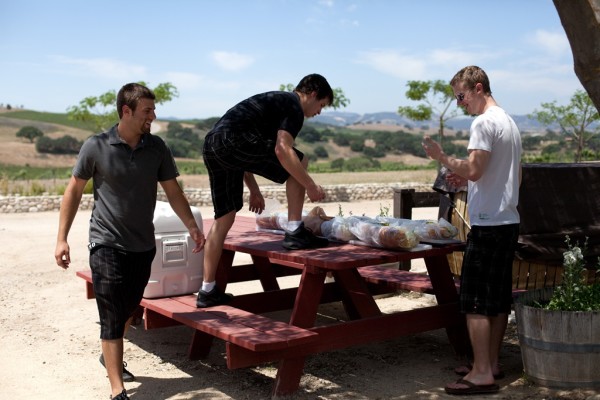 We ate sandwiches and tasted various wines sitting under the grapevines.
Two words – Zinfandel Port
Oh my. Mama like. A lot.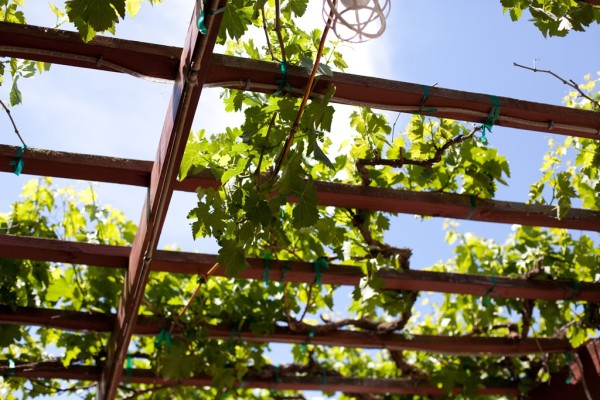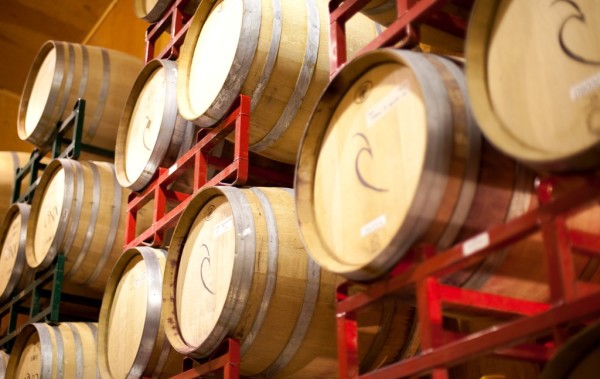 Apparently I can only take photos of cookies in focus. My aperture was set too wide at 1.4 and I was set on manual. The photo op was happening so quickly I was lucky to even get this one.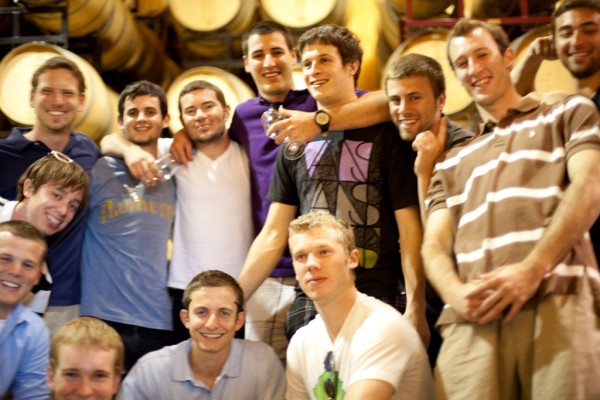 Fill 'er up, pour favor.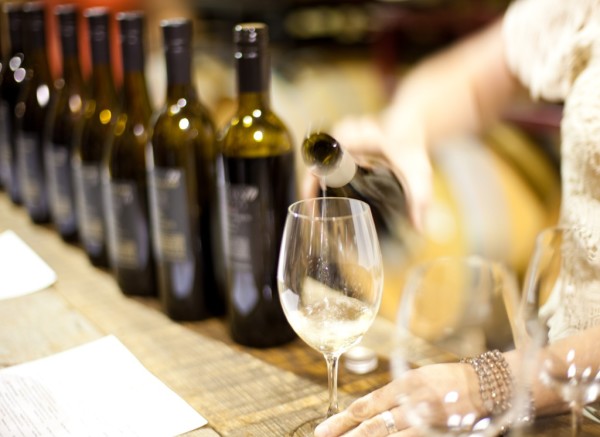 We returned around 3, took a nap and got ready for the banquet. The silent auction and dinner was very nice and both of my baskets found happy new homes.
The president of the fraternity decided he wanted everyone to see the cookies so he had someone go back to the house to pick them up. He was going to have the house bid on them but I explained they were a gift for the house. I thought they would have been eaten by Friday night but I guess they were a little intimidating being highly decorated. It was a sweet and thoughtful gesture.
A parent bid on the cookies for $35 and handed them out to the boys at the dinner. Very nice of her to give an additional donation.
I have to say every one of these boys were complete gentleman. I didn't hear one word that even came close to a curse word the entire weekend and I saw more arms around moms for pictures and impromptu hugs and affection given freely.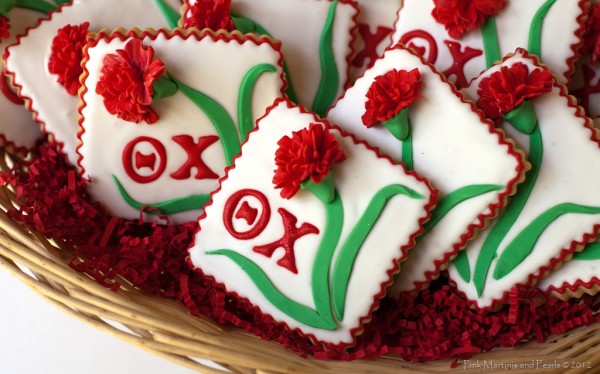 Sunday morning I was treated to a wonderful brunch with my son and husband sitting creek side underneath hundred year-old oak trees.
It was a perfect sunny side up weekend.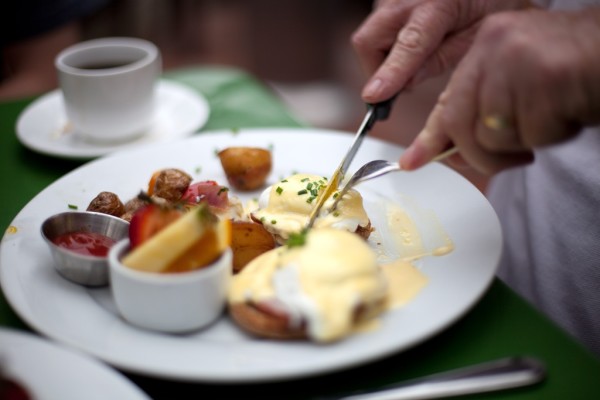 I hope it was for you too!
Sugar Cookie Recipe for Cut-Out Cookies:
3 3/4 cups all-purpose flour
1 1/2 tsp. baking powder
1 tsp. salt
1 cup butter
1 1/2 cups granulated sugar
2 tsp. vanilla
2 large eggs
Preheat oven to 375.
Sift flour, baking powder and salt. Set aside.
Cream butter, sugar and vanilla until light and fluffy.
Add eggs one at a time beating well after each addition.
Slowly mix in dry ingredients until just blended.
Divide the dough into 2 flattened rounds and wrap in waxed paper.
Placed the wrapped rounds in a plastic bag and chill until hardened, about 1 hour.
Roll dough on a lightly floured board to 1/8 inch to 1/4″ (1/4″ is my preference) and cut with the cookie cutter of your choice. If you are not icing the cookies after baking then you can brush them with milk and sprinkle colored sugar. Bake in the top 1/3 of oven 10-12 minutes.
For softer cookies (not recommended for iced cookies), roll a little thicker.
For slice and bake cookies, shape dough into a log about 2 inches in diameter and chill until completely firm or freeze. Slice 1/4 " thick and bake 10 minutes until firm but not brown.
Click HERE for a step-by-step photo tutorial for mixing, cutting-out shapes and baking sugar cookies.
Royal Icing Recipe
Royal Icing:
1 lb. Powdered Sugar (does not need to be sifted)
3 Tbl. Meringue Powder
6 Tbl. Hot Water (from tap is fine)
Make sure your bowl and whisk attachment is grease free.
Why grease free? Grease and egg whites don't mix and the whites will not rise. Give both a pre-wash if they've been sitting unused in your kitchen for awhile.
With a whisk attachment beat all the ingredients on high until fluffy.
Do not under beat. I mix for at least 8 minutes.
Put the icing immediately in a container with a tight lid to prevent it from drying out.
If I know what colors I am mixing I will divide the icing into small containers with lids or fold a wrung out paper towel to cover. The very small Glad disposables are good so you can have a lot of them ready to go and they are inexpensive. The best part is if you get tired of seeing icing and don't feel like washing at the end of your creativity you can throw them away. I do this with disposable piping bags. Get a bunch and make your life easier.
The smooth white icing on the cookies was prepared the following way:
"Count to 10 For The Perfect Consistency"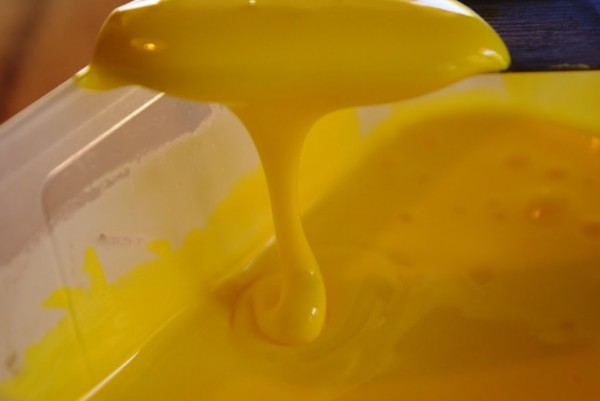 To get the nice smooth icing you see on the cookies it needs to be thinned. Too thin and it runs down the sides of the cookies and will not coat it well. Too thick and it will just sit there and not be smooth.
Here's how to get the perfect consistency –
Count To "10".
Add water a teaspoon at a time for small amounts. Mix it well into the icing. Now pull up a dollop of icing on your spoon or spatula and let it drop back down into the bowl. Count to 10. If the dollop seems to melt and disappears back into the icing by the count of 10 it will be the perfect consistency. If you can still see remnants of the dollop add a touch more water. If if melts back in too quickly then you need to add more regular icing to give it more body.
Click HERE for more tips on using royal icing.