"You've Been BOOed by the Spirits of Jack Daniels and Jose Cuervo!!"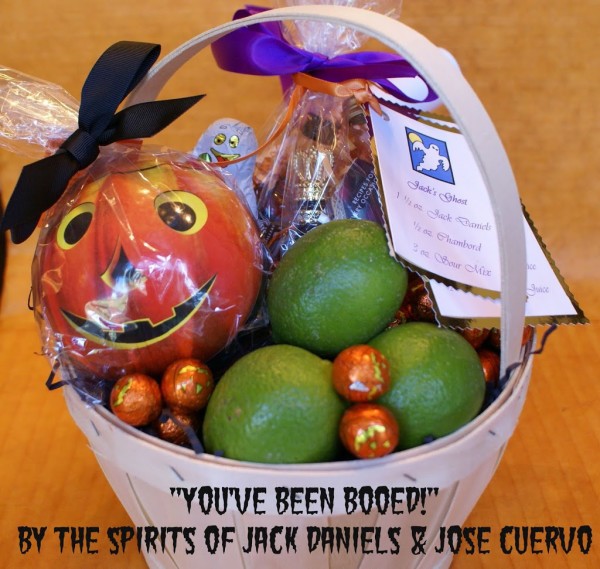 Pumpkins, 'Trick or Treat' and Halloweens past,

Remember, 'You've Been BOOed!' Which time was the last?
The kids are gone and out on their own,
Once were costumed cuties but now have college loans.
The fright of climbing tuition costs always on the rise,
They think we're made of out money but that's not our Halloween disguise!
Halloween isn't the same for us and this we know is true,
But now it's our turn to howl at the moon so how can we feel blue?
So as Halloween comes closer and we've already eaten 2 bags of candy,
Remember you've got a fellow empty-nester friend who thinks you're just dandy!
"You've been BOOed!"
by the Spirits of Jack Daniels and Jose Cuervo!!
by Pink Martinis and Pearls (ahem!)
I wanted to remember my fellow empty-nester friends whose Halloweens don't have the excitement of the 'ding-dong ditch' at this time of year when our kids were little and would run to the door to see if some ghostly friends had "booed" us and left us a basket of goodies.
My trick *and* treat was to make a little basket of spirits of my own to haunt them with cocktail recipe cards and assorted festive goodies.
My first spirit is Chambord because it's delicious but also because it's dark purple.
It's black raspberry liqueur goodness and is sweet and wears a crown!
How fabulous is that?
I love it poured over vanilla i scream!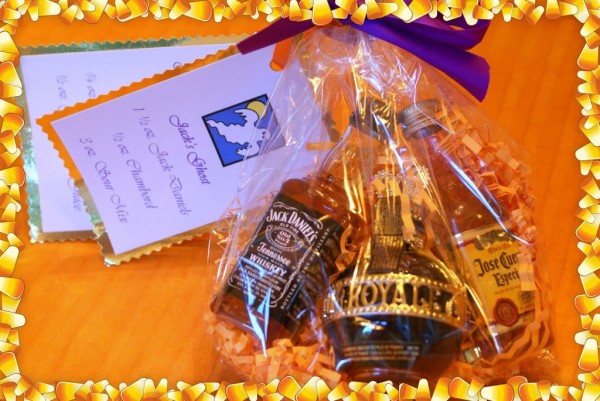 I found 2 recipes using Chambord with Jack Daniels and Jose Cuervo, separately, but of course, or that would be really scary!
I used poetic license in renaming them.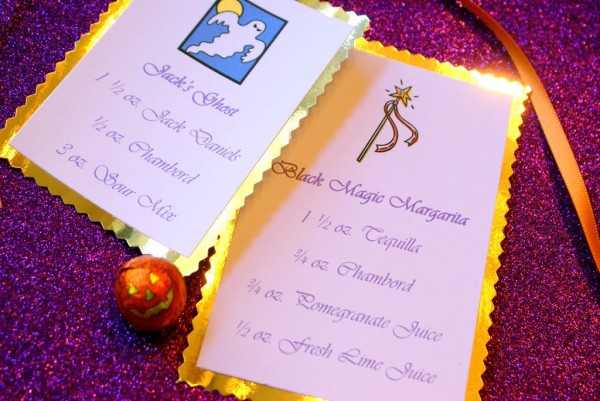 One recipe calls for fresh lime juice so I added limes to the basket. On my way out tonight I'm stopping at the store and picking up POM to slip into the basket too. In goes the paper mache ball I found at William's-Sonoma filled with candy and I tossed in some See's milk-chocolate pumpkin balls and a ghost.
In larger baskets I added pumpkin bread I made and some crackers to go with the spirits.
Goodie combinations are endless!
Cheeses would be good too if you knew the basket wasn't going to be sitting out over night exposed to crawling critters on the porch.

I would have loved to have found waxed teeth or lips and made a pun out of waxing poetic and attached it to my poem. I am very corny!! I must stop!!
A few cello wraps and bow tying and I'm out the door!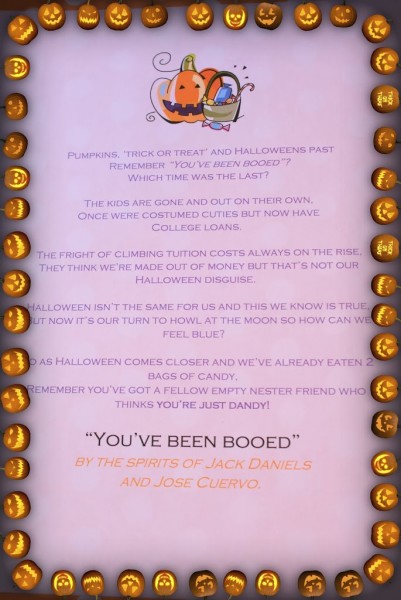 And yes, I do plan to ring the door bell and run!!!
I LOVE being a midnight marauder.