You might think I've gone down the Easter bunny hole or have spring fever but when I saw the Spring Flower Cupcake pan from Wilton, I immediately thought of quiche flowers for a springtime brunch and not cupcakes! Hard to believe, I know.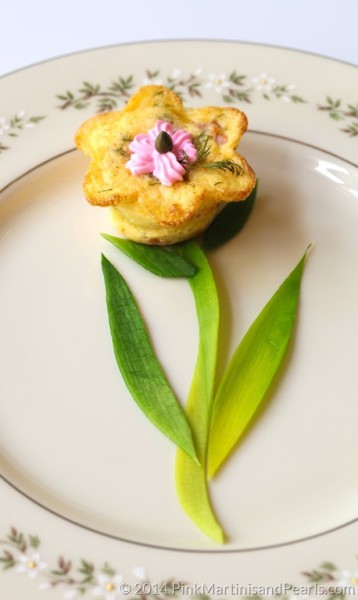 With the beautiful tulips, lilies and freesias that grace my table, I wanted to add a touch of the garden to everyone's plate but in a whimsical and unexpected way. Using the cupcake pan is a fun way to do it.
Hopefully, this post will give you some ideas for your springtime entertaining.
I made a delicious smoked salmon quiche recipe without the crust and ladled it into each cup.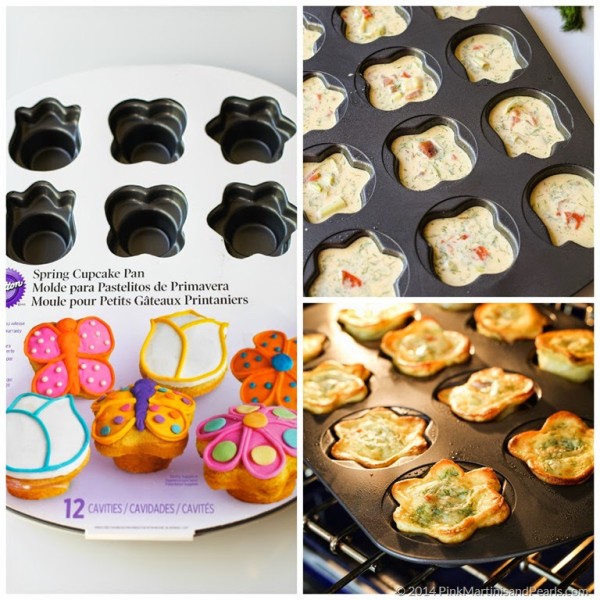 They popped right out!
"Ta-Da!"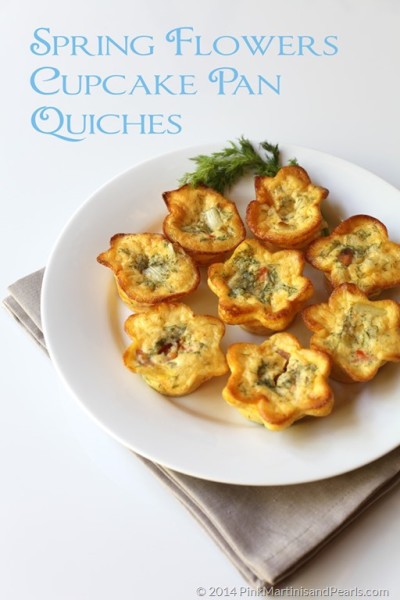 Since I used the white part of the leeks in the recipe, I decided to try out an idea I had. My thought was to blanch the remaining green leaf parts of the leeks and cut out leaf and stem shapes to add decoration to the quiche. It worked great!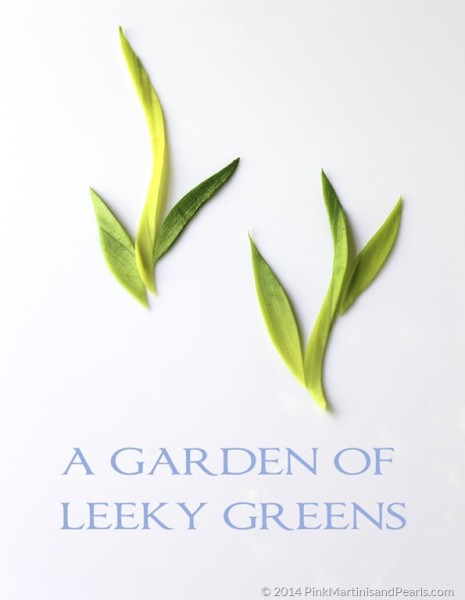 To do this, detach each leek leaf keeping it as wide as you can by finding the notched part of the leaf and running a swallow cut from the notch towards the root end. The entire leaf will peel off perfectly without any tears.
To create the leek leaves:
Place leaves one at a time in boiling water, rib side up. I used a large frying pan so the leaf could lay flat. Pressing lightly on the back of the rib also helps to open up the leaf as the curve of the leaf relaxes from being wound around the others. In a few seconds the leaf will lay flat. Remove from the water to a cutting surface.
Take the tip of a sharp knife or scissors and cut out leaf and stem shapes. If you want to do this at a later time, store the leaves flat on a plate, covered, in the refrigerator. Cutting the shapes can also be done a day or two ahead and stored as described.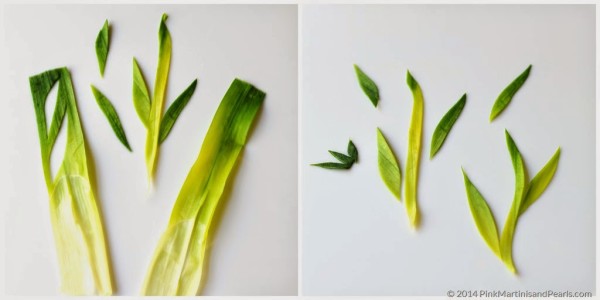 To add a little more fun to the quiches …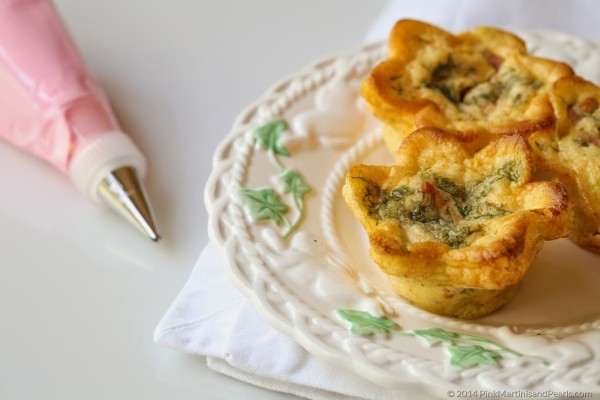 I piped on tinted cream cheese with a #14 star tip. Sour cream or crème fraiche could also be used depending what would blend with the quiche ingredients.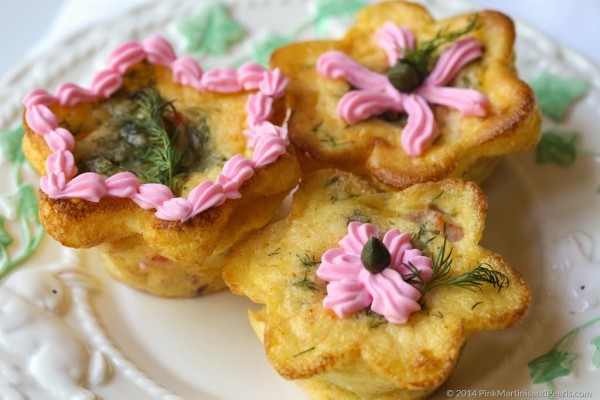 I also dressed up mini bagels decorated to resemble daisies to add yet another touch of whimsy to the table.
Here's the steps –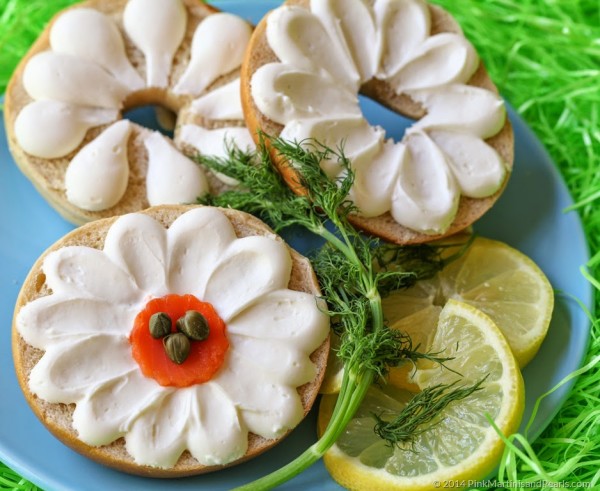 1. Place whipped cream cheese into a pastry bag fitted with a plain round #11 decorating tip and pipe petals.
2. Take a knife with a rounded tip and press each 'petal' towards the center of the bagel.
3. To finish, cut a round of smoked salmon with a cookie cutter and place over the center of the bagel. Top with a few capers.
Brunch is served!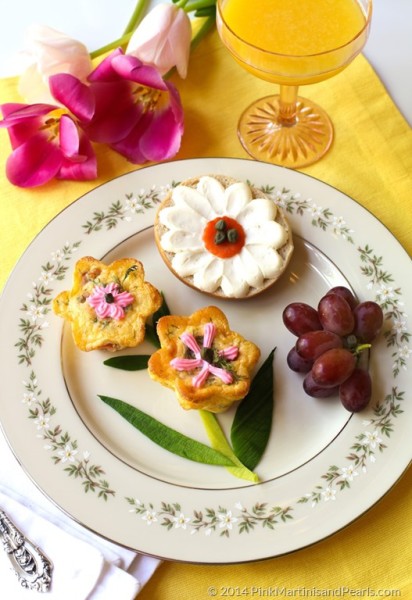 Although I didn't show it, I'd recommend a garden salad with shredded carrots and a light herbal vinaigrette to accompany the quiche along with big, juicy, sweet strawberries which weren't available when I wrote this post. Red grapes and blueberries had to suffice and, I have to say, were equally delicious. 🙂
Disclaimer stuff– You can probably figure this out but, as a Wilton brand ambassador, I receive compensation for my Wilton sponsored posts and in addition, for products I might choose to feature. With that said, I choose products that I think you will like and of course, I really like them too, in fact I get giddy. All concepts, commentary, photography and opinions are mine.