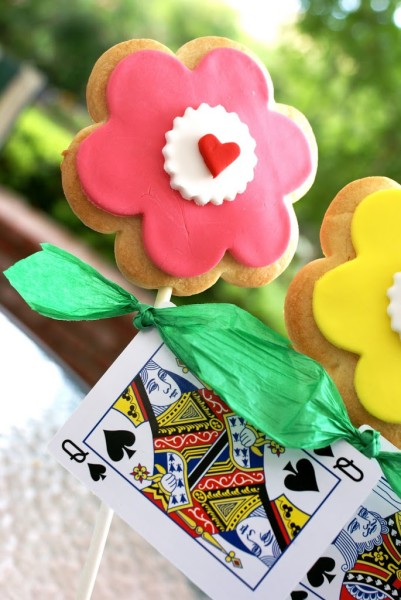 When I was asked to make cookies for an exhibitor at a landscape trade show I immediately thought flowers would be a natural tie in. The "Vegas" theme of the show would play a part too.
I thought cookies would be a unique and fun give-away gift and I could also utilize them in containers for the table decoration.
I learned that at a trade show such as this the objective is to get people to visit your booth and leave their business cards for potential leads.People drop their cards in a container on the table (usually a fish bowl or basket) and later a card is chosen for a winning gift but we wanted to give everyone a cookie who dropped a card into the basket. I thought being a landscape company a planter box would be more in tune to what they're all about.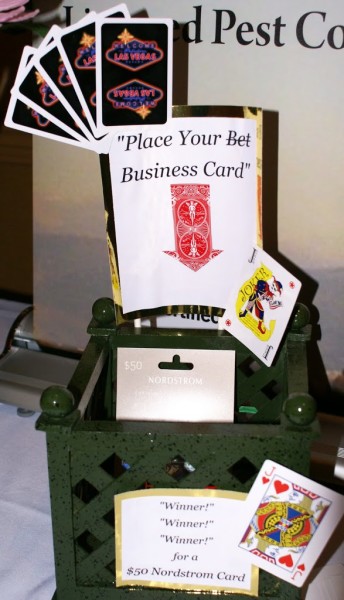 My idea on the cookie pops were to make them big, bright and colorful on long sticks so they'd be very visible as people held them walking around room.What You'll Need:
Start with
my sugar cookie recipe
.
12″ long lollipop sticks
a tub of Satin Ice White fondant in Buttercream flavor
piping gel & brush
various food colorings for fondant
cello bags
Wrappia paper raffia in green
1. Roll the dough a little thicker than you might usually do.
The cookie shape must be very cold for the best results.
I made all my shapes first and put them into the frig to harden then popped them out of the frig as cookie sheet space became available.
Cookie Tip #1
Always use a room temp cookie sheet. But you knew this, right? Too warm of a sheet and your cookies begin to melt and will spread while baking.
Too cold of a sheet and your cookie dough will be sitting in a hot oven waiting for the sheet to heat up to the proper temp to start baking the bottom of the cookie.
This is my own secret but it's time to share.
Cold dough + room temp baking sheet =
The perfect non-spread cookie
"Spread the word, not the cookie."
I know, so deep and profound. 😉

2. Run the stick up from the bottom of the cookie to the top feeling with your fingers on top of the cookie so you don't push the stick through the top of the cookie.
Turn the cookie over to check the back.
If any of the stick is showing here's what to do ~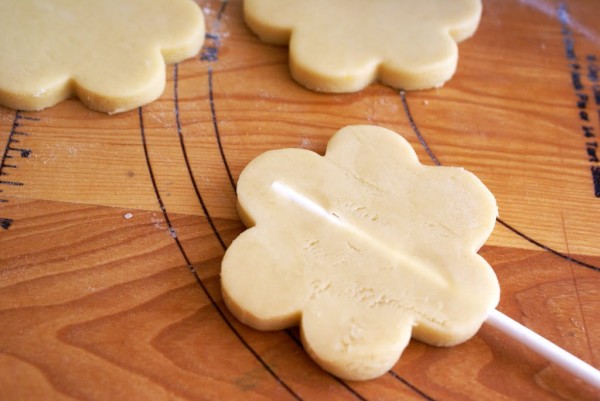 2. Take some extra dough from cut out scraps and place a patch over the exposed stick (flatten it out more than the picture) and it will bake right into the cookie. You don't need to adhere the dough pieces together with water.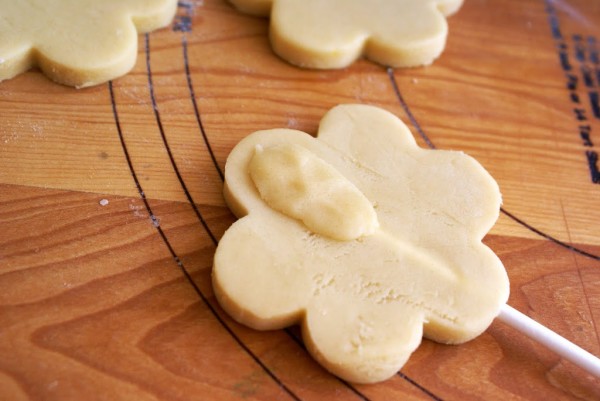 3. Flip the cookie back over, bake pretty side up.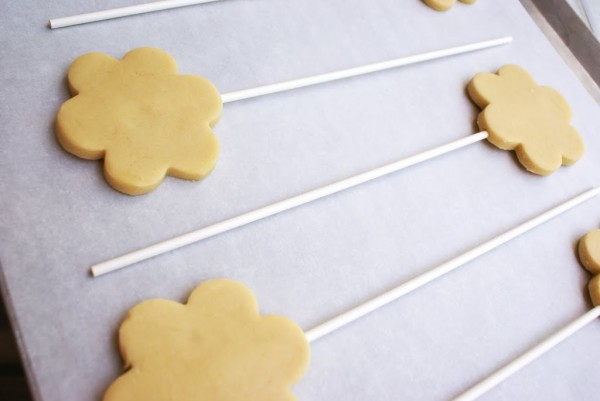 The melted buttery baking magic will happen in the oven and then *ding* you'll get this ~
a perfectly solid cookie that will never fall off the stick.
You can see I patched the entire stick on this cookie.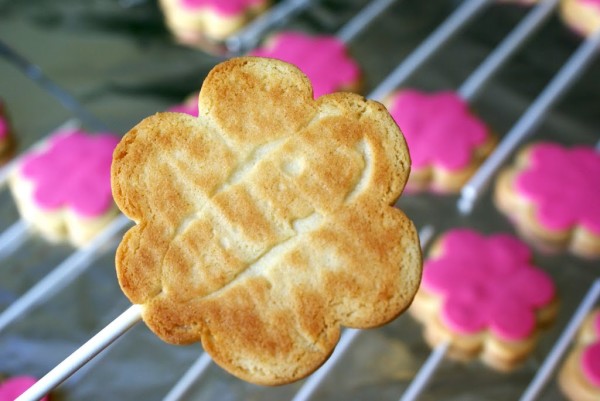 Decorating The Cookie~
For fun, the hosting association chose the theme of "Vegas" for the exhibitors.
I wanted the cookies to be a mix of bright, warm colors and not the black and red of the playing cards so I had to think of another way to add the Vegas theme into them. I knew I was going to use the playing cards but I wanted to add something to the cookie itself.
I decided just a subtle touch of a playing card suit in the black and red colors would be perfect as the center of the flower. I remembered I had aspic cutters that were very tiny and they worked perfectly for this task.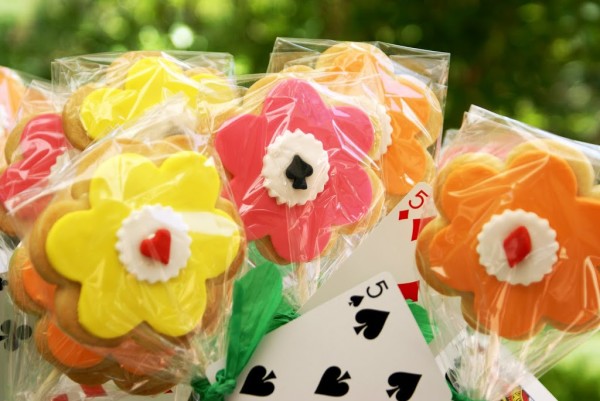 To make the small spades, diamonds, clubs and hearts pop I placed them on top of a white round of fondant which was all attached to the larger colored fondant flower.
Cookie Tip #2
We found out when you're in a hurray to attach fondant together piping gel will not set up in time. Brushing with water might have worked but I made sure no layers were going anywhere with dabs of royal icing between the layers. We did however use piping gel to adhere the big fondant flower to the cookie. The surface of the cookie and fondant sticks together almost immediately and bonds like super glue.
Cookie Tip #3
One big tip I can give you is if you're going to be rolling out fondant production line style for lots of cookies, you don't have to adhere them together as soon as you roll and cut the fondant.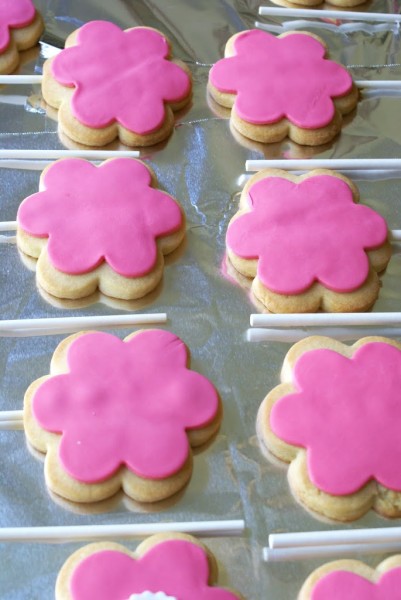 For example, I placed the flower fondant cut outs on top of the cookies to mold to its shape then came back much later, picked up the fondant flower that was hardened and brushed on the piping gel. If you were to lay the fondant on a flat surface while you continued making cut outs and it dried somewhat it would not be molded to your cookie shape.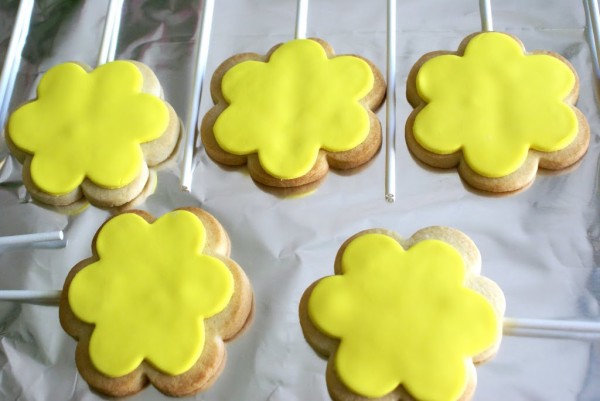 Think of rolled fondant on a cookie as a mask that can be molded to fit over whatever shape it's going on. It can always be secured to that shape later once you have the shape in place. I found this out quickly through trial and error and it was invaluable when making dozens of fondant cut outs at a time.
Time To Wrap It Up
You know the saying, "All business up front and a party in the back?" I flipped it around for the playing cards. The "party" was the face of the card and the "business" was the flip side with a sticker covering the entire surface which read ~
"We'll deal you a winning landscape!"
The company's name, logo and web address was also included.

I punched a hole in the card and tied it to the flower pop with green wrappia (paper raffia) and cut it to look like a leaf (the leaf shape was my friend Shelly's idea – thanks girlfriend! I was just going to tie a bow but her idea was much cuter.).

It worked out great with the wrappia but it was a time consuming process to spread it apart, fold it and cut it on a bias. Luckily, the basketball game was on and I put my man on task to spread the paper open for me.
Then a quick tie around the bagged cookie, thread the card onto a wrappia tail, square knot it together, fan out the ties again, fold a tie in half and cut on the diagonal, fluff out again and all done!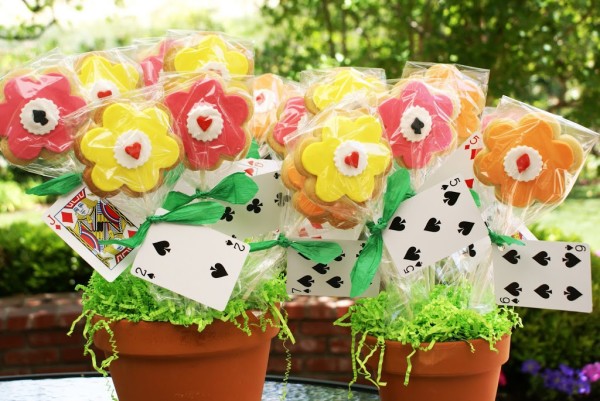 I made 3 arrangements in terra cotta pots for one area of the table. The remaining individual cookie pops were placed in a large open handled basket so someone could stand in front of the table and be visible.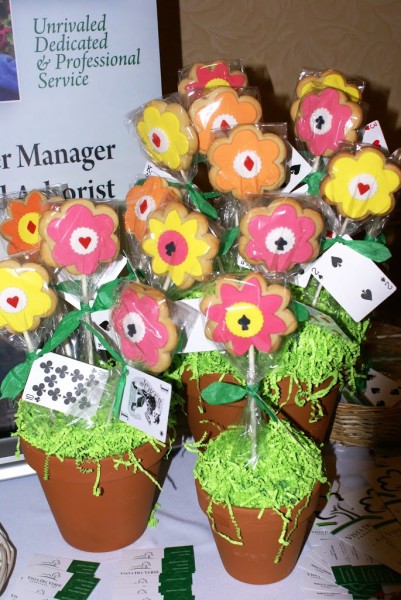 The cookies were a huge success as no one had seen anything like this at the show before and potential clients were coming up to see where the cookie pops were coming from.
I also want to give a shout out to my friend Shelly, who was my fondant gluer this time around and who assisted with my niece's wedding cookies by being my fondant roller, cutter and bow tier. I so appreciated and valued your help and witty conversation.
Say the date and a day at Burke Williams is my treat! xoxo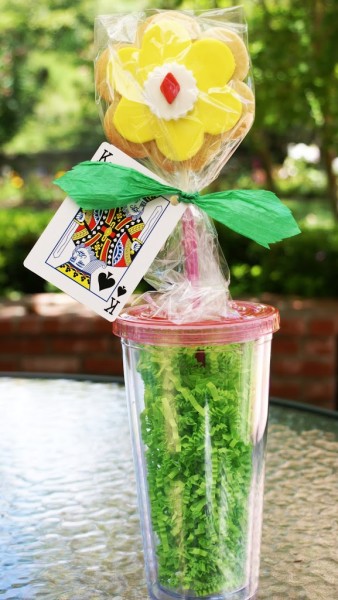 And speaking of rolled fondant my give-away for a cookie cutter textured fondant sheet set of your choosing ends Sunday night. Click here to enter.
Have a b-e-a-utiful weekend, friends.