Our power was off all morning to mid afternoon so I'm a little late in posting to wish you a happy Halloween so "Happy Halloween" at last!
Late, late, late last night after we returned home from a wonderful dinner with our lovely friends I began this project- Yep, sometimes I can be a little batty when it comes to making and decorating cookies. When I've got an idea I've got to see it through.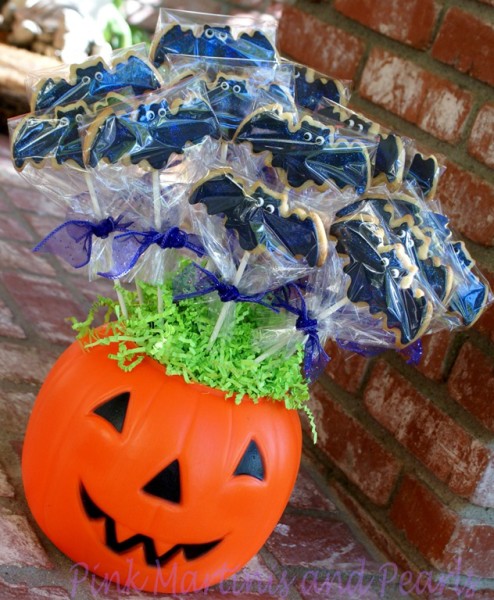 The cookies were for a client for my hubby this morning so I needed it to be easy and quick with no icing drying time. By using rolled fondant instead of royal icing I was able to do it all within a few hours from start to finish.
I decided to make the cookies on sticks so the presentation would have more "wow" factor than a flatter basket of cookies. I originally thought of using a cauldron but since the bats were black I wanted a contrasting color. The plastic jack-o-lantern would be perfect! It was from my boys' trick or treating days so it was a touch sad for me but I had to "carry on and decorate cookies."
For the fondant shape to cover the cookies I used the cookie cutter. Cookies will always puff a little when baking so fondant cut from the cutter shape will not completely cover the cookie edges unless you "re-cut" the warm, baked cookies which I did for wedding cookies I made. When I decorate with royal icing I come out to the edge of the cookie. With fondant it's a trade off for the time saved. I guess I could have rolled out the shape ever so gently to stretch it out after it was cut but I chose not to this time.
Another thing I learned with black fondant, it looks rather flat on its own and if you've been following my blog for awhile you know I love me some Disco Dust!!!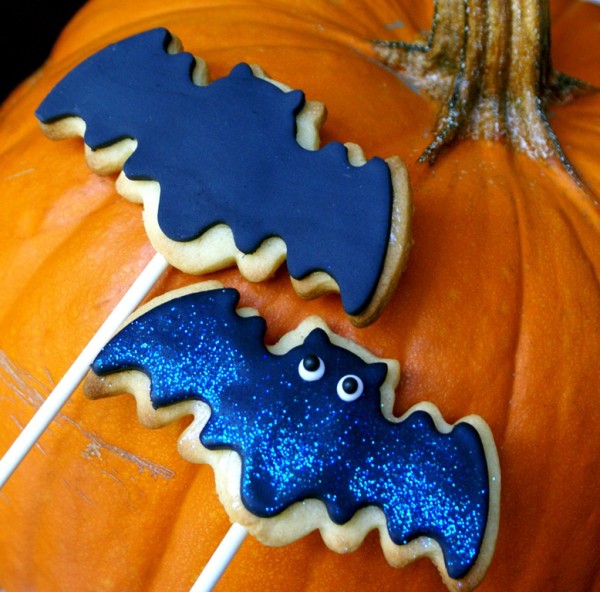 Rolled fondant does not hold on to the Disco Dust well and it does not like water so I wanted to see what would happen if I plugged in my little garment steamer and passed the cookie in front of the steam like I've seen on The Cake Boss.
I held one bat back last night so I could show you in the natural light.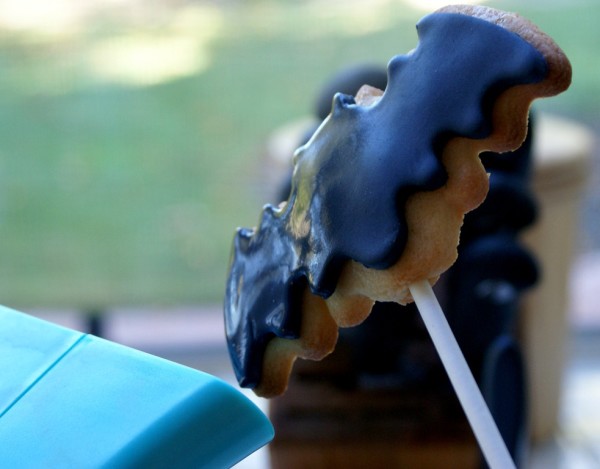 It makes the fondant shiny and slightly tacky.
Tip: I also learned that if you steam the fondant on the cookie for a bit longer after you see the initial shine it will stay shiny. If you take it out of the steam just as the shine happens it will lose the shine it after it dries a bit.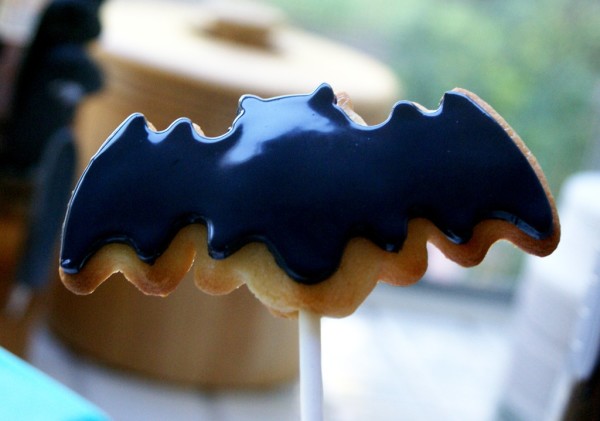 I then dipped my brush into plum colored Disco Dust and rolled the tip of the brush on my index finger over the tacky cookie. This worked beautifully.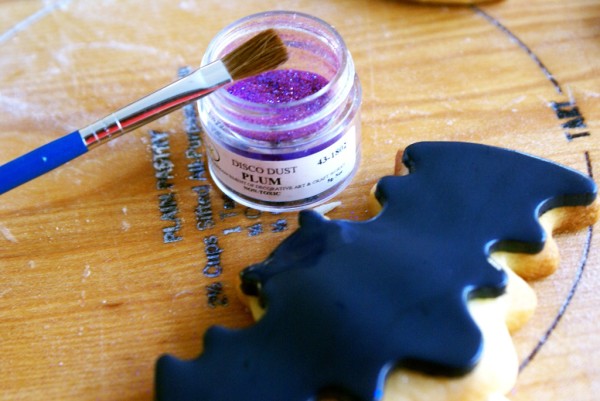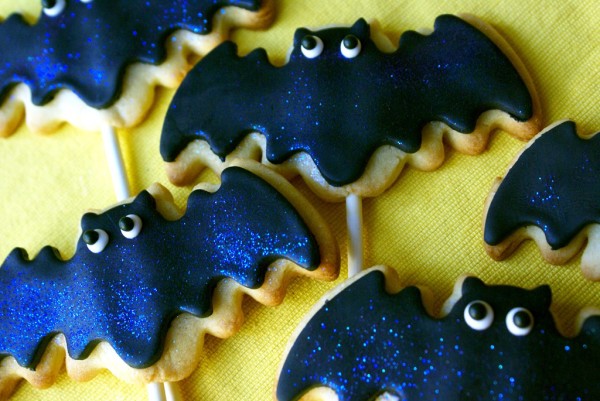 I individually bagged the bats and tied them with glittered purple organza wired ribbon.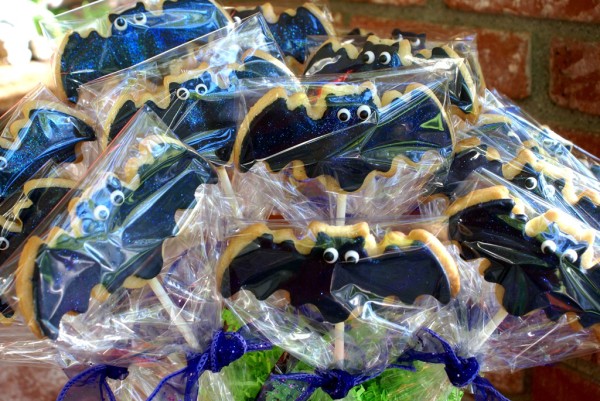 There's just something about these googly eyes starring back at me that I just love. It's like having friends in the kitchen.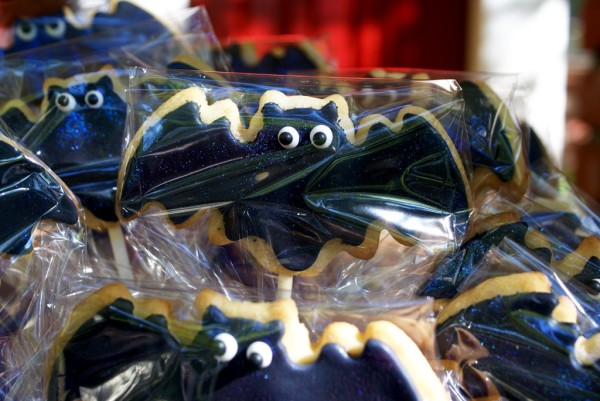 Oh, the eyes were made with thinned white and black royal icing I had left over from another project. Make 2 white dots and then 2 backs dots over the whites. Easy.
To finish the presentation I secured the bats by sticking them into a vertical brick of florist foam that I placed in the pumpkin. I also added weight to the pumpkin by filling a couple sandwich bags with rice. The cookie arrangement is still top heavy but weight in the bottom helps to stabilize it.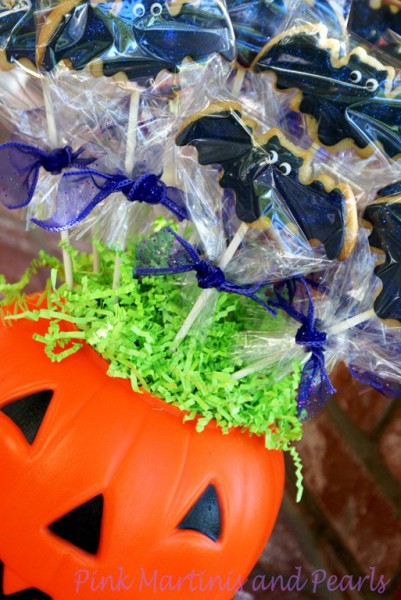 Wishing you a wonderful Halloween Night!
Sugar Cookie Recipe; Working with Fondant; Working with Fondant ll; Cookies on a Stick