With the autumn breeze swirling colored leaves to my kitchen back door, I had an idea for decorated leaf cut out sugar cookies using rolled fondant that created a different look than using royal icing to decorate them(to see leaf cookies decorated with royal icing click here). With fondant, I could blend the colors together to make them softer and muted.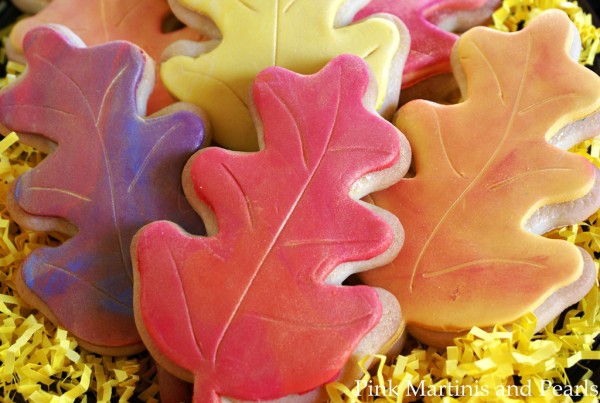 The first step was to make individual colors of fondant.
I used Satin Ice rolled fondant in the Buttercream flavor. It's very easy to work with (think Play Doh) and tastes great with my sugar cookie recipe. I'm betting it would taste good with any sugar cookie recipe, for that matter.
I bought a big daddy tub. On the label it says it lasts 18 months, has no trans fats and no cholesterol. As long as it's covered well it won't dry out. If you find it gets a little crusty around the edges, knead it back into the more moist fondant and it will come back to life, so to speak.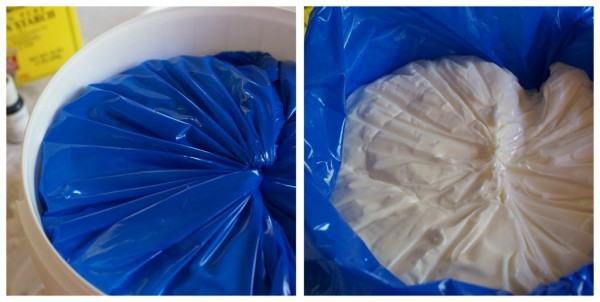 To get one of the more muted color schemes I desired, I used Americolors egg yellow, red, violet, lemon yellow and leaf green and kneaded the colors into individual hunks of fondant and rolled each colored fondant hunk into a rope.
Tip: I use corn starch on my board to roll the fondant. Some people use powdered sugar but I find the corn starch takes the stickiness out of the fondant especially when the gel colors make it more wet.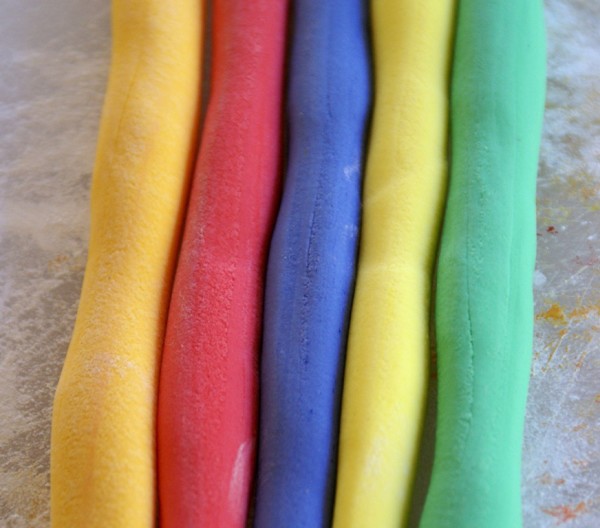 I then twisted the fondant ropes together…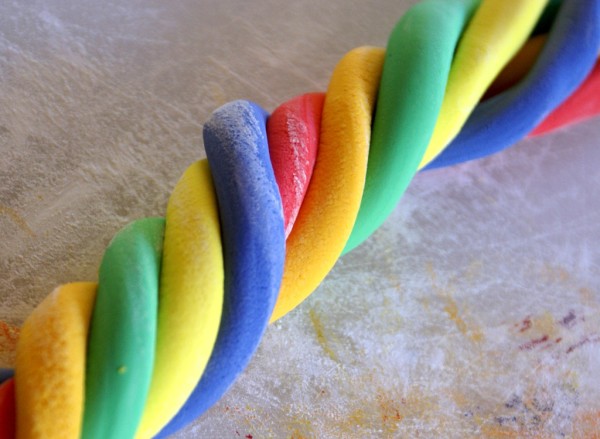 … and rolled it out. I turned it over and around on itself a few times and rolled some more and gave it a final kneading but not too much as to completely incorporate the colors into one color. The desired effect was to blend the colors for a marbleized texture.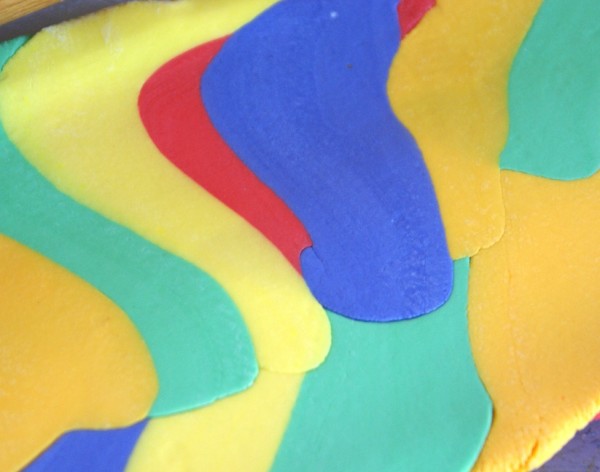 Believe it or not, the purple colored leaves below were made from the multi-colored fondant above.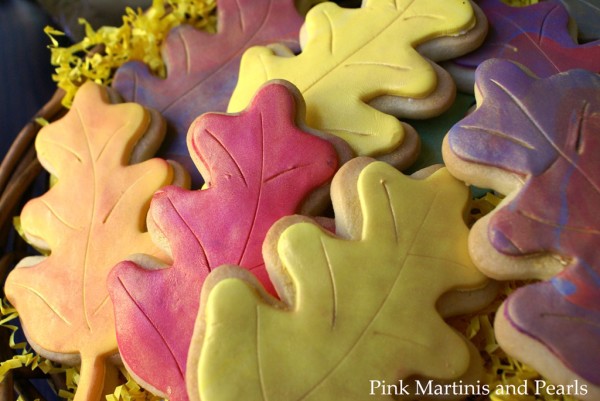 I used the colors red, yellow and egg yellow for the fondant below. I kneaded it more for a finer marbleized effect.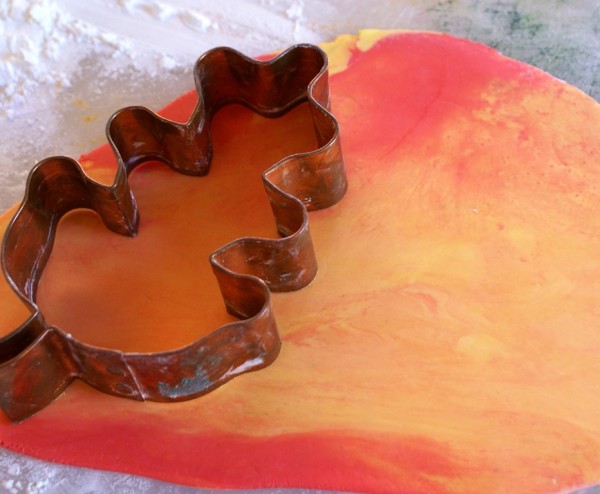 One thing I do and would recommend is to cut-out all your fondant shapes first and place them on top of the cookies to form the shape and come back later to attach the fondant permanently with piping gel.
My reasons for doing this ~
I work with as much fondant as I can as one step so what's on my pastry board doesn't dry out.
Laying the fondant shape over the cookie forms the fondant to the cookie shape so I can come back later with the piping gel and adhere the two together. Since fondant firms up rather quickly, if I cut out the fondant shape and laid it flat on the counter or a cookie sheet until I got around to putting it on the cookie, I'd have a flat shape of fondant to ultimately place on a rounder cookie and that wouldn't look too spiffy.
Set fondant is easier to handle and lifts off the cookie like a shell.
When I'm ready to brush piping gel onto the cookies, I lift off the fondant 'shell' shape, brush the gel on the cookie, replace and go on down the line. This just seems to work well for me. I like completing all of one specific task before going onto the next.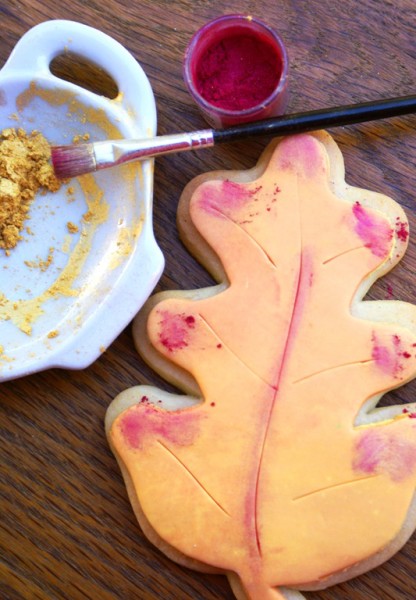 With the fondant leaves attached to the cookies, I dabbed on luster dust in cranberry for the lighter colored yellow leaves and red leaves. You can either brush it around or use your finger to rub it over the surface.
Tip: Luster Dust has a sheen and shimmer to it. Petal Powder is matte.
I gave all the leaf tops a brush of super gold luster dust that has even more of a shimmer to it.
Tip: The same powder can be mixed with a clear colored alcohol base such as vodka and be painted on royal icing and fondant.
The cookie below, has both the cranberry and gold luster powders brushed on.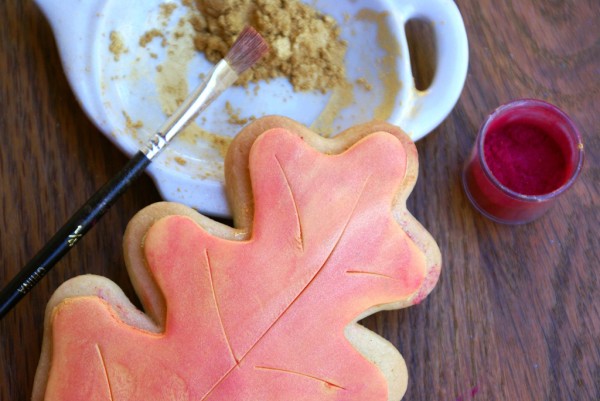 I was very pleased how the marbleized fondant and powders gave the cookies a water colored look.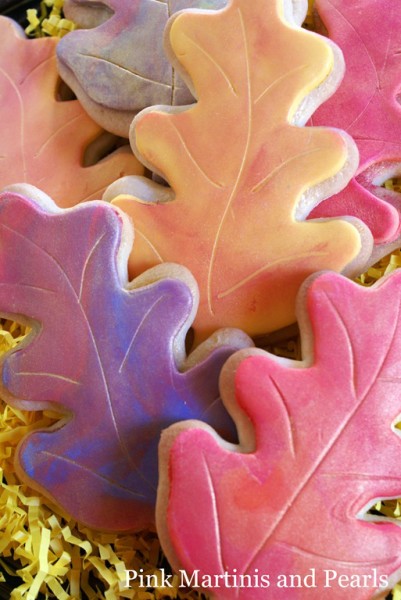 Ideas for presentation ~ For a hostess gift, the fall leaf cookies would be lovely for Thanksgiving grouped together in a rustic basket or a single cookie placed at each place setting for a colorful presentation among the more traditional earth tones of a holiday table.
For sophisticated Halloween party favors, black paper shred lining a basket or placed in a black cauldron with orange-toned cookie colors would look bewitching!
Recipe links and tutorials:
Other fondant-on-cookies tutorial posts: Fondant on Wedding Cookies; Cookie Flower Pops with Fondant; Bats Cookies With Steamed Rolled Fondant