The results are in and mama took home some color! I also Instagramed the fair because I'm lovin' being so portable.
1st Place – Single Crust with a fruit filling. I made the best Dutch Apple Pie, at least my family thinks so and apparently the judges did too. I'll post the recipe this summer so you can make it too.

I also made this funky little video. My tasty treat will be twirling for a month's stay in it's little refrigerated world. This really amuses me no end.

2nd Place – Directional blog post, How-to. Do you remember the meringue hearts post from February? I had a brief Sally Field's moment of, "They liked me" but they liked my friend Trevor better. He won first. You can find him gloating over on his blog Sis Boom Blog. I have to say he did very well as he is an excellent writer and all around blogger. Tell him I sent ya.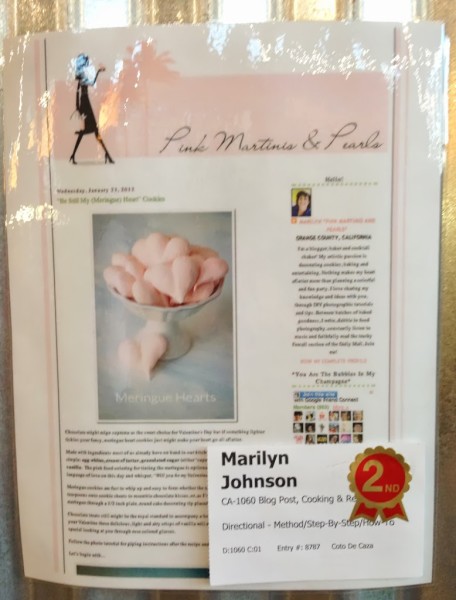 3rd Place – Edible Sugar Arts. Cookies for a Autumn Wedding. 1st place were lovely gum paste flowers and second place were fair-themed cookies. Worthy competitors.

Zilch – My grandmother's chocolate chip cookies (ccc) which were grossly misunderstood as the crackle top was judged as 'interesting but not traditional'.

I think cookies that were made 70 years ago didn't look like the slice and bake of today's cookies. There're still my family's favorite and I've been told there is not any other ccc's that even come close which proves my theory, whatever ccc you grew up with is your favorite. No one can be truly impartial when it comes to childhood memories.
Some other Instagrams from the fair:
They like big things at the fair.

And one day old piglets.

One night we went to the B52's concert. The last concert we went to was John Williams's at the Hollywood Bowl so we kind of forgot the protocol of an opening band. We couldn't figure out why the B52's were so awful and why they didn't play Rock Lobster and Love Shack. To add to our un-coolness, we then couldn't understand why no one was leaving when the lights came up. I actually asked someone and found out the B52's were coming on next. We are so not rock n' rollers, I guess, but don't tell anyone.
Here's a little clip of "Roam". One of my favs.

Now I'm under the weather, as they say, but I'll be back to blogging soon! Hope you're all enjoying the summer.