… because we are taking off for the final flight of
"All Things Summer Give-Away!"
We're going to bring some color, style and fun to the '
f
riendly
s
kies.'
Once upon a time, travel was considered refined and exotic.
People used to dress up to go places and it was special.
Gentleman always donned a coat and tie and ladies were never seen without heels and a hat box. Perhaps our only vivid accounts of this gracious style of traveling is predominately seen in old movies but I also once owned a hat box to travel with and never left home without it.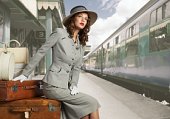 My adventures with my hat box consisted of filling it with walnuts in their shells and telling my mom I was leaving home for good. I was 5. I walked down to the corner of my street and since I was not allowed to cross it alone I had to come back home.
Years later, I got the travel bug again from seeing Grace Kelly's Mark Cross over night case in Rear Window when she opened it and lifted out her gossamer negligee and satin slippers to Jimmy's delight. (see clock at 3:17)
Her case made me long for sleep overs just so I could do what she did!
Gotta love her bracelets too!
Society is more casual today and travel bags are more travel friendly and lighter but that doesn't mean we can't be globe trotters without some color and panache of our own.
"Boarding those first with good taste….."
You'll have it made in the shade with this Vera Bradley padded glass case for your over-sized Jackie O's. Can you say 'Mykonos?'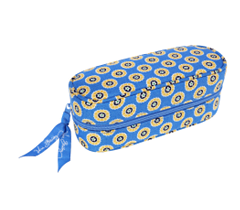 As blue as the wild blue yonder! "Woosh!"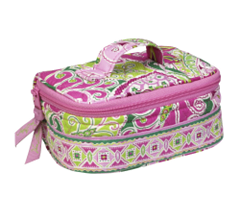 Packing the jewels into your check-in bags? Sacrilege!
Mother has to know where her children are.
This VB jewelry case is petite enough to fit right into your bag or tote.
It has two zippered interior pouches and two slip-in compartments. Perfect for a weekend jaunt.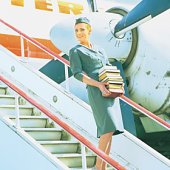 And while you are waiting for your plane to leave the tarmac and the kids behind you are kicking your seat, you can read "Coffee, Tea or Me".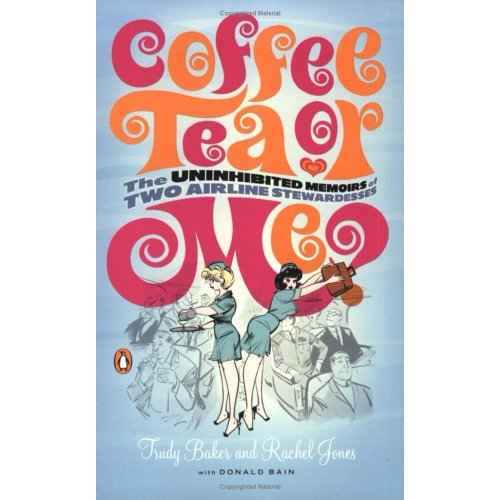 A fun and nostalgic confessional by two stewardesses (when flight attendants were still called stewardesses) of how travel used to be in the golden age of airline travel (1967), when small children were almost non-existent on flights, pilots looked damn fine in uniform and the smoking section was in the back of the plane and no one seemed to care.
*Gasp*

What is this
in the overhead bin? A stow-away gift?
I think there is room for a standby to be added before we close the cabin door.
Pack This!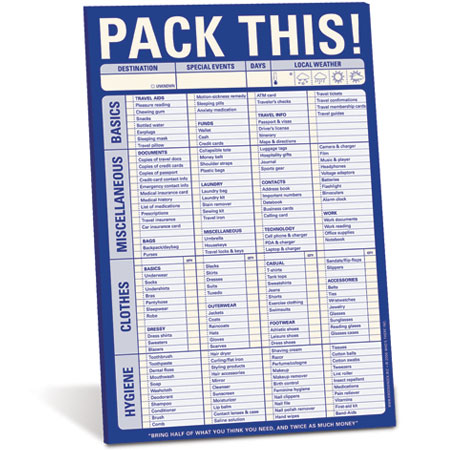 You will never forget your cell phone charger or sunscreen again because you'll have 60 sheets of reminders of what to bring!
It also gives you stellar travel advice:
'bring half of what you think you need, and twice as much money.'
Are you adventurous enough to check the 'unknown' box in the destination window?
I knew you would be!
Waiting for your luggage as it taxis round on the carousel? Looking for the thread of red ribbon on the handle that was so last century? Rev up the style on those black ballistic bags (how did I know?) and give it a little retro spin with these luggage tags…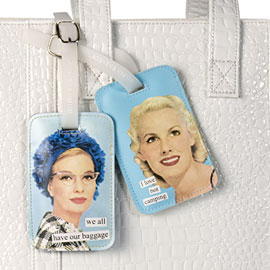 "We all have our baggage."
and
"I love not camping."
(tote not included – sorry.)
"Welcome to the friendly skies of
Pink Martinis and Pearls Airlines."

1 Entry = Leave 1 Comment & check your bags.
2 Entries = Become a passenger (follower) on the Pink Martinis and Pearls Airlines.
3 Entries = Link to this give-away and receive a virtual First Class Seat!
"We are so happy you will be flying with us today."
"We will be serving pink martinis as soon as we reach flying attitude."
"Final boarding call…" Friday, June 26th – midnight, pacific
UPDATE:
The winner of the "Come Fly With Me" Give-away is …
P

ink In A Sea of

B

lue.
Congratulations!
True Random Number Generator
1
63
53
For your listening pleasure on this flight – "Come Fly With Me" & "Fly Me To The Moon" – Frank