This Sunday we are hosting
The Family "End-of-Summer Extravaganza!"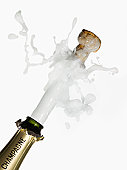 We have lots to celebrate:
July & August birthdays.
Sending Son1 back to college for his senior year.
Sending Son2 off to college for his freshman year.
Toasting 2 sets of newlyweds.
Mr. P. M.'s crime fighting escapades.
My pending mid-life crisis (scheduled for Sept 14th).It's all here and it' all good!
I'm keeping the menu simple and family is helping but I am making smoking hot pom-martinis that will be ice cold and literally smoking from dry ice and
the Best Burgers.
2 lbs. ground chuck
2 Tbl. BBQ sauce of your choice, plus more for serving
1 Tbl. Heinz 57 steak sauce
2 Tbl. minced onion
1 Tbl. spicy brown mustard
1 Tbl. Worcestershire sauce
1 Tbl. sugar
1 tsp. Louisiana hot sauce ( or more)
1 tsp. kosher salt
1 tsp. freshly ground black pepper
6 to 8 hamburger buns (brioche are my fav), toasted or grilled
Sliced garden tomatoes
Sliced onions
Mix all ingredients together from the meat to the pepper. Form into 6 – 8 patties 1/2 to 3/4 inch thick. Place burgers directly over coals, cover and grilled to your preferred degree of doneness, 5 to 7 minutes per side for medium rare.
Serve on totasted or slightly grilled buns with tomato and onions and slather with BBQ sauce – but truthfully these burgers are so flavorful you won't need any condiments!
Now I've got to get my men up and begin cracking the whip!
Lanterns must be hung and
chocolate cake
must be made.But on tonight's agenda we are tailgating before the Angels game as they go up against Oakland.


One thing I love about the Angels, Disney bought them years back and revamped the stadium with waterfalls and big rocks and the ushers are dressed in old-fashioned uniforms with straw hats. At the 7th inning stretch, they go down on the field and everyone sings.
You can see the Big A sign for miles off the 57 freeway.
The halo sparkles when the Angels win.
I love driving home from somewhere and looking to see if it is lit up or not.
Just a little tradition in the OC. 🙂
Have a great weekend!
"Cheap Seats" ~ Alabama
"Center Field" ~ John Fogerty