I have 3 KitchenAid stand mixers.
Don't hate me because I'm certainly culinary-appliance spoiled.
I'd be adding the Williams-Sonoma Susan G. Komen edition stand mixer if I hadn't received a Pro 600 series model for Mother's Day this year.
I now have 575 watts of marvelous with a 6 quart capacity sitting on my counter and we're still making friends but my head has been turned by this beauty ~
"Hello Gorgeous!"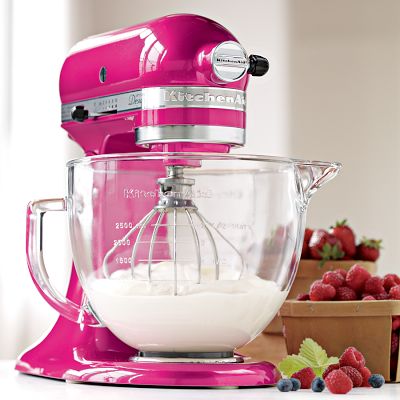 It's the Raspberry Ice Artisan, 5 quart, 325 watt.
Perfect for regular needs.
It's exclusive to Williams-Sonoma with sales benefiting the Susan G. Koman foundation.
I can see it on my counter with flame decals adorning it like Alton Brown's.
Who wouldn't want this bad girl in their kitchen all tricked out?
I took a trip to W-S and it is absolutely beautiful with the metallic sparkling paint job glittering in the light. I am so smitten, I admit it. My birthday is next week. Can you see 4 mixers in my kitchen? Please someone buy it so I can share in your joy and get it out of my system.

For a limited time only. When it's gone, it's "Arrivederci, baby cakes!"