The bride has a distinct vision of what she doesn't want ~ 'no bows, hearts or bells.' 'Nothing wedding-y.' She envisions a party atmosphere casually and comfortably celebrating with those she loves. Her vivid colors of orange and yellow will be paired with round and square shapes that will be echoed in the cakes that will grace everyone's table. Her highly talented aunt on the other side of the family has offered her gifts with icing and fondant. They will be spectacular, I'm certain.My niece liked a
few ideas I put out there a while back
, and especially liked an idea of making an initial cookie for their last name. After giving this some more thought, I knew any kind of a pattern or tartan would be lost on a linear surface so I decided to incorporate her circle theme into the cookie using her vibrant colors giving it a 60's retro flair that is also seen in the paper
rosettes
.
After a few incarnations late, late at night…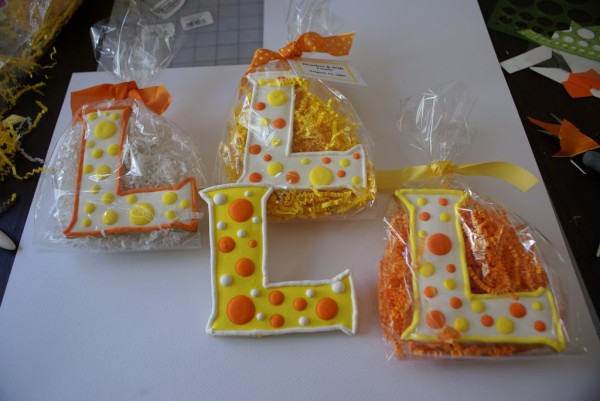 … and with the flexibility of choosing the base cookie icing color, dots color, outline color and sizzle pack color, the bride has chosen two: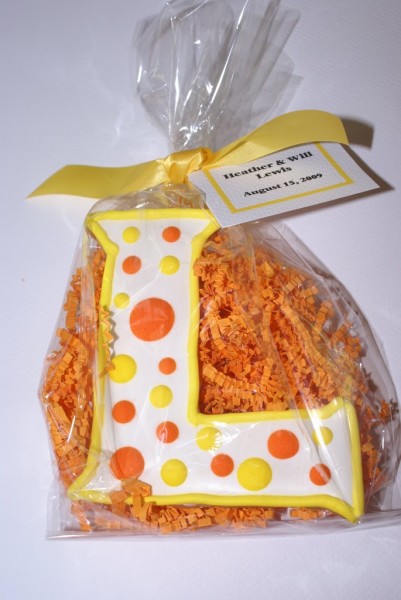 1. White background~yellow outline~orange sizzle pack.
And…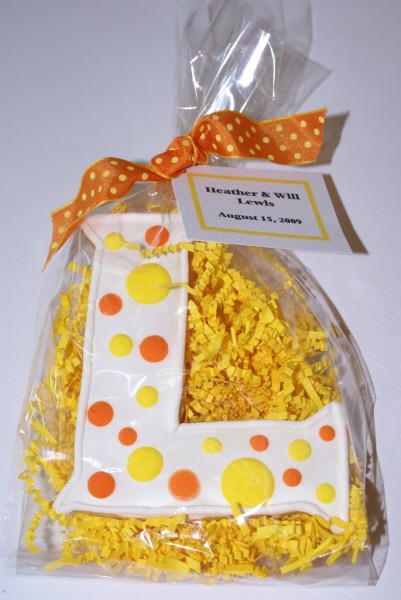 2. White background~orange outline (imagine)~yellow sizzle pack.
I love the polka dot ribbon on the yellow paper and hopefully I can find the opposite combo to use for the orange paper.
I printed the tag on textured water color paper that is embossed with tiny squares and put a square border around the text. The text is 'Heather', the bride's name. If I could find 'Hammie Pie' I would use it. 😉
The good news is Heather loves the cookies and I am so glad because I feel they will fit in perfectly to her theme. We might alternate the cookie colors per place setting or group them by tables but we can figure out what looks best as we're setting up.
So with the cookies, cakes, and rosettes all decided upon, we can move ahead.
Good job 'locking and loading', HP!