A couple weeks ago I had the privilege and honor of being invited for an all-expense paid trip to Wilton Cake Decorating's HQ near Chicago for their annual Sweet Up where new products are launched and trends are discussed.
Guests were a mix of bloggers and vloggers. We felt very welcomed indeed!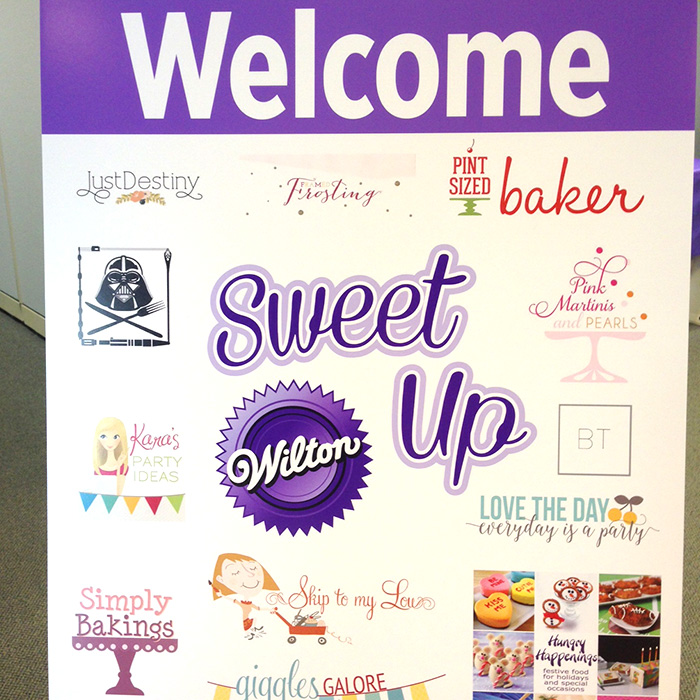 I'm a little late to the recap post party as I caught a bug on the flight home and I've been out of creative commission for almost two weeks but posting now also gives me the opportunity to look back again at what a wonderful event it was.
What I love about Sweet Up (I was in attendance last year too) besides meeting new friends like the lovely and creative Julianne from Beyond Frosting, amid the display of cupcakes,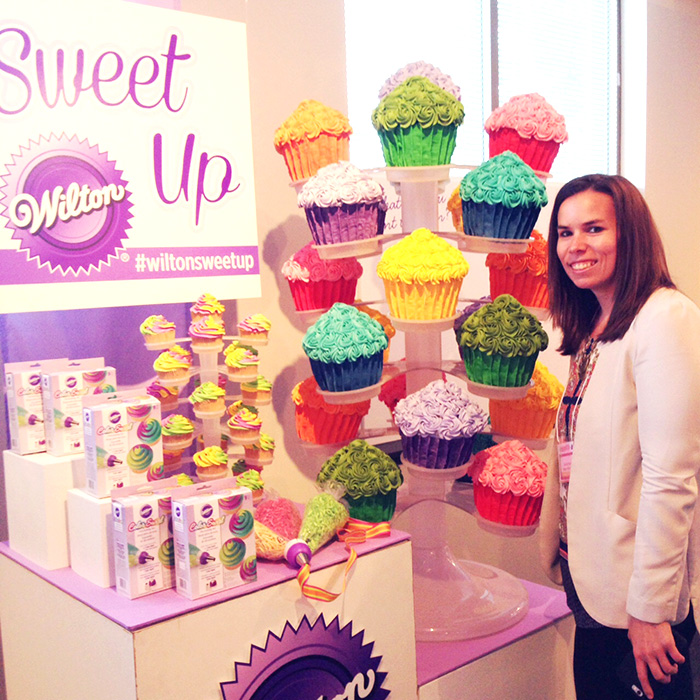 …. and meeting up with friends I had met prior, is that I learn a tremendous amount of decorating and baking knowledge while I'm there. Even though I consider myself an expert baker and decorator, I'm always open to being introduced to new things and cutting-edge techniques that are available at The Wilton School of Decorating. It's beyond exciting for me.
After our meet n' greet dinner we gathered bright and early the next morning to began a full day with our first workshop stop- Boozy Baking. Thank you. A coinkydink? I think not. My little boozy baking foursome consisted of Julianne, Danielle of Framed Frosting and Adeina of Crafting with Adeina. The four of us worked together beautifully on making White Russian Cookie Cups with Kahlua and Bloody Mary Muffins. This is the team I'd want if I was ever on a baking competition show. Serious good sweet eats, by the way.
Here's a little Instagram video I made making the cookie cups, and if you noticed, yes I did change the name of my Instagram and Facebook pages to Sweets to Impress, but we'll talk about that in another post coming up. 🙂
This mega mini muffin pan made it so much easier to bake a big batch all at once. And speaking of a baking competition, this is Beth Somers who's a baking warrior because she won Cupcake Wars! 🙂 She is such a sweetheart and gave us some great baking tips. I learned Wilton recommends spooning flour into a measuring cup and then leveling, instead of the scoop and swipe method I do so I tried a new way to measure and fell for their baking cups and spatulas.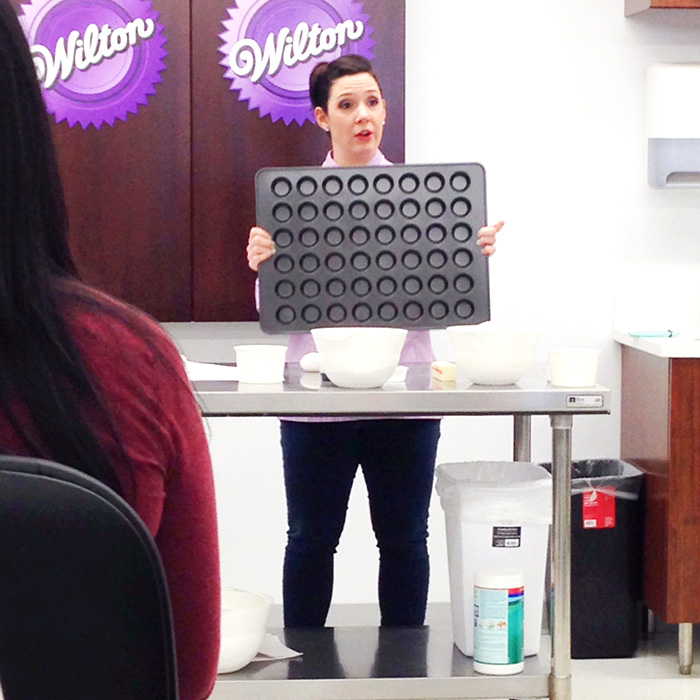 Another workshop that was held was with Amber Spiegal of Sweet Ambs. These are her cookies that we tried to emulate. Amazing!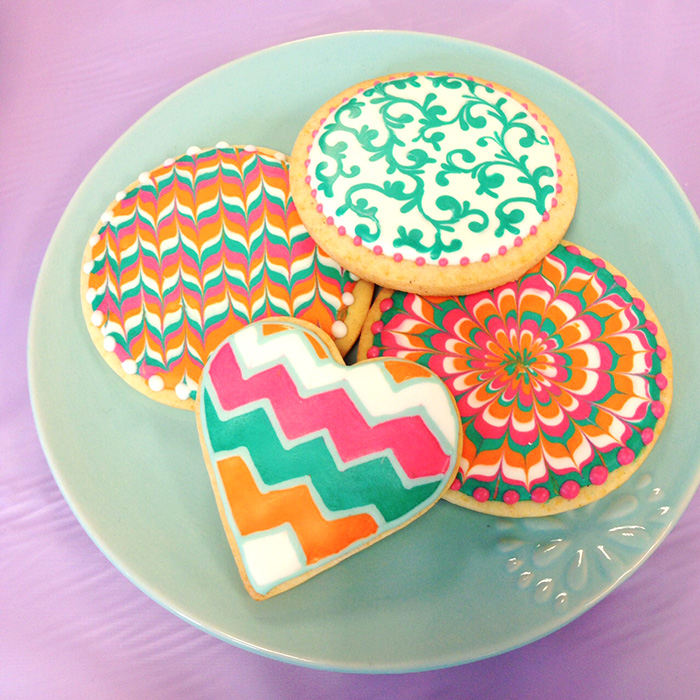 Here's a little Instagram video I made of her doing her magic.
The vibrant colors were made using Wilton's new Color Right Performance System. It was one of the new products debuted at the Sweet Up. The colors are drip concentrates so they offer intense color. What is so great about this system is that the color guide gives you the exact formula to achieve a specific color and having this guide allows you to easily make a color match should you run out of a specific color and need to make a new batch of icing to match the previous batch. Love this.
Jenny Keller of JennyCookies gave a fun presentation of her party planning and styling talent. She had some ideas how to use Wilton's Display Your Way Customizable Cake Pedestal. You can add ribbon or paper around the outer band and also the clear cake plate top lifts up to add more color or patterns of your choice to match your party decor. Very cool.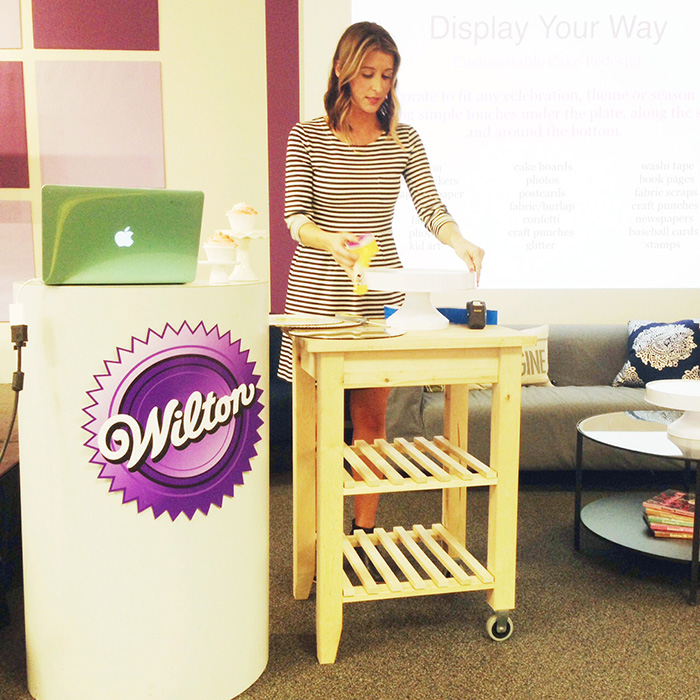 We then had a friendly competition creating party tables with limited props around the room. Our little group won the "Most Darling" but everyone won a ribbon, of course.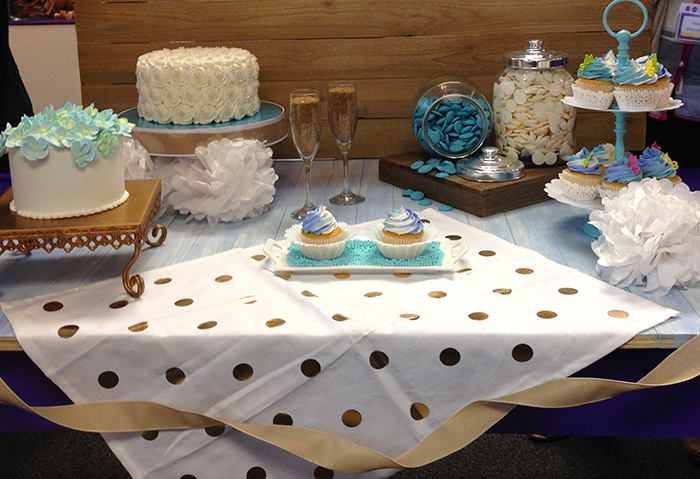 My favorite new product had to be the Treatology Favoring System Kit because the flavor combinations are endless. These aren't extracts like we're used to. They're meant to be blended together to create amazing flavors and infusions. We had a taste test where we nibbled sugar cookies and buttercream icings to see if we could pick out the exact flavors that were used. The flavors were so complex. Home run on this one.
Can you imagine these flavorings in your cookies, cakes and icing? Crisp Champagne, Sweet Meyer Lemon, Fresh Basil, Warm Cinnamon Graham, Juicy Peach, Salted Caramel, Creamy Vanilla Custard and Toasted Coconut. There's also a flavor guide to give you ideas of combinations.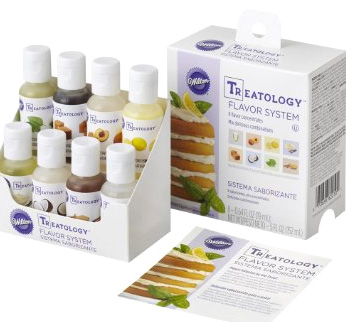 I looked up a couple recipes for you on Wilton's Treatology page that use the flavorings. Here's a recipe for Creamy Vanilla Custard Cupcakes that uses the Creamy Vanilla Custard flavoring. How about Sweet Myer Lemon Pound Cake?
After our taste testing, we were given a big, beautiful bonus at HQ this year as we where given permission to share all the behind-the-scenes wonderfulness in photos- like the cake room in all it's royal icing creative goodness.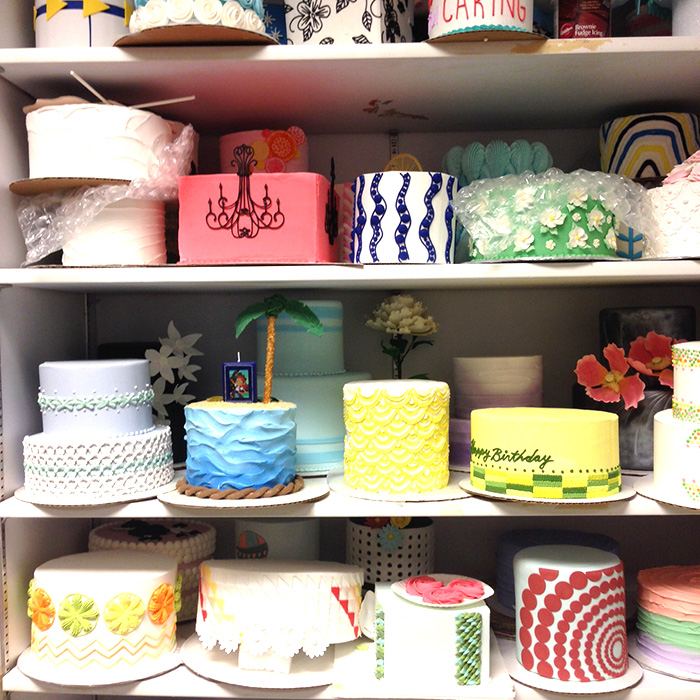 …. and the cake pop corner.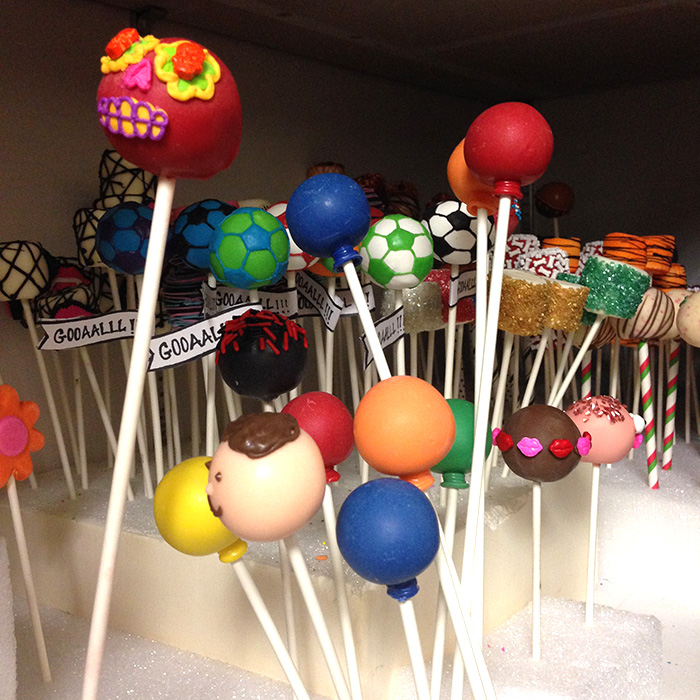 Can't forget cupcakes. Love the green guy on the bottom shelf with a candy knife decoration for Halloween. He must have been running in the halls.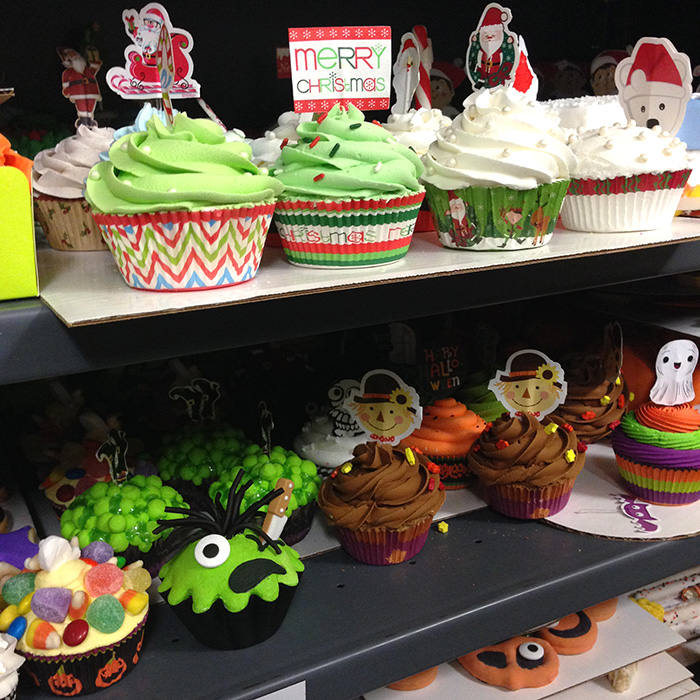 I found out that Wilton receives a finished baking pan about the same time it shows up in stores so to provide the consumer with a decorating guideline sample of what the finished cake should look like, they receive a silicone mold ahead of time and make a sugar mold to decorate with royal icing. Then a photograph is taken of the finished decorated sugar mold to accompany the pan. Who knew? So interesting. I love back stories!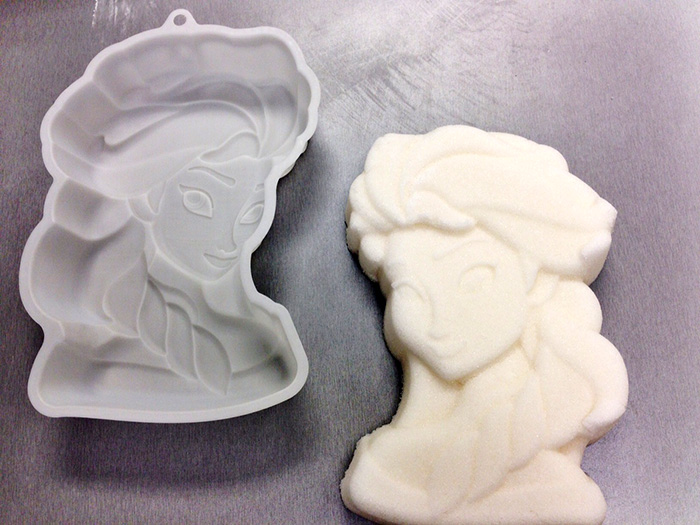 Here are some sugar molds drying under heat lamps.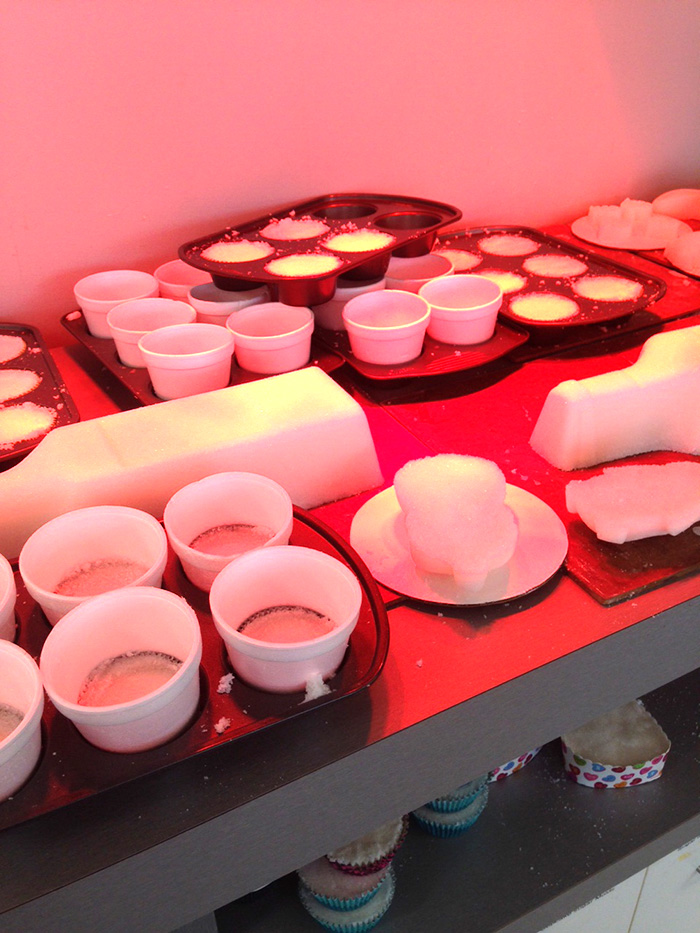 Decorating cookies for Thanksgiving were underway too.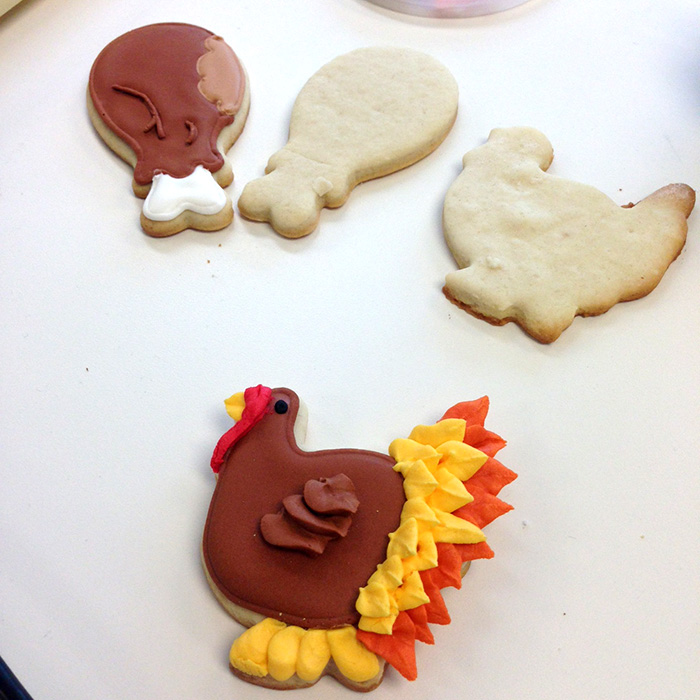 A decorating rock star sprayed a patterned roller with Color Mist, rolled it over fondant then cut out shapes to add it to the cake. Why didn't I think of that? Anyway, I'm glad she did.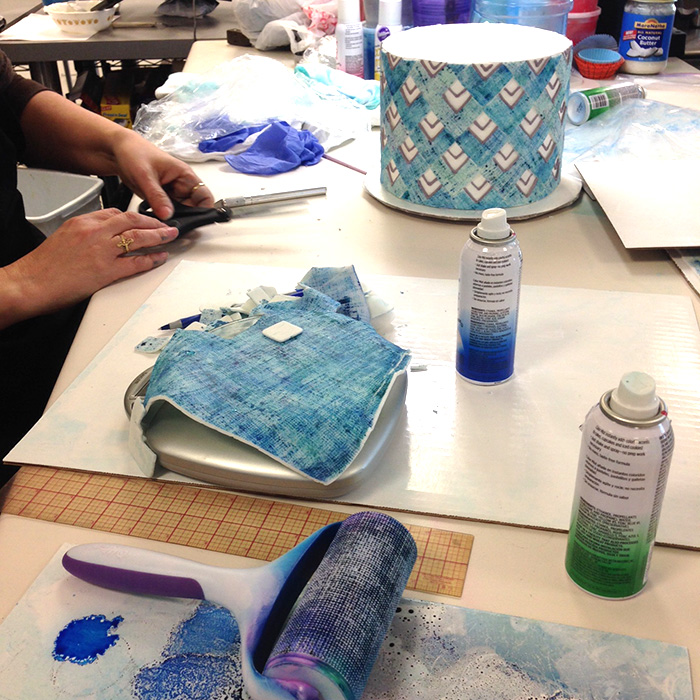 Of course, we were given time to shop in the most wonderful store. Here are my top finds for fun.
Are you kidding me? Bacon Icing Decorations? Perfect in every. single. way.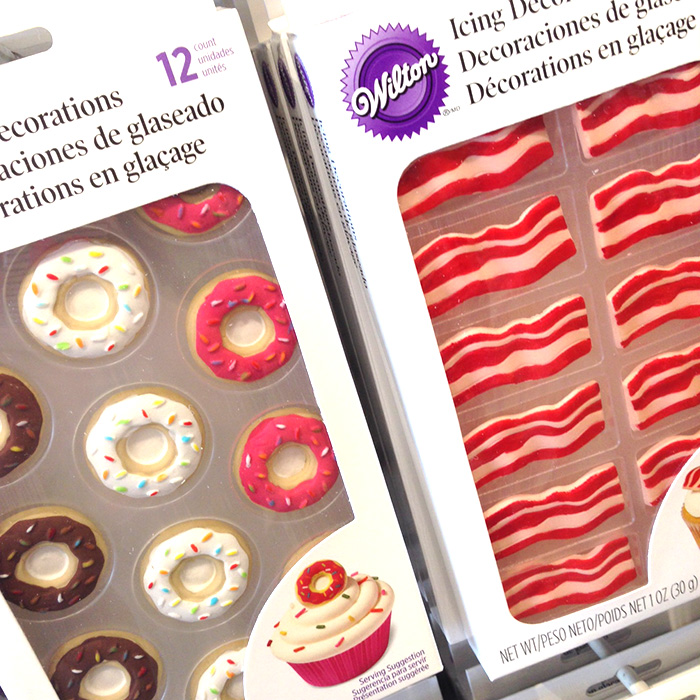 How cute are these lollipop cupcake toppers with stickers?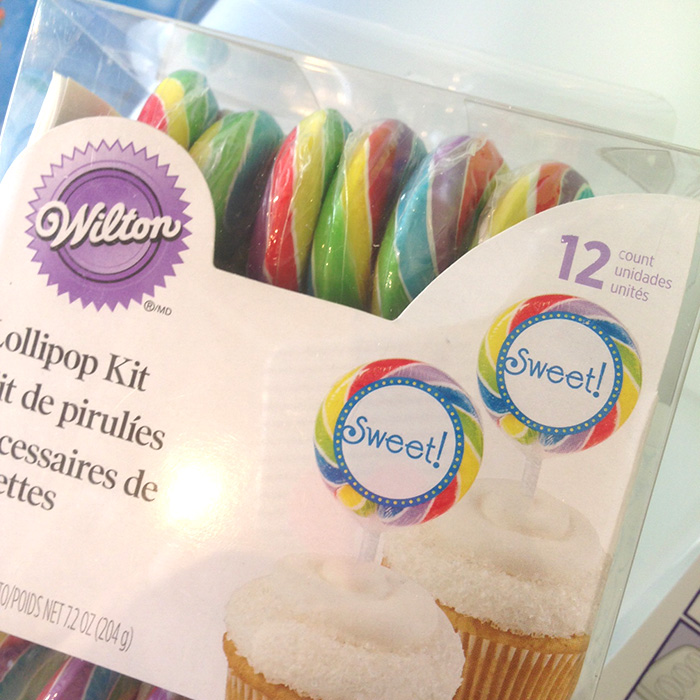 Loved these Sprinkle Sets by color.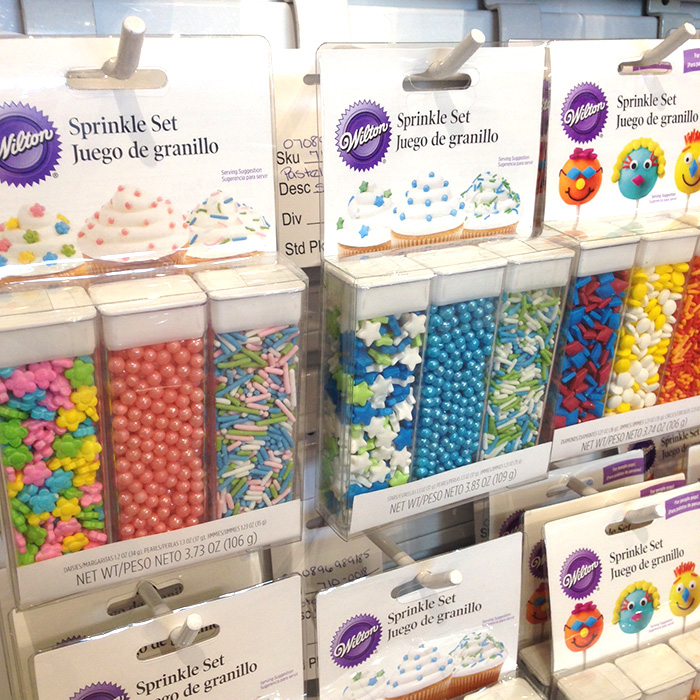 Hello ladies! I caught Katie and Beth getting ready for another Boozy Baking workshop from the window of the store looking into the classroom.
And of course, the Cake of The Year! These incredibly talented artists created this tiered masterpiece in only 40 hours! haha! Only. Advanced math skills were also required. See? You will use it again! 😉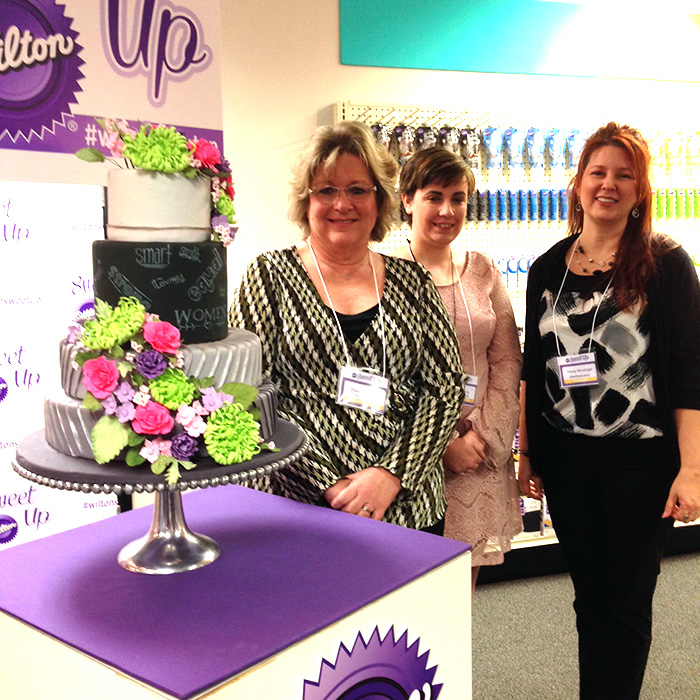 Here's to a wonderful Wilton Sweet Up 2015. It was an honor to be invited and to attend. Thank you, Wilton!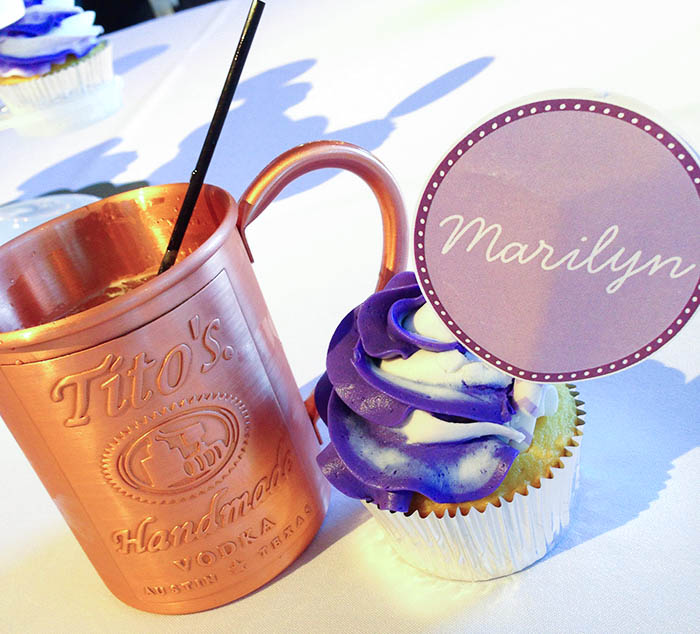 Here's a list of some of the new products you might want to check out because I personally think they're awesome and you might like them too:
Display It Your Way Cupcake Tower
Color Right Performance System
Display Your Way Customizable Cake Pedestal
ColorSwirl 3-Color Coupler – so fabulous it deserves a post of it's own but you can see the effect in the above photo on the purple cupcake.
As a Wilton Brand Ambassador and member of the Wilton Sweet Treat Team, I received product and/or compensation for this post by Wilton Cake Decorating. All ideas and opinions are my own and all the products were chosen by me to share with you.