If you have never had Christmas crackers on your holiday table this is the time to get them for next year at 50% – 60% off.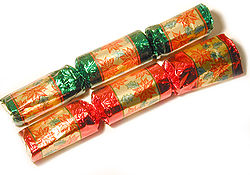 For the last 2 years I have placed them on each place setting and they are a lot of fun. If you don't know what they are here is a
Wiki link.
but the gist is … they are of English origin from the mid 1800's and traditionally hold a paper crown, a joke and a little trinket of some kind.
I learned this year though that we had been opening them incorrectly. Apparently the proper way to open them is to cross your arms and grab the ends of the crackers from the persons sitting on either side of you. This connects everyone and makes a big bang when they pop all at once. So exciting! It really gets the party started wearing the colorful tissue paper crowns, telling extremely corny jokes and passing around cheap little puzzles and tops.
They are half off at Sur la Table, Williams-Sonoma and Pier 1.
Six to a pack yields nicer toys but I go with the 12 pack because I love how the cheapy toys remind me of the Cracker Jack treasurers of my youth.
I'm all set for Christmas 2010 thanks to Sur la Table!
Give them a try! Cheers!