The great thing about making cake decorations with fondant is making extra for cupcakes. In this case, I made a St. Patrick's Day checkerboard cake a few days ago so I made additional fondant decorations for a batch of cupcakes.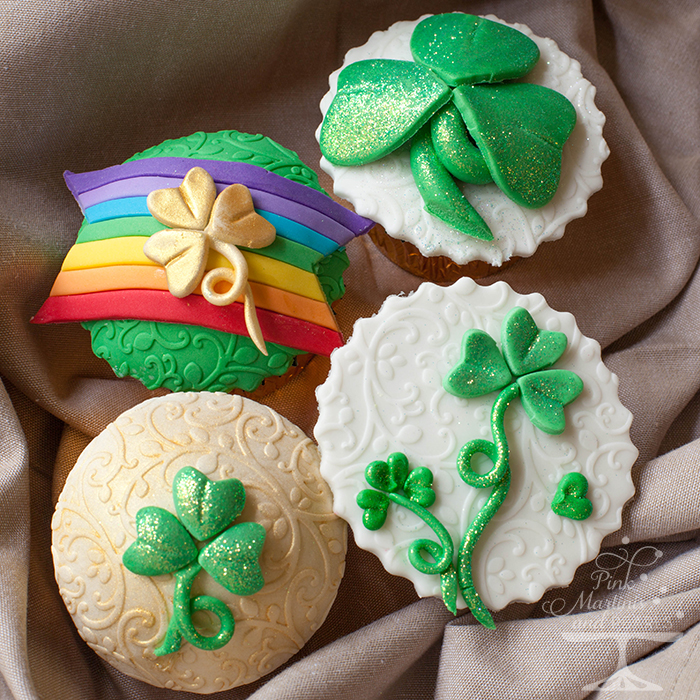 Let's start with making the cupcakes. In baking the checkerboard cake, I had some left over green and white batter so when I was ready to bake the cupcakes a few days later, I was able to use it and it worked out great.
I created the swirl by first placing the green batter in the cup and then placing the white batter on top. I took a wooden skewer and pulled the green batter up from the bottom and swirled the two colors together.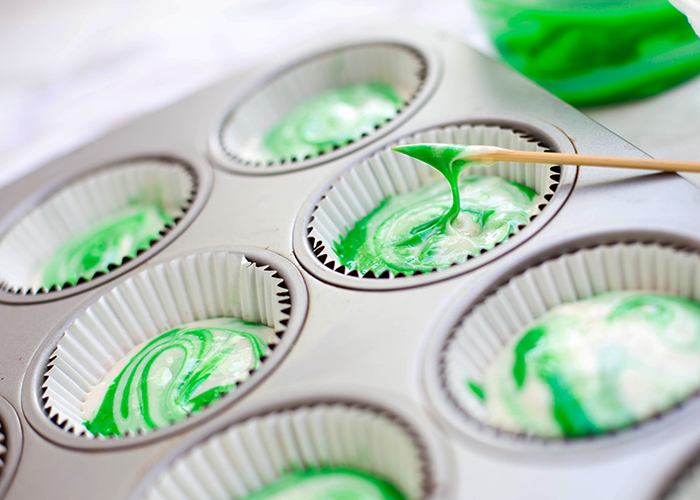 I love these gold foil wrappers by Wilton. Perfect for my pot o' gold.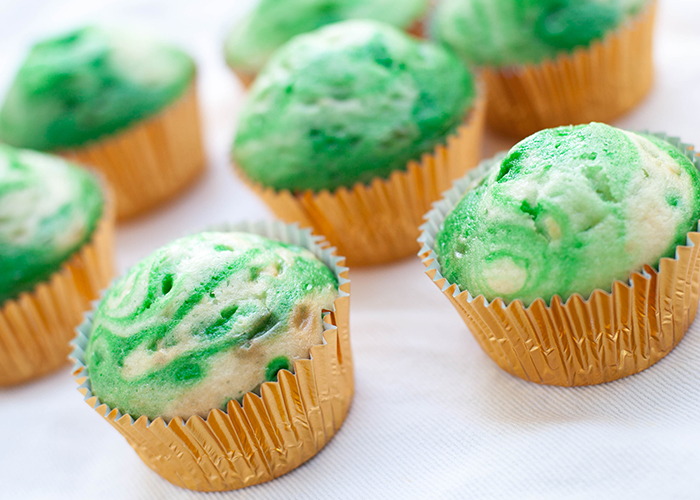 Have you ever embossed fondant? I love this look because you can do so much with it. You can create a subtle background or use luster dusts to brush or paint it over it. I'd been looking for a small mat with a swirled pattern for a long time and finally found one at a shop in the UK called Purple Cupcakes. The mat was concave on one side and convex on the other. I rolled the fondant over the concave pattern so the swirl pattern would be raised on the fondant. This pattern was called Vintage Vine.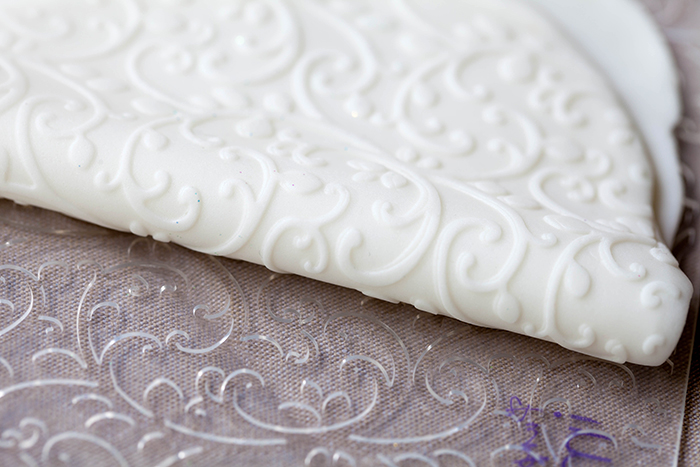 I also found these little half round foam balls at Purple Cupcakes. They shape the round cut-out of fondant into a dome.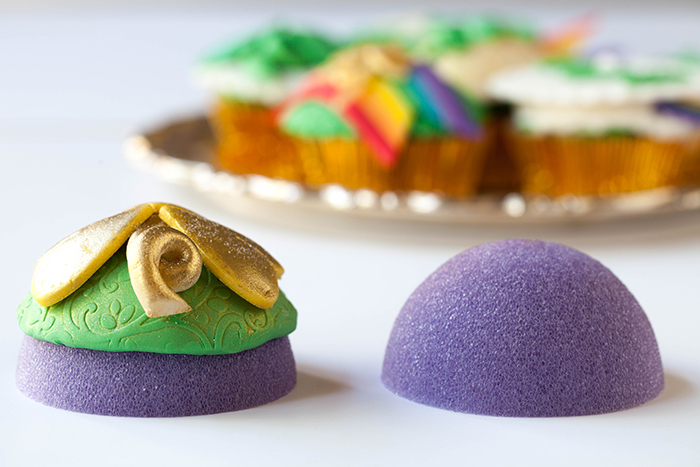 For cupcakes I made previously (see UCLA and USC), I'd ice the cupcake first then place a round cut-out of fondant on top and mold it with my hands into a dome shape. Using the foam forms eliminates this hand-molding step so the shaping process goes a lot faster and you don't risk the squeezing of icing from placing pressure when hand-molding.
These fondant domes harden to become a little cap that sits on top of an iced cupcake. The foam halves are nifty little 'fondant helpers' to have in your cake decorating tool box if you like the look to add here and there to a cupcake collection, as I do. The fondant doesn't stick to the foam so the cap can dry completely on top of it or it can be lifted off when it has firmed up a bit.
On the shamrock cupcake pictured below, I used Wilton's White Decorator Preferred Fondant and brushed the white fondant cap with Wilton's gold pearl dust. I then moistened the shamrock leaves and sprinkled them with green Disco Dust.
TIP: Do the sprinkling before you attach the leaves to the fondant cap. I used Wilton Dab-n-Hold Edible Adhesive to attach the leaves to the embossed fondant cap, but you could use a tiny dab of icing where the icing won't be seen. I highly recommend using Dab-n-Hold in areas where there's a possibility of icing being seen like in attaching the thin stem.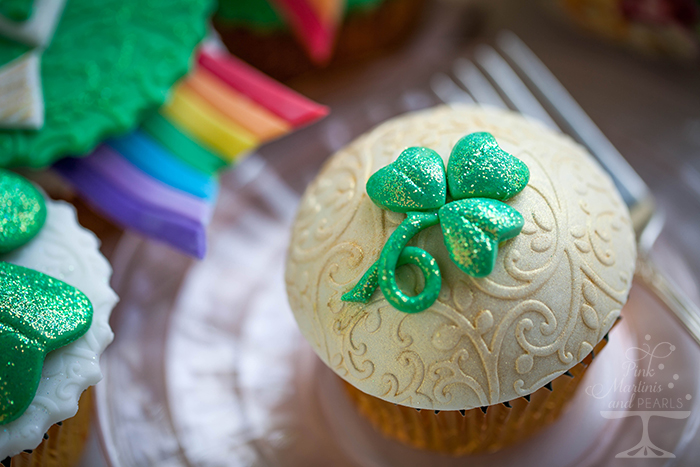 Could you tell the shamrock on the cupcake above is made from three fondant hearts? I used Wilton's Fondant Heart Cut-Out Cutters. They come in a pack of three graduated sizes. I also used fondant hearts made with these cutters for decorations on the St. Patrick's Day cake.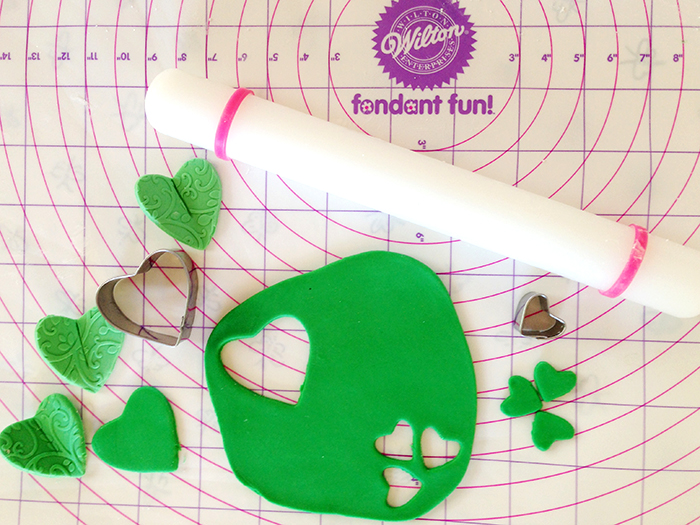 I tried different looks with the heart shapes. I embossed them and scored the center. I also gave them more dimension rather than a flat appearance by cupping them to look puffy with a fondant ball tool rolled around on the back of the hearts. You can do this on a fondant shaping foam (recommended for a more even shape) or in the palm of your hand.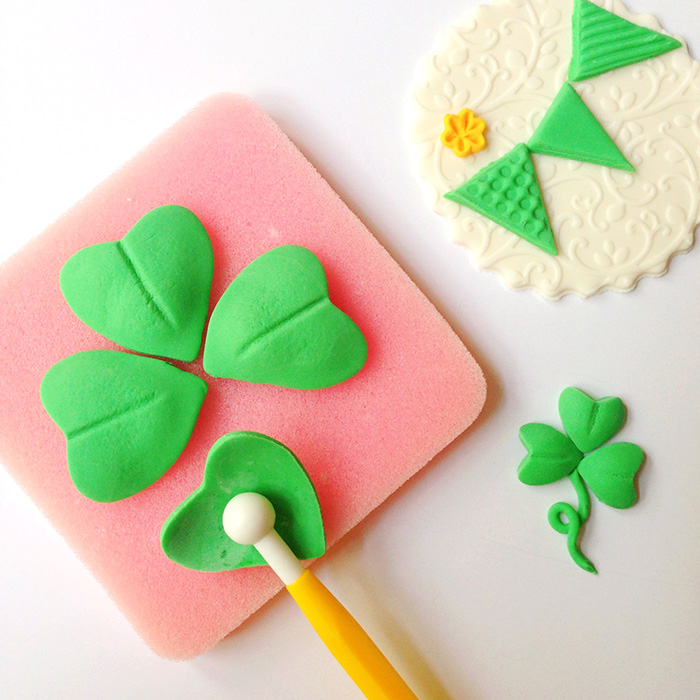 One design I experimented and had fun with was with the pennant stamping set.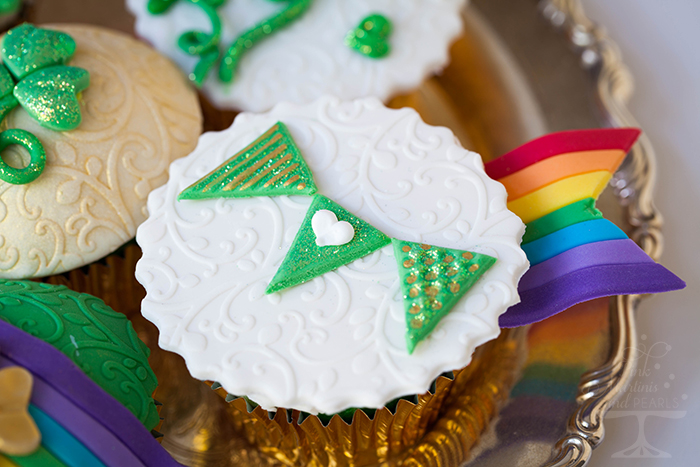 The impressions were made in the fondant with clear acrylic stamps that stick to an acrylic block. I love trying new things to decorate with.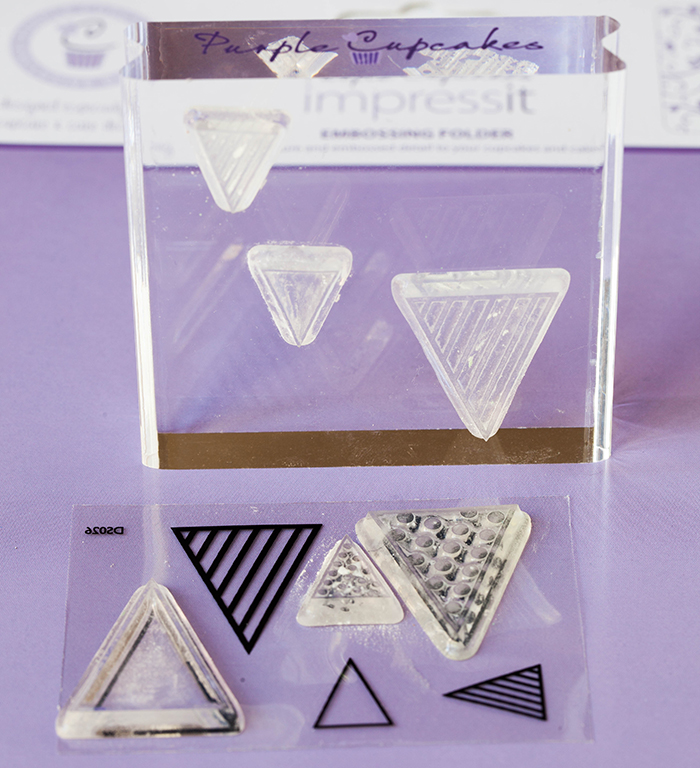 All ready for teatime!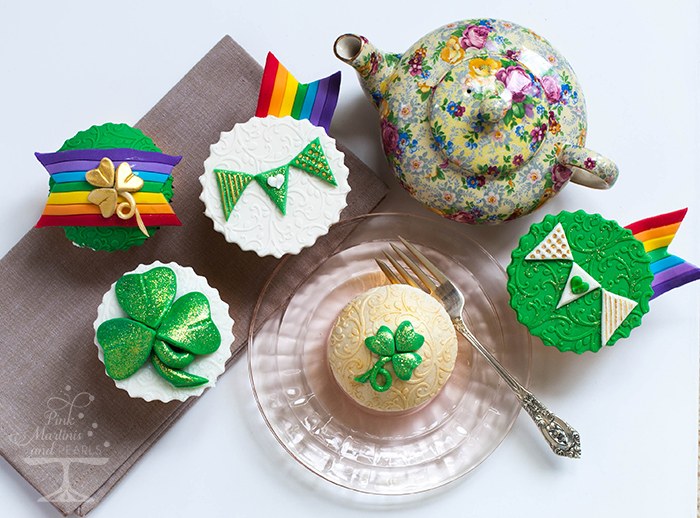 If you'd like to make the fondant rainbow ribbons you can find the DIY tutorial on the link.
So what's in your St. Patrick's Day basket? Hope it's some green and white cupcakes with fondant decorations!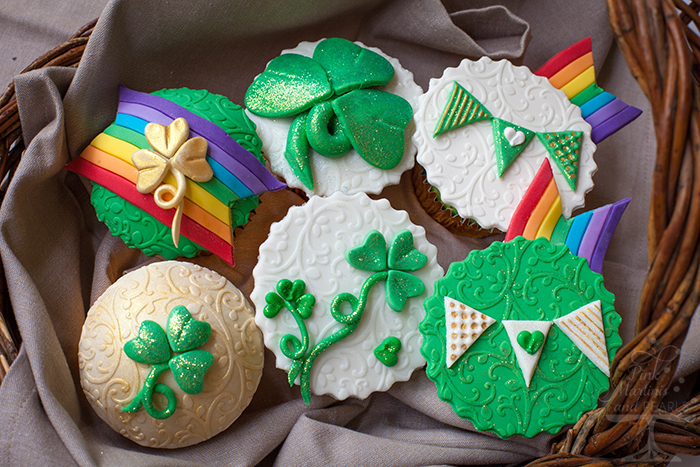 I hope you enjoyed reading about some new fondant decorating techniques. If you did, let us know and leave a comment. 🙂
Have a very fun St. Patrick's Day and don't forget to wear green!
Wilton Cake Decorating Products I used in making the St. Patrick's Day Cupcakes:
Gold Foil Cupcake Cups
White Decorator Preferred Fondant
Dab-n-Hold Edible Adhesive
Gold Pearl Dust
Fondant Shaping Foam
Fondant Tool Set
Roll-n-Cut Fondant Mat
Fondant Heart Cut-Outs
9″ Fondant Roller

As a Wilton Brand Ambassador and member of the Wilton Sweet Treat Team, I received product and/or compensation for this post by Wilton Cake Decorating. All ideas and opinions are my own and all the products were chosen by me to share with you.