If you read my post Wilton Sea Life Fondant and Gum Paste – Post Part 1 from a few days ago you know I'm loving finding a new creativity in decorating cupcakes using fondant shapes made from Wilton's Sea Life silicone mold.
In Part 1, I introduced you to this mold and shared with you a DIY tutorial on how to make the cupcake toppers you see below.
In this post, I'll share with how I decorated the cupcakes and give you a sneak peek to a fabulous fondant give-away I'll be hosting soon sponsored by Wilton.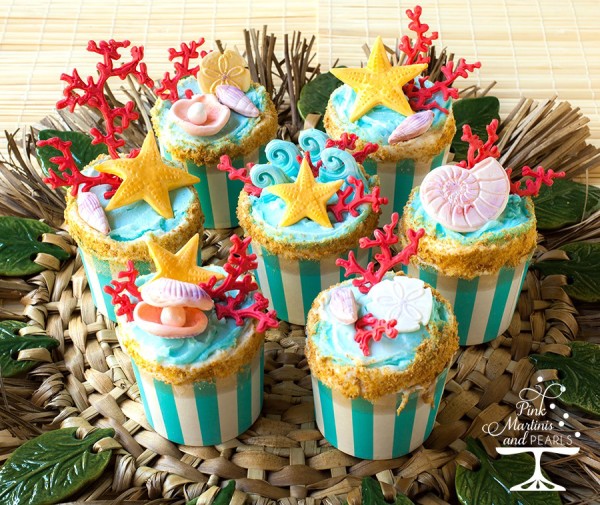 Let's get started! After, I pre-made the fondant shapes and allowed them to dry on a cake rack, I baked the cupcakes in these pretty and beachy cabana striped cups I found at The Container Store.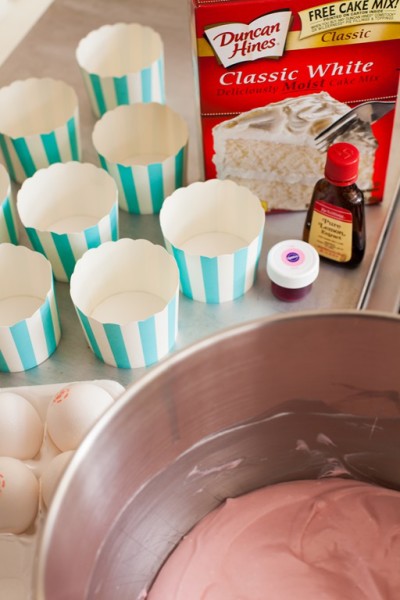 I love Duncan Hines white cake mix! I know I say that a lot but I do! I tinted it with Wilton's Pink decorating gel color and added a bit of lemon extract and lemon zest for a pink lemonade touch.
Isn't this the prettiest pink color? It's always my go-to gel color when I'm getting my pink on!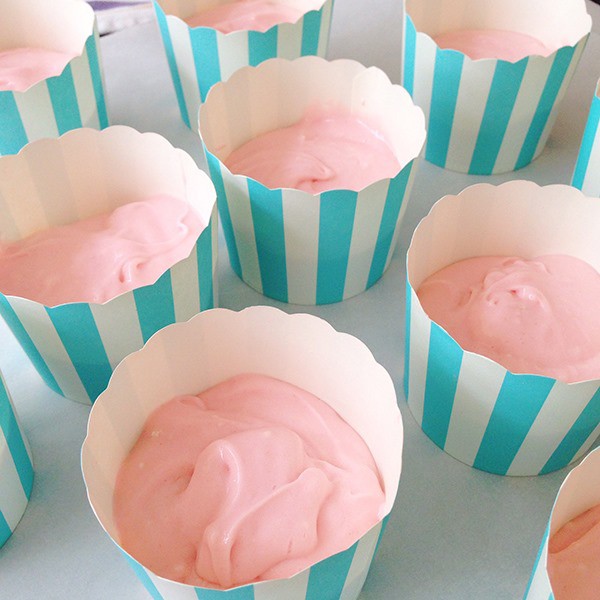 A tip – Make sure your cupcake papers are grease resistant. These pretty striped cups I used weren't and if I used them again, I would line them with a grease-resistant paper cupcake liner.
With the cupcakes baked and the fondant sea life shapes ready to go, it's cupcake time!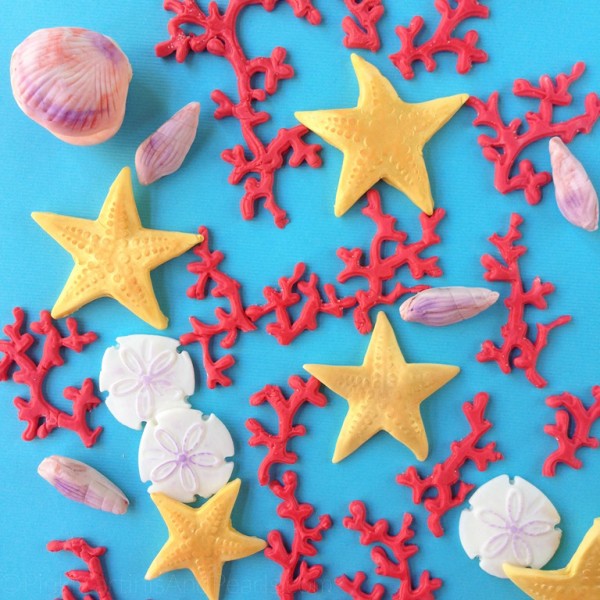 In the Part 1 post, a reader asked in the comments section about the fondant being hard enough to use when it was molded. I recommended letting it dry for a few days, especially with a thin shape like the coral. When dried completely, I had no breakage placing it into the icing and standing it up straight.
Fondant vs. Gum Paste –
If your wondering what the difference is between fondant and gum paste, basically, fondant is edible whereas gum paste, though considered a food product, dries rock hard and doesn't taste as good as fondant. So, in my opinion, it's more decorative and really isn't meant to be eaten.
Gum paste is usually used to make thin petaled flowers for cakes and is more forgiving to work with because of its ability to dry hard. Even dried fondant will yield when bitten into. Gum paste won't.
And you know what else is so great about fondant as cupcake toppers? They can sit on top of a cupcake in frosting for a couple of days and they'll be as happy as a clam! Fondant isn't affected by grease so you're good to go if you're decorating your cupcakes or cake a couple days before your event.
I'm digressing a bit here but since we're talking about toppers, sometimes I'll make toppers from piped royal icing which is egg white based. I can't add these decorations on top of the icing until the last minute as the grease from the buttercream would break down the egg whites in the royal icing and within a few hours I'd have two-toned colored toppers where the grease would have been absorbed causing the toppers to be prone to breakage.
To ice the cupcakes – I iced the tops and sides with Wilton Ready-To-Use Decorating Icing straight from the tub (white) and put a little blue tinted icing on top. The reason I used white as a base was because the graham cracker crumbs around the rim of the cupcakes I used for the "sand" looked better on a white background compared to the blue.
Once iced, I put them into the fridge to set up so the icing wouldn't slide off when I rolled the edges in the crumbs. I also ran a spatula around the edge to clean it up before rolling it into the crumbs.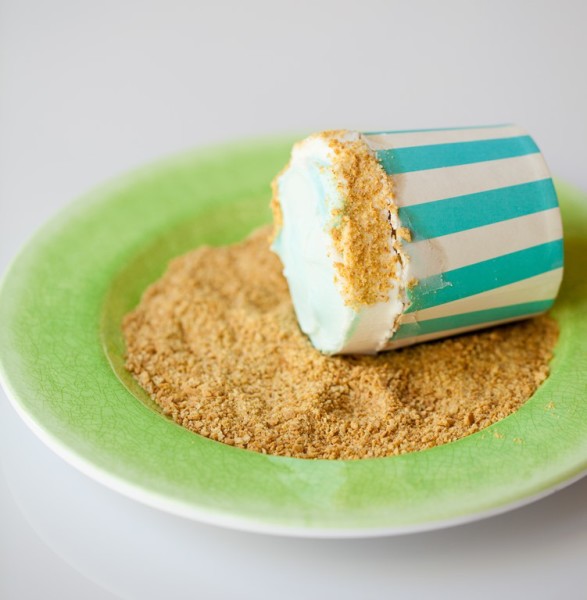 The graham crackers crumbs couldn't be easier to make. Put a couple crackers into a sandwich zip-type baggie and roll over it with a rolling pin. I used my little fondant rolling pin. It's that simple and the results were a perfect sandy effect.
Another great thing about fondant toppers –
Since the photographed cupcakes with the fondant toppers had been sitting around for a few days to shoot, I plucked off the fondant toppers and saved them to show you how perfectly they remain without any grease saturation.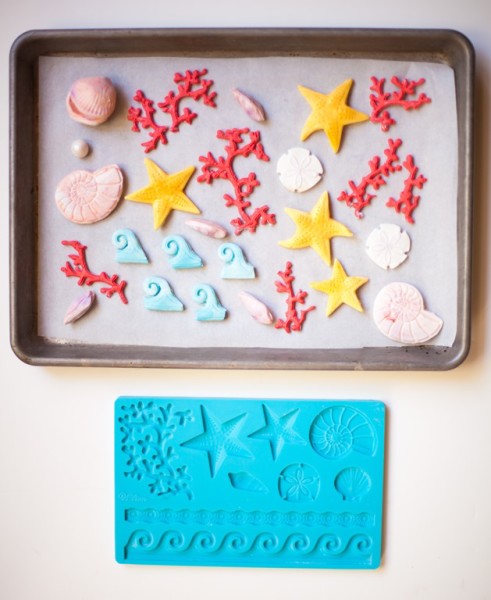 Here's the link to the Wilton Sea Life Fondant & Gum Paste Mold and the link to the DIY tutorial of how to make them so you don't have to scroll back up to find them. 🙂
So, does this inspire you to give fondant molding a try for your cakes, cupcakes or cookies? If so, I've got a terrific "fabulous fondant give-away" that I'm hosting and Wilton Cake Decorating is sponsoring! I'm so excited because I personally chose everything that I thought would give one lucky winner a very fun and creative fondant experience!
But first, I'm jetting off to the east coast for some VIP fun. You're invited to follow along on my Instagram and Facebook pages but here's a sneak peek of all the wonderful goodies in the give-away. Details coming soon!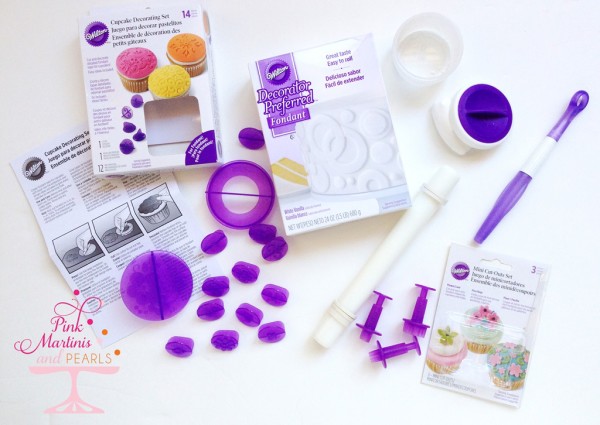 Have a great weekend, my friends!
Wilton Products Used:
Sea Life Fondant and Gum Paste Mold
Wilton White Decorator Preferred Fondant
Wilton Ready-To-Use Decorating Icing
9" Fondant Roller
Roll-N-Cut Mat
Dust-N-Store Dusting Pouch
White Pearl Dust
Past Wilton Posts
Sea Life Fondant & Gum Paste Mold
Pretty Pink Petal Cake
Fabulous Fondant Daisies
Father's Day Golf Themed Cupcakes
My Trip to the Wilton Sweet Up (Visiting the Mothership)
Peeps Brunch Bunnies
Whimsical Springtime Brunch
Twist Quick Coupler Review
Sweet Treat Team
This is a sponsored post. As a Wilton Brand Ambassador and a member of their Sweet Treat Team, I received compensation and/or product from Wilton Cake Decorating. All opinions and endorsements of the products I mention are my own. If I didn't love them… you know. 🙂