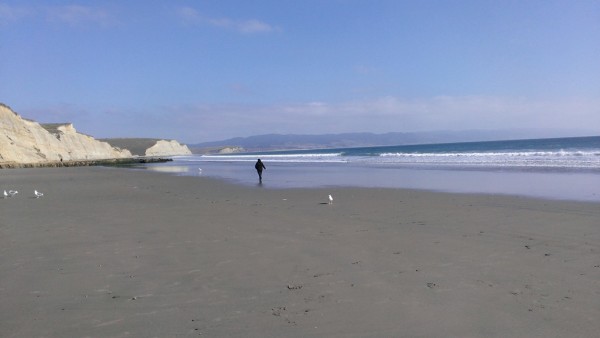 We had a lovely get-away in Berkeley and San Francisco this past weekend to visit son1.  Although it was a short trip we packed a lot of activity in – 3 delicious breakfasts, a memorable Italian dinner on College, shopping for an upcoming Tahoe trip, a drive up the coast to Pt. Reyes with beautiful blue sky weather and an extraordinary dinner in the Richmond district in the city later that evening.  At the little French bistro, Chapeau!, upon arrival, the owner greeted us by hand while someone offered to take my coat.  As we left, I found myself swirling in the double cheeked au revoir with the man whom I had met an hour and a half earlier as my coat magically reappeared with two hands at the collar offering me the red lining. 
In the middle was duck confit, Italian meringues and warm cream for my coffee held in an equally warmed pitcher.  Crumbs were scraped away before dessert without words spoken and water glasses were filled repeatedly with stealth maneuver.  Pure contentment.
The remnant of my dinner was held in the kitchen boxed and wrapped in foil to resemble a handled basket.  It wasn't shown to us until we were ready to leave.  Nothing must distract from the dessert presentation with the last few moments of graciousness.
By the time we left, the 49ers were losing with two minutes to play.  The city was eerily quiet – for a pedestrian city, there were none.  I only saw a few still figures turned towards a restaurant window on a corner in silence.  Car horns were silent as were the iconic bells clanging on cable cars.  In fact, I saw no cable cars at all.  Very surreal.  Perhaps this was just another Sunday night in the city.  I am curious to know.
Reality once again at home.  My solace is remembering the feel of my arms around my son and the glint in his eyes of having a non-Ragu weekend on us.  I'll gather the crumbs off our own kitchen table tonight with no tangible dessert to follow.  I'll substitute a ziploc bag for aluminum origami.  But all is good.  While we filled his nutritional needs and then some, I filled my heart.  There is nothing like a well and happy child. 
Good eats in Berkeley –
Venus (on Shattuck)– the flapjacks are out of this world – made with oat flour and corn meal.  Home made jam.  Earthy and delish.  Our go-to place every visit for breakfast.
Trattoria La Siciliana (on College Ave.) – the best Italian food.  Reservations are a must.  We waited over two hours on a Saturday night without them but talked to lovely patrons waiting like us and eventually were invited to sit across the kitchen and watch the fray with complimentary wine.  This is a very small place with four burners on the stove.  The wait staff was hustling like I've never seen all with smiles and authentic joy.  Cash only, no change and all piled up in a tall glass in the kitchen.  Family owned.  Love this.
4th Street in Berkeley – the upscale solution to the counter culture on Telegraph St. where the alums of the 60's sell tied died shirts and patches for jeans curbside.  The Crate and Barrel outlet next to Z Gallerie and Rejuvenation with CB2 and Sur la Table across the street not to mention the BeneFit, Bare Escentuals. MAC?!  I could spend all day here.  Start off the day with breakfast at Café M – big plates of yummy egg dishes or lunch.  Very sunny and cheerful place.
Philz Coffee – a bay area coffee company that creates individual blends, grinds and brews each ordered cup at a time.  Pick your blend, watch them grind it, place it in a filter covered container and pour hot water from on high into your ground coffee.  A nice change from the mega chain – Charbucks.  We found our delightful cuppa joes on north Shattuck.
I also found this amazing balloon sculpture on San Pablo Ave. and had to stop to find out about it.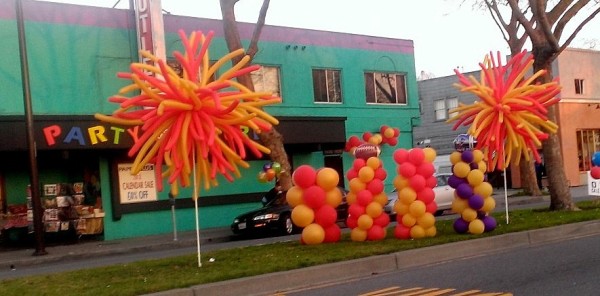 Wow!  I was so impressed that we pulled around and stopped so I could run inside and talk to the artist/owner.  He was very nice and told me how they did it!  100 – 3×50 inch balloons all tied together!  If only it could have fit on the plane, you bet I would have!
If you're in the Richmond district south of the Presidio – Chapeau!  C'est magnifique!    Hang a left on Clement coming off the Golden Gate Bridge.
I hope your February has started off with lots of heart!
I'll be posting my Vera Bradley give-away as soon as I catch up around the house.
Thank you for visiting today.  🙂