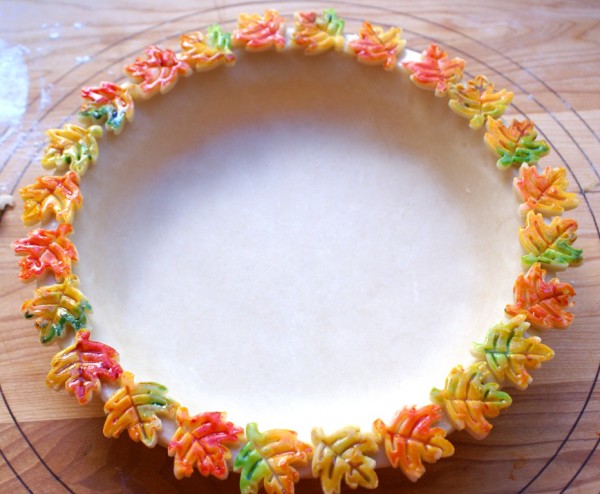 "Of Pie I Sing" – A remembrance, a recipe and an idea
Funny how we tend to keep the traditional childhood foods in our adult repertoire – especially if one is the host or hostess preparing the fare – unless we make a conscious effort to break the proverbial cranberry mold.
My childhood Thanksgiving dinner consisted of the good, the bad and the mysterious. My mom would toil over the turkey rising at dawn to put the bird in the oven after the previous night's ritual of making the stuffing. My job was to stuff celery sticks with two kinds of cream cheese. One was tinted pink with pimentos. It was my first introduction to cream cheese. I didn't like it then and I still don't but playing with it was fun. Mom taught me to make a squiggly pattern by running a serrated knife over the surface. When I think back, this was probably my introduction to making foods look pretty or "plating" as it's now called.
My aunt brought mixer whipped mashed potatoes that could have hung wall paper and gravy with little dark hard bits that tasted funny. I later learned these bits were cooked organs disguised by the cute sounding name of "giblets." No wonder. I love my aunt with all my giblets but this was "the bad."
My grandmother was a true mid-west farm woman born in the late 1880's which meant she could cook and bake circles around most. She made the pies. They were the good and the mysterious. In the 1960's in Southern California there were two kinds of holiday pies – pumpkin and mince meat. I made my way through the bland pumpkin thanks to a generous dollop of something new on the table called Cool Whip. I instinctively knew this wonderful white puff would be wasted on that dark, gelatinous mystery pie that the adults were eating. 'Mince meat pie' are words you just don't hear anymore. I decided to
Wiki-ed it
to find out what's really in it. You can explore it on your own. I think it's better that way.
Having my own family and needing a second pie besides the pumpkin variety I found something equally dark and mysterious but utterly decadent and delicious – pecan pie. That wonderful sweet, crunchy – slightly chewy goo that won the hearts and epicurean palettes of my men thus becoming the holiday pie of choice at our table since the mid 90's. And as you might know, if you read my last post, it also doubles as the Breakfast of Christmas Decorating Champions the morning after Thanksgiving.
Perhaps it will become a tradition in your home for dessert …. or breakfast. 🙂
This adapted recipe makes crusts for one deep dish pie, one regular pie and cut-outs for both.
Deep Dish Pate Brisee
3 3/4 cups all-purpose
flour
1 1/2 teaspoons
table salt
3/4 pound
unsalted butter
(3 sticks), cut into small pieces
In a food processor, place flour, salt and sugar. Process to combine. Add butter and process until mixture resembles course meal, about 20 seconds worth of pulsing. Add 1/4 cup water at a time in a steady stream through the feed tube with the machine running just until the dough holds together. Test the dough after adding 1/2 cup total. The dough has enough water when it holds together when squeezed in your hand. If it is still crumbly, add more water.
Turn dough out onto a sheet of plastic wrap. Press into a flattened circle and wrap. Refrigerate for at least 1 hour before using.
On a lightly floured surface, roll the dough into a round 1/8 inch thick and fit it into a deep dish 8″ or 9″ pie plate. Decorate the edges* or crimp. Chill 1 more hour or wrap and freeze until needed. If frozen, thaw in refrigerator until ready to use.
To prepare the crust for the pecan pie:
Preheat oven to 400 F. Prick bottom and sides of shell, fit it with a round of parchment paper or foil and weigh it down with rice or beans. Bake shell for 15 minutes. Remove paper or foil liner and weight and bake for an additional 10 minutes. In a small bowl whisk together the egg yolk with 1/4 tsp. of water and brush sides and bottom of shell with egg mixture. This will keep your crust from becoming soggy. Return shell to oven and bake for 2 minutes more. Remove and fill with the pecan filling that follows:
The Best Pecan Pie
6 Tbls. unsalted butter
1 cup firmly packed dark brown sugar
1/2 tsp. salt
3 large eggs
3/4 cup light corn syrup
1 Tbl. vanilla + 1/2 teaspoon
1 cup finely ground pecans*
1 cup chopped pecans*
Preheat oven to 275 F. In a bowl set over simmering water melt butter. Remove bowl from heat and whisk in sugar, salt, eggs – one at a time, corn syrup and vanilla. Return bowl to heat over water and stir until mixture is shiny and warm to the touch. Add finely ground pecans and chopped pecans. Pour into the crust. Bake for 50-60 minutes or until center feels set, but still slightly soft (it can still jiggle). Cool at least 4 hours.
Recipe adapted from David Rosengarten
Tips:
* Toasting the nuts adds even more nutty flavor. Trader Joe sells pecans already chopped and roasted. Just chop a little finer for the 'finely ground nuts.'
* I use Nielsen-Massey vanilla and vanilla bean paste interchangeably.
* Who can resist decorating the edges of the crust with these pie crust cutters from Williams-Sonoma?
Decorative Pie Crust:
Make cut-outs from left over dough scraps.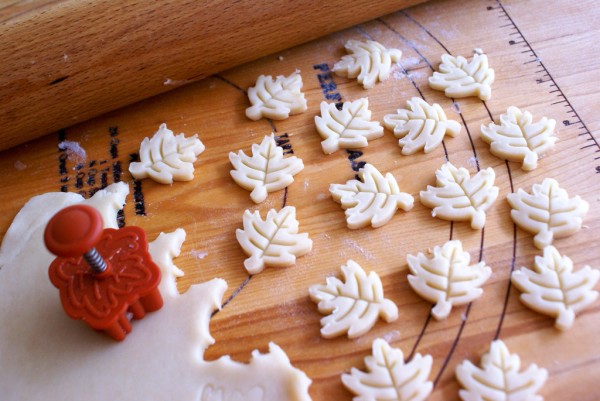 Take one egg yolk. Choose your colors. I used cake decorating colors but regular food colors from the store are fine. Green. Yellow. Purple. Red. Orange.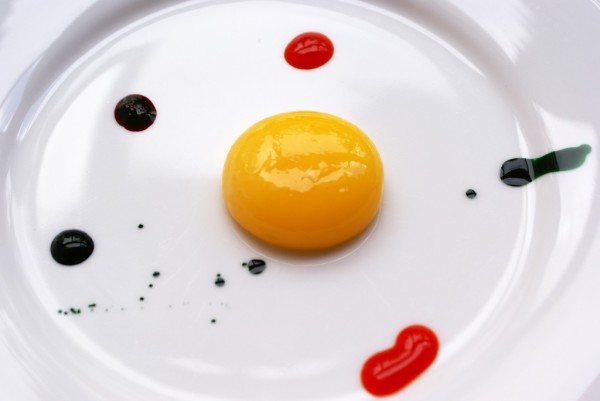 Break the yolk and mix a little of the colors into the yolk like an artist's palette.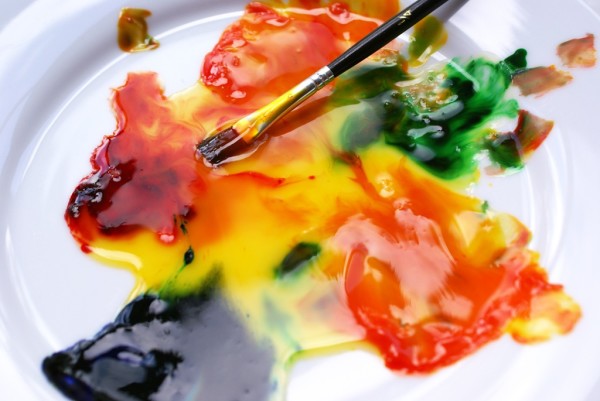 Brush one or more colors onto the raw dough leaves. Chill to firm them up a little. This will make it easier to press them onto the rim of the pie crust without losing the detail.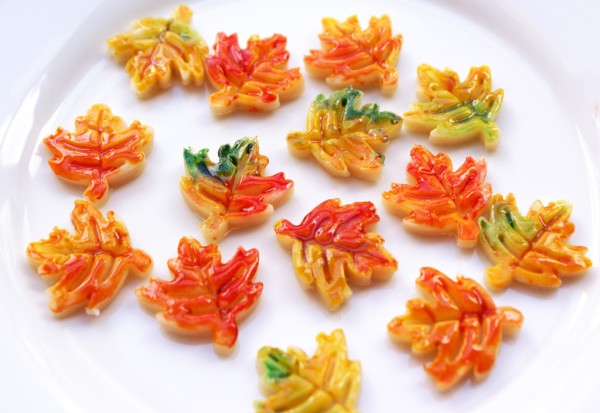 Flatten the rim of the pie crust and moisten it with water. Press the leaves onto the shell rim. Fill shell with pie filling and bake according to recipe.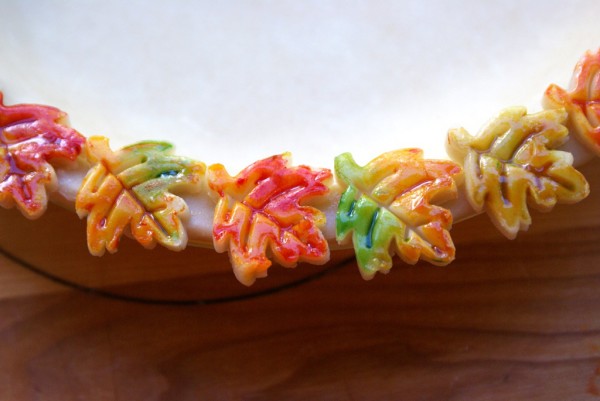 Baked!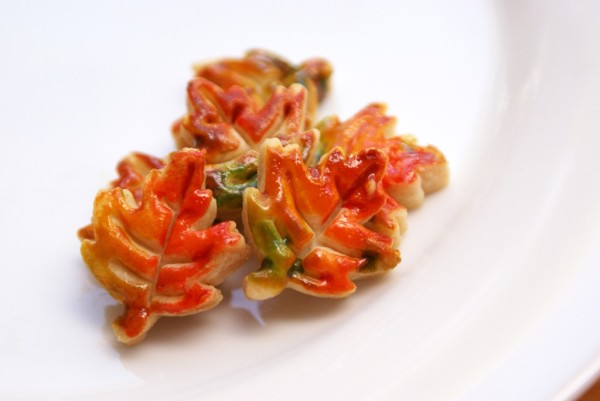 I'm not baking my pies until Wednesday so I couldn't show the finished pies but I did bake some extra leaves to show you how the colors stay vibrant and glossy.
For a crimped edge shell without additional decoration I'll bake individual leaves and place them on top of the baked pie or set one or two on the individual servings on the scoop of ice cream or on top of a dollop of whipped cream, the real stuff. Not cool whip. 🙂
Questions?
Have a very sweet and delicious Thanksgiving!
I receive no compensation for any retail recommendations. They're just "a few of my favorite things."