Happy March! I've been busy making decorations out of fondant that will adorn a St. Patrick's Day cake I'm envisioning. I say "envisioning" because I have ideas of certain decorating elements and then I have to figure out how I'm going to make them. This is why I love the creative challenge of decorating cakes, cupcakes and cookies and seeing if I can make those ideas come to fruition. I always ask myself, "Can I figure out a way to add more dimension or an element of surprise with a technique that I haven't used before?"
One thing I knew I wanted was rainbow flags or pennants for added color and whimsy. It's one of my favorite decorating shapes. You might have noticed I've included it a lot in my blog re-design for category title bars and for my "featured" pennant on my image slider.
I'll be posting a DIY tutorial on how to make the rainbow pennants this week or as I have been affectionately calling them, "rainbow bacon". I think they're sizzlin' being all colorful and wavy! There's a Wilton Cake Decorating tool that helps cut the straight lines. I couldn't imagine making these without it.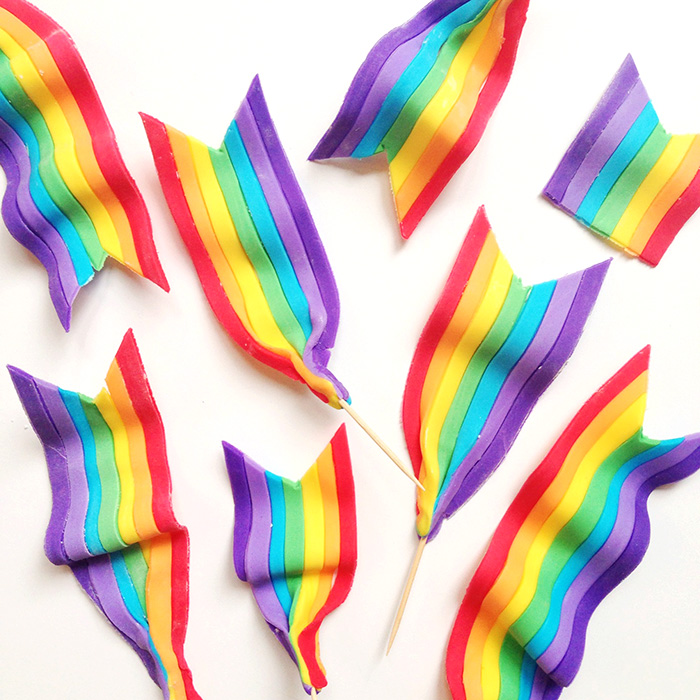 I've also been playing around with making shamrocks with heart cookie cutters. I wanted the shamrocks "puffy" and dimensional and not flat so I figured out a way to do this that was very easy working on the backside of the petal with a fondant ball tool. I then went on to experiment with other looks – embossing, painting, dusting – all to see what strikes my fancy or floats my boat, as my husband likes to say. The jury is still out. I'll mix and match and try different combos of elements until my boat floats. 🙂
There will be a more detailed DIY tutorial post on the designs too. Here's some pennants "under construction."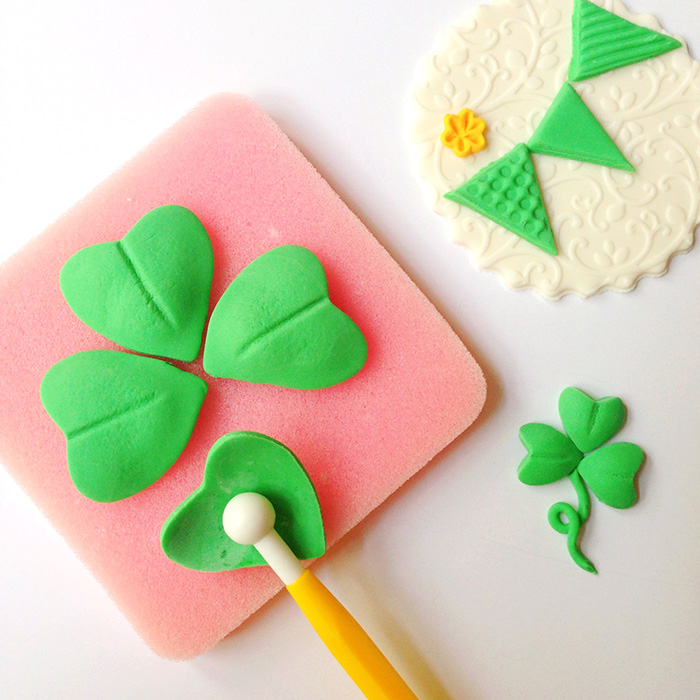 This is my work station as it really is, no styling as you might be able to tell. It's kind of messy in what I like to call "creative chaos" to justify the mess. What do you think of embossing fondant? I love the look as it can be very old world-lacy looking or more elegant highlighted with gold, either painted or dry brushed.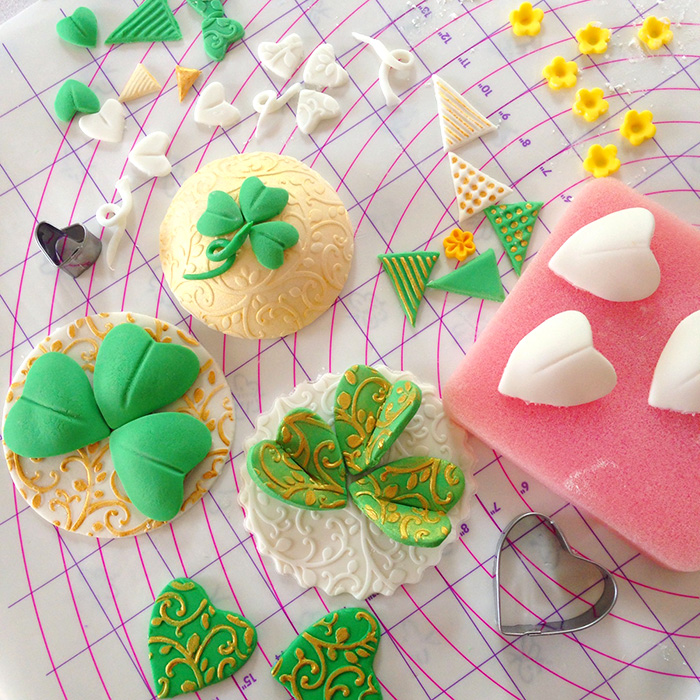 Is there anything that strikes your fancy or floats your boat? I'd love to know!
Wishing you a wonderful new month as we spring ahead surrounded by fresh green colors.
Aren't we all just a bit Irish this month?