Lately I've been enjoying Dr. Andrew Weil's True Food restaurant in Newport Beach in Fashion Island. It's not 'health food' per se but healthful eating. The menu is completely seasonal and is based on Dr. Weil's take on the food pyramid. There is red wine and dark chocolate listed on the pyramid so he has my attention.
We went to a cooking presentation last week where Dr. Weil was present. He is exactly what he seems ~ casual, informative and approachable. The chef made a quinoa salad that is on the menu. True Food will have a cook book out in the fall of 2012 but they shared with us the recipe of this popular salad. I also like it as a side dish.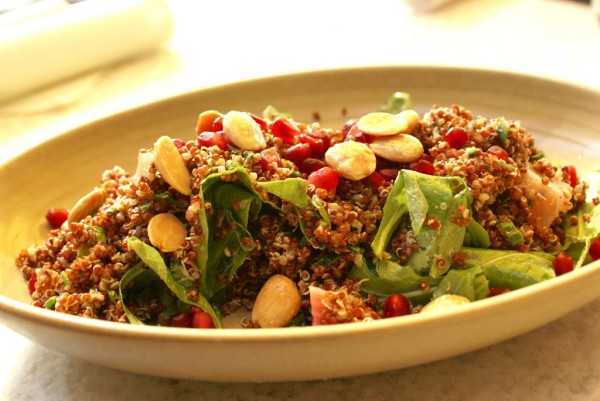 Of course, I had to go back and order the full salad so I could get a photo!
We sat in the patio in the late afternoon sun until my red headed man felt the sun was getting the better of him and we moved to the shade. sigh. I could have sat there for the rest of the day on the banquette reading a book until the sun set.
Did I tell you what a beautiful day it was in Newport?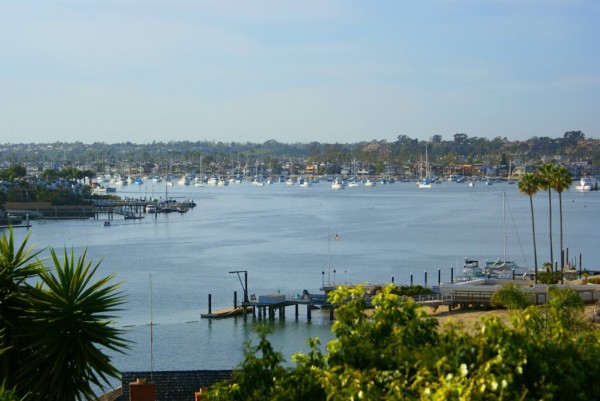 But I digress.
Why do some things just taste better when someone else prepares them?
True Food's roasted vegetables are tossed in equal parts of EVOO and canola oils, salt and pepper. Simple. We roast vegetables almost every night at home and they don't taste like these.
We were wondering why our parents never prepared vegetables this way.
Did yours?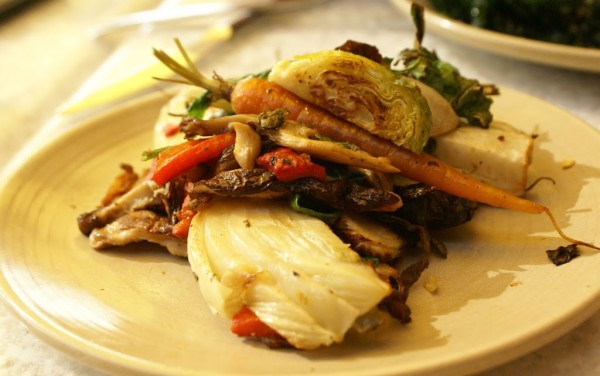 On the way home I turned off PCH in Corona Del Mar (CDM) to look at Newport Harbor. The sidewalks were full of runners and walkers and the cutest dogs. In the front picture window of one house was a fully decorated Christmas tree. I would have taken a picture but someone was sitting outside. I wondered what the story was. Where they waiting for someone to come back home?
I came across Pirate's Cove in CDM and loved this lone palm and the desolation of the open sea at the end of the wedge.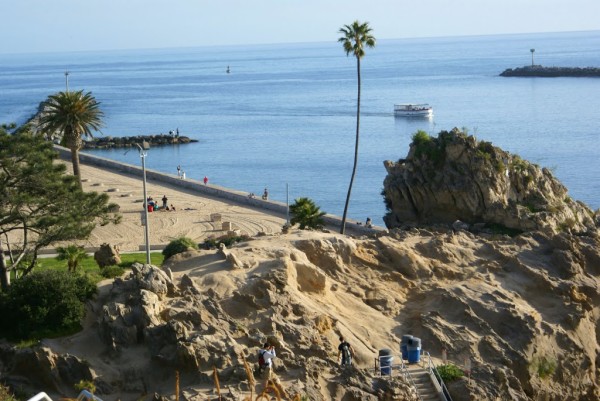 I continued down PCH to Laguna Beach. I never tire of that gorgeous stretch. Ever.
But I digress again. The warm sun and the salt air will do that to me.
Here's the recipe for the qunioa salad.
And like any 'toss together' recipe, you can add more or less of anything.
Enjoy!
Quinoa Tabbouleh Salad
Serves 6
1 box Red Inca Brand Red Quinoa or any kind

3 lemons Juiced
4 TB Extra Virgin Olive Oil
2 tsp salt (optional)
1 tsp red chili flakes
6 oz Arugula Leaves
4 TB Pomegranate Seeds
1 cup roasted peeled and diced beets
2 cloves garlic smashed through a garlic press
½ cup chopped flat leaf parsley
1/3 cup chopped mint (spearmint)
1/3 cup chopped green onion
For this recipe, cook the quinoa as directed on the box until tender and fluffy. Allow the quinoa to cool completely before assembling the salad. Add the garlic, lemon juice, salt, olive oil, chili flakes along with all the chopped herbs. You can taste it at this point and add more lemon, or garlic if you like. Toss in the roasted beets and arugula leaves. Once you have added the arugula it is important to serve it as soon as possible.
Recipe courtesy of True Food chef Michael Stebner