I saw this beauty yesterday in the LV store.


It was calling my name – in French even!
It was iridescent like the vinyl of a vintage car's back seat just pleading with me to hop in and be bad. For close to $900 I couldn't be that bad even for a bag. Ever. I found this knock off for $239 and although I know it doesn't have that hypnotic allure of the real LV, I'd be happy to take her out for spin and drive her around the block a few times.
I also took a gander at this in the Kate Spade store…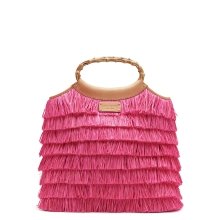 Aloha! Love it!
KS stores only received 2 pink per store.
They had natural and orange but this island girl's heart belongs to pink.
I signed up to win the Hawaii trip too. Wish me luck!
"Can't You Hear My Heartbeat" – Herman's Hermits