Are you thinking yet about the December holidays and sitting on the fence whether to entertain and host a fun party?  With the temps in the high 80's here in Southern California it doesn't exactly feel like the holiday party planning season is here but it is!  Thanks to Shutterfly, I was able to find my holiday spirit while working on a project for them.
I'm very pleased to feature a party invitation that I chose, and I think you'll love it too because it has happiness written all over it!  It's the Jingle Jingle Mingle Holiday Invitation from the Perfectly Personal™ line of invitations from the Holiday Cards Collection.  Every holiday season, I decorate my red front doors with silver sleigh bells so this caught my eye immediately.
Did you know invitations from Shutterfly are two-sided?  I was able to add more special touches on the back.  Of the many backgrounds to choose from, I felt red bokeh lights nicely complimented the red graphics on the front of the invitation.
I also downloaded a photo of my of mini snowflake cookies and added a message for my guests to "bring a plate of cookies and their singing voices."  It's a holiday party after all!  It's perfectly acceptable to get your fa-la-la-la-la on.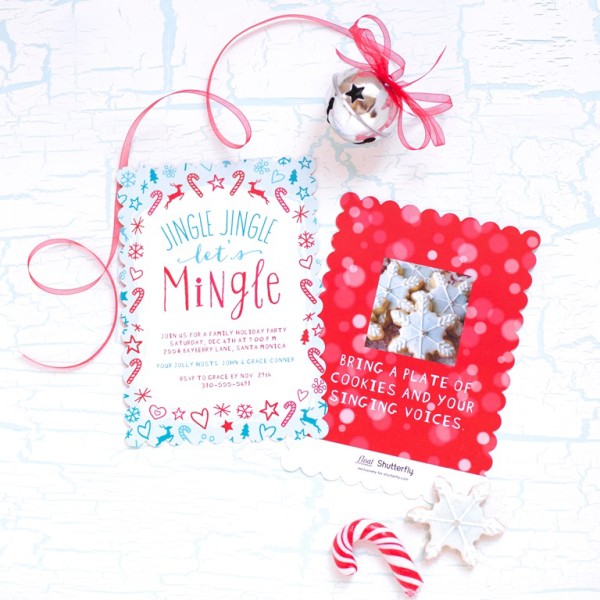 Do you give your guests a little something extra to remember the party by?  I do.  A little bag of mini snowflake cookies like the ones seen on back of the invitation will be a perfect party favor!  I ordered a set of stickers to make gifts tags to tie onto bags of decorated cookies.  I chose the Holiday Cheer Pattern Stickers and added the text line – "Have a sweet holiday".
Making these gift tags using the stickers couldn't be easier – Place the stickers on card stock, cut around the sticker with a decorative edged scissors, punch a hole for baker's twine, loop the twine through and that's it!  So cute, easy and fast to make!  These will be finished long before the time it takes Clarence to get his wings or Rick to take out the majority of the zombie population in the greater Atlanta area.  🙂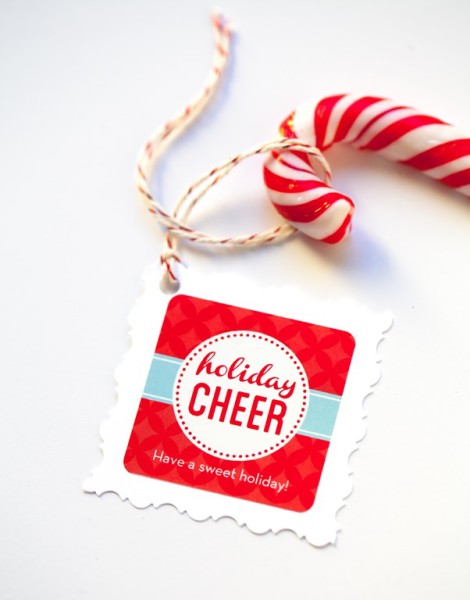 To complete the theme of snowflakes and candy canes, I ordered custom postage stamps from Shutterfly and chose a candy cane striped border to frame the same  photos of my cookies that I had used on the back of the invitation.  Now the envelope will be a sneak peek to the call of festivities that await inside!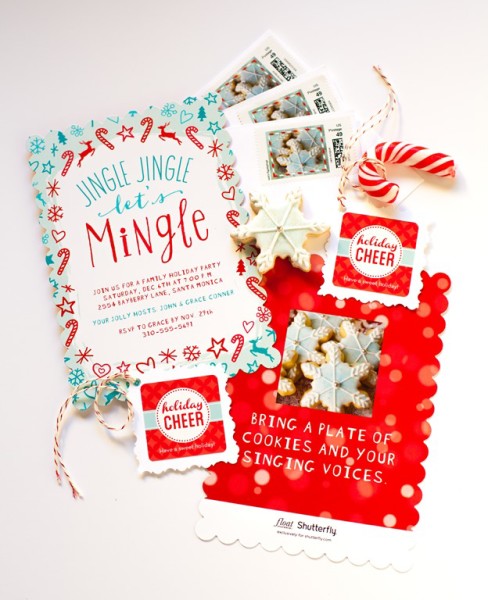 It's really fun to browse the Shutterfly site to bring together all the elements that get the party started.  Instant holiday spirit is just a click away!
AND…if you want to learn how to decorate the mini snowflake cookies for your own gift giving and other sweet holiday decorated cookies, I'm teaching 2 holiday hands-on workshops at West Elm OC South Coast Plaza.  1.  Holiday Cookie Decorating Workshop on Thursday, Dec. 4 at 7:00 PM and 2. Holiday Gift Wrapping Workshop on Saturday, Dec. 13 at 10:00 AM.  More info to come!
This is a sponsored post. I received compensation and/or product from Shutterfly.  All opinions and endorsements of the products I mention are my own but I chose this ensemble for you!  Thank you, Shutterfly!