I hope your Thanksgiving was wonderful. Ours was, as both boys were home and were able to stay a few days but today they've flown the coop again. I never get used to that but before they left they got out all the Christmas decorations and put the garlands up on the banister while I was out shopping. It was a perfect surprise! It's a big job to get the greens and lights up on our curvy staircase so I decided to let the guys continue their merry-making while I headed into the kitchen to show them how much I appreciated their thoughtfulness.
As a Wilton Brand Ambassador, I have the privilege of receiving and trying out new products on a seasonal basis. For this holiday season, I was so excited when I opened my box of goodies a couple weeks ago to find a snowflake cake pan. Since then, I've been waiting for the holidays to make a gingerbread cake with warm, spicy notes.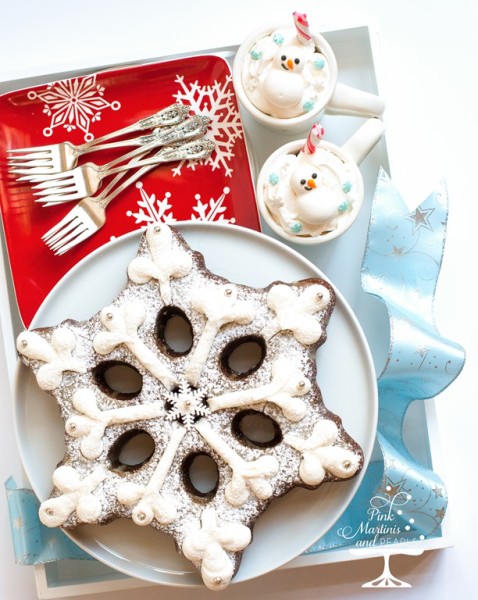 There's directions on the pan wrapper to tell you know how much batter the pan can hold. It takes the equivalent of one boxed cake if you're going with a mix, by the way. My gingerbread recipe was made from scratch (link below) and yielded more batter so I filled the pan to where I thought it should be and poured the rest into a mini Wilton loaf pan. Both cakes came out perfectly!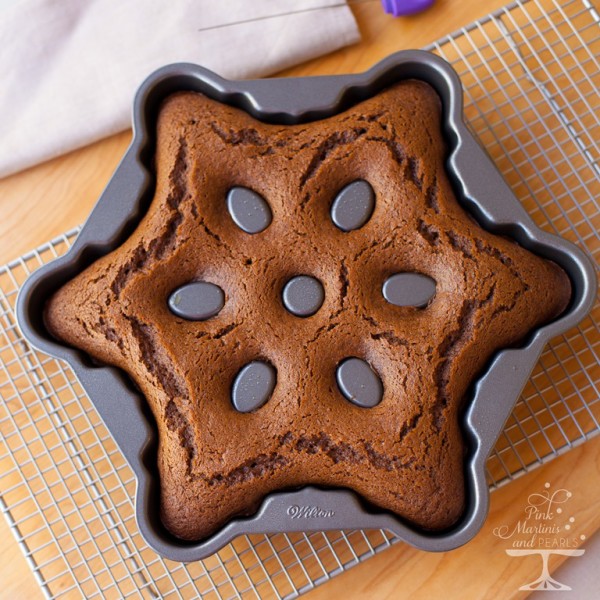 After the cake was cooled, I flipped it out of the non-stick pan. This will be the top of the finished cake. I got involved in holiday decorating so I forgot about my ten minute mark to take the cake out of the pan but I still came out fine even though it was completely cooled. If I had done it at exactly ten minutes, I wouldn't have had any little rough areas on the bottom (now top) of the cake. It's like a little game to flip the cake out of the pan. I strive for cake release perfection. If you're a baker, you'll understand. ha!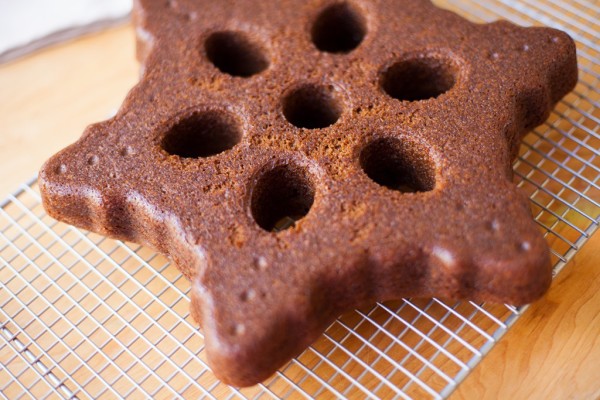 Next, I glazed the cake with a mixture of sifted powdered sugar, half & half and vanilla and spread it over the cake with the back of a spoon. If the glaze felt like taking a detour over the sides of the cake, why not?
After it was set and dry, I sifted powder sugar over the entire surface.
Taking a large, plain round tip placed into a decorating bag, I piped cream cheese frosting (recipe below) on the tips of the snowflake. Another dusting of powdered sugar over the piped frosting gave the icing a snowy look. I finished decorating with Wilton's White Cake Sparkles sprinkled over the piped icing and large silver dragees. It's a simple decoration that's easy, elegant and pretty.
The punched out snowflake in the middle is made with fondant that was allowed to dry and harden. I've made dozens of make-ahead fondant embellishments to bring to the Holiday Cookie Decorating Class at West Elm South Coast Plaza that I'm teaching this week. Always good to make extra fondant decorations because they can be used for any sweet decoration in the future.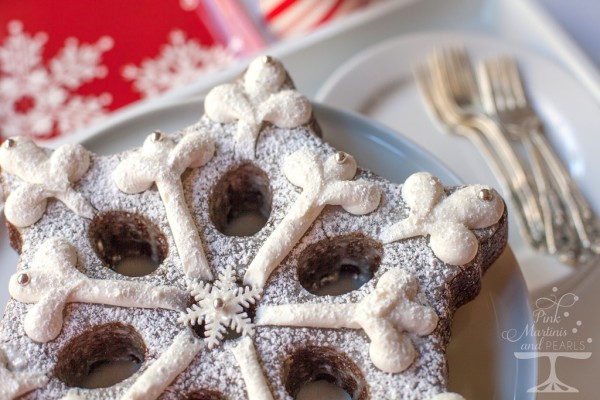 Know what else I fell in love with in my goodie package? The Cocoa Trimming Kit. It's a pack of marshmallow snowmen with accompanying peppermint sticks!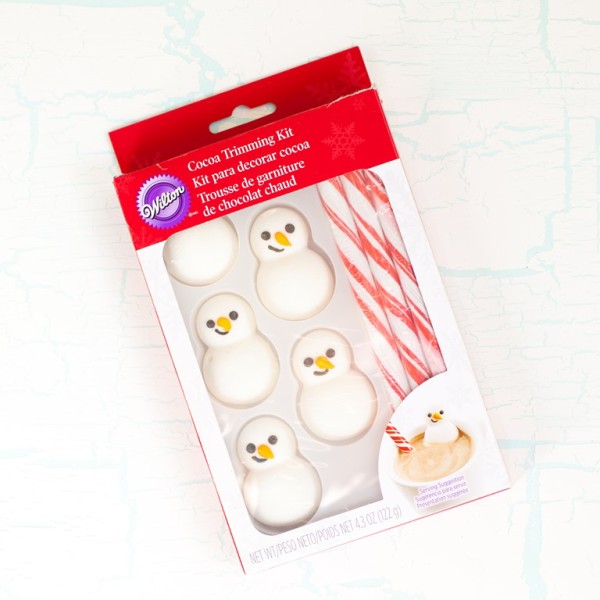 How cute are they? They hold their shape well since they're not as squishy as regular marshmallows and they come with individually wrapped peppermint sticks.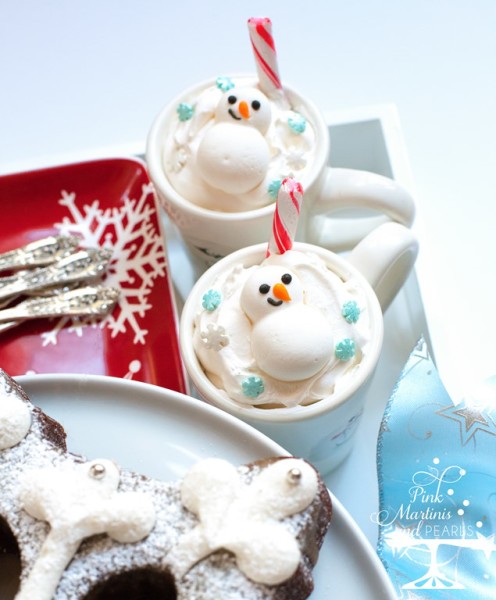 For our hot cocoa, I added Wilton's pearalized snowflake sprinkles on top of the whipped cream. I love the color combination of red peppermint sticks paired with the blue candies for accent.
With the gingerbread cake baked and decorated and hot cocoa ready to go, I put together a tray of holiday treats for my three merry-making men who by this time had just finished putting up the lights outside! This is our second year of having green pinpoints of laser lights all over the house and landscape. We've already had someone come to the door today to ask about them before we even put them up because they remembered them from last year. Here's a photo I posted on Instagram. We had them up for Halloween too where we added blue lights to the green.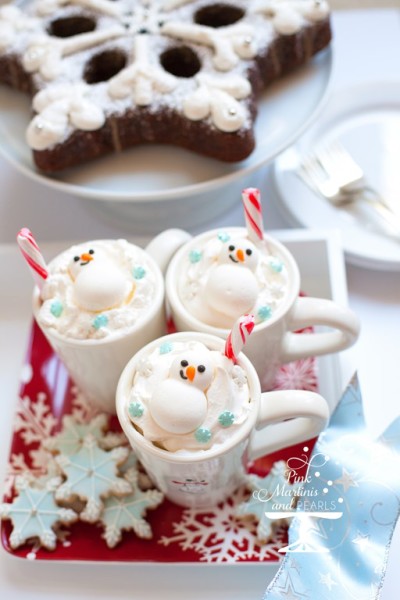 I can't get enough of these smiling little guys!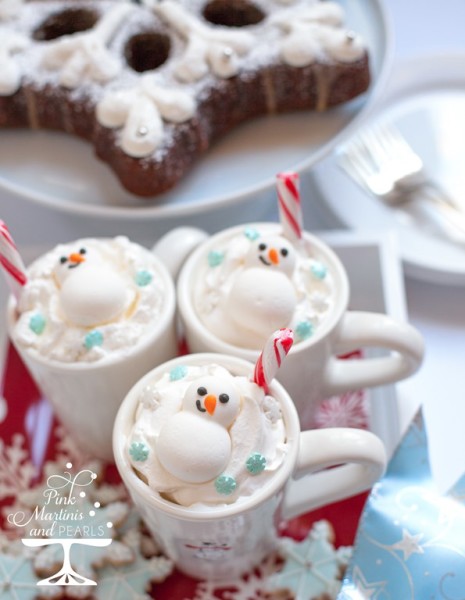 I love these festive touches for the holiday season. Below you'll find recipe links, product information and other Wilton inspired links!
Have a wonderfully sweet holiday season!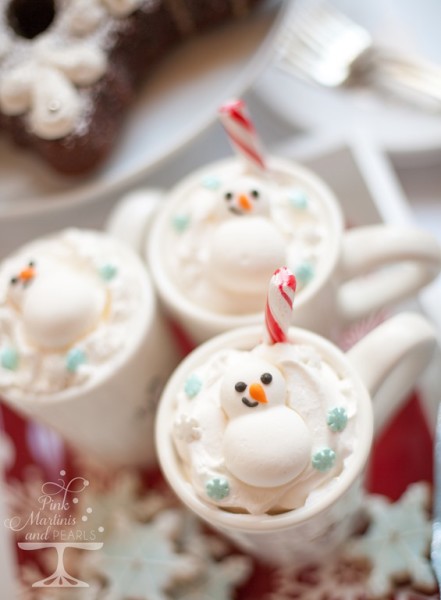 Cream Cheese Frosting
4 oz cream cheese (room temperature)
2 cups powdered sugar
1 tsp vanilla
Cream all ingredients. Thin with a bit of milk or half & half if it's too thick to spread or pipe.
Wilton Products Used in this post:
Snowflake Tube Cake Pan
Cocoa Trimming Kit
Sprinkles – Pearlized Snowflakes
White Cake Sparkles
More holiday goodies you'll love!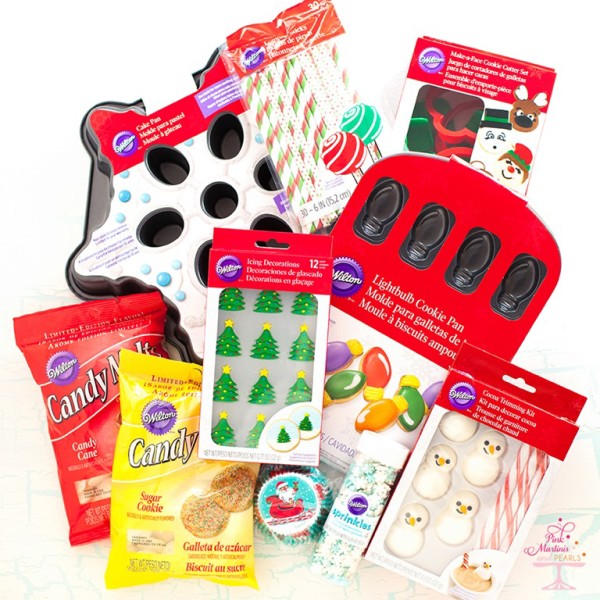 Past Wilton Posts
Pretty Painted Pie Crust (cutters)
Black Cinnamon Candied Apples
Decorated Ghost Cookies with Fondant
Fabulous Fondant Give-Away
Pretty Pink Petal Cake
Endless Summer Cupcakes
Sea Life Fondant & Gum Paste Mold
Fabulous Fondant Daisies
Father's Day Golf Themed Cupcakes
My Trip to the Wilton Sweet Up (Visiting the Mothership)
Peeps Brunch Bunnies
Whimsical Springtime Brunch
Twist Quick Coupler Review
Sweet Treat Team