It's what on the Congressional agenda for tonight. 
Tonight we're taking the Congressman and his lovely wife (my BFF since college and my matron of honor) to our favorite restaurant in our area.  It's always a very fun evening when the four of us get together for dinner and I'm looking forward to it since we haven't been able to get together since before the holidays.
Recently,  I asked Cathy at Stitchfork Designs to put on her creative thinking cap and come up with a design for cocktails napkins I wanted to give them as a thank you gift.
She took the Congressman's initials and incorporated them into the embroidery of the capitol building!  She is incredibly gifted in her graphic design talents and photography.  Visiting her blog and viewing her gallery lets you dream about all the possibilities of bringing more personalization into your home and for gifts.  I  now want to embroider everything but only if she designs it.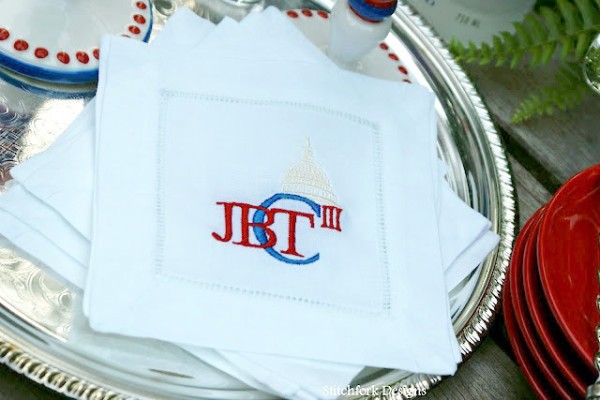 Photo by Cathy at Stitchfork Designs
A capital idea!  (did I get that correct,  Cathy?) 
I hope you have something fun planned for the weekend. 
See you next week.
xoxo