…in order to form a more perfect 4th of July party…"
I love the 4th of July with all the anticipation of a beautiful evening.I begin to plan for it now since school ends the third week of June and by then it is too late for me to plan a lavish celebration. This year I will be up north for a wedding but I am still decorating in my mind and will use many of these items for son2's graduation.I might start off with table linens from Williams-Sonoma…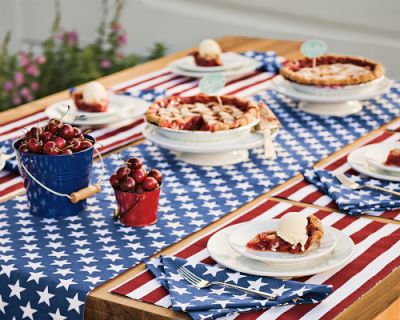 The table runner and placemats are reversible.
I salute the star napkins as an accompaniment.
Did you notice the cute pails?
You can also buy galvanized ones at a hardware store.
I'd fill them with salted peanuts in the shells or fill them with sand and stick these candles in them from Crate and Barrel.


I also like the look of this Tattersall pattern.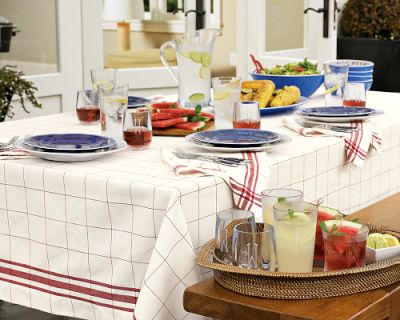 I would set it with blue enamel speckled plates found at a camping store.
If I went with the blue Tattersall cloth, I'd use my red speckled plates.
I think these glass candle holders would create a festive spark with either Tatersall cloth.

I usually make home made ice cream and strawberry shortcake for dessert. I roll out the dough for the shortcake and cut them into stars but cupcakes might be fun for a change with the ice cream or how about all three?

Ready for some fun fireworks for your cupcake topper?


… and for the grand Finale…
I love paper lanterns.

For every party we have during the summer I string white lanterns in various shapes in our backyard over carnival lights. Hanging in the trees are opaque glass globes that give a soft glow with votives. It is truly magical.
I'll hang these starred lanterns in my kitchen over the table or kitchen island from filament for the graduation partay. I also have an assortment of foil stars from the party supply store that will do double duty for graduation. They are so much fun!
My 4th of July Song – "Afternoon Delight" – Starland Vocal Band
Explanation – The summer this song came out in 1976 I was naive enough to think this was about the 4th of July. It had phrases like 'Sky rockets in flight' – 'working up an appetite' – 'sparks igniting' – 'waiting 'til the sun went down'. I thought it was about a picnic and the anticipation of a fireworks show at night…little did I know…
but to this day it still reminds me of the 4th of July! It also has the best harmonies to sing your heart out in the car while you're driving.
C'mon we all know we do it.
🙂
My first choice for my song du jour would have been '4th of July' by James Taylor but it was not available on the playlist. It is lovely and one of my favorites on his October Road album.