Chivalry is not dead. And ladies, we need to invite and welcome it back into our lives again.
I think it's good for all parties involved.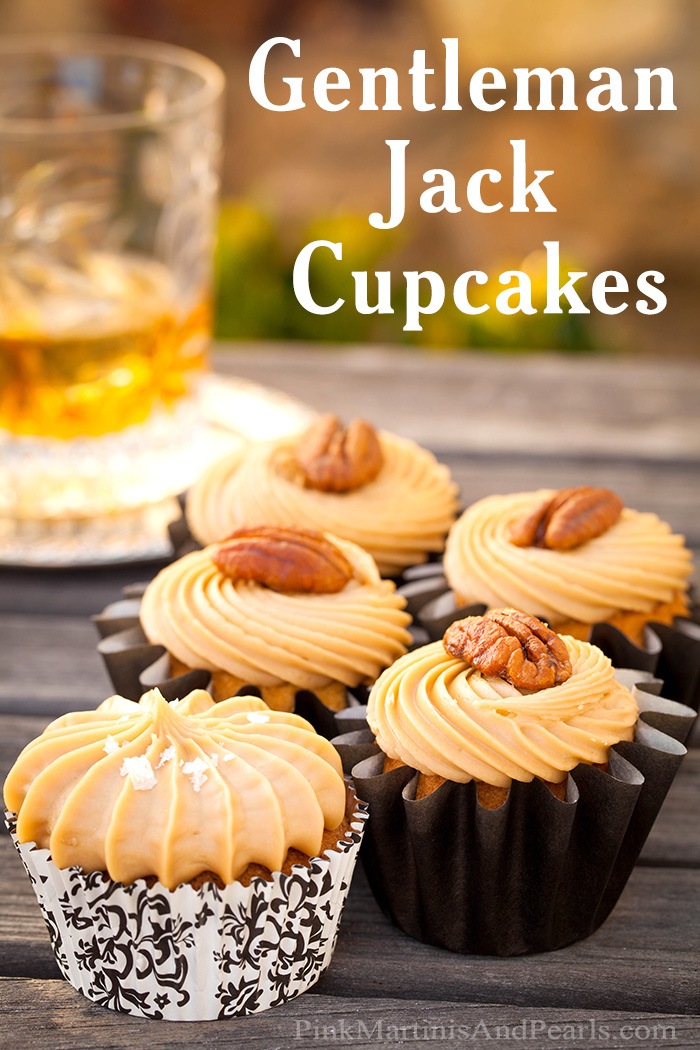 When you think about it, when a stranger opens or holds the door for you, two smiles are exchanged and if you're feeling particularly friendly the cherry on the top of the obligatory "thank you" might be to say, "That was really nice of you". A widened smile will always greet you in return and it is nice and for those few seconds of time spirits are uplifted. There's got to be health benefits in this too.
In our home, we've raised our boys to be gentlemen. They know to hold the door for someone, open the car door for a lady (even mom) and to walk on the outside of the sidewalk closest to the street when on a date. According to my youngest son, who with all his high school honors was also voted "the most likely to help grandma across the street", being helpful and nice was scorned once in college when a co-ed on campus snapped back, "I can get my own door!" Sad. She missed the opportunity for a polite, civil exchange with a most wonderful, thoughtful and caring man – my son, of course!
My children's father has also set wonderful examples of being a gentleman while they were growing up and he continues to be a gentleman even out of view from their watchful eyes. I tease him that he has the personality of a golden retriever of which I mean in the most complimentary way. He is friendly to a fault and is always willing to lend a hand. Over the weekend, he shared with me while at the gas station last week he noticed a woman trying to figure out how to put oil in her European-made car so he asked her if she'd like some help. She gladly accepted and offered him $10 in return "for his trouble" to which, of course, he politely declined. Gentleman points awarded all around.
This Father's Day, to honor the dad in our family who has set the bar high and continues to be an exemplary role model of being a true gentleman and since the men in my life are all over 21, I developed a recipe for Gentleman Jack Cupcakes enhanced with a few drops of the Treatology Flavor System by Wilton Cakes in Salted Caramel.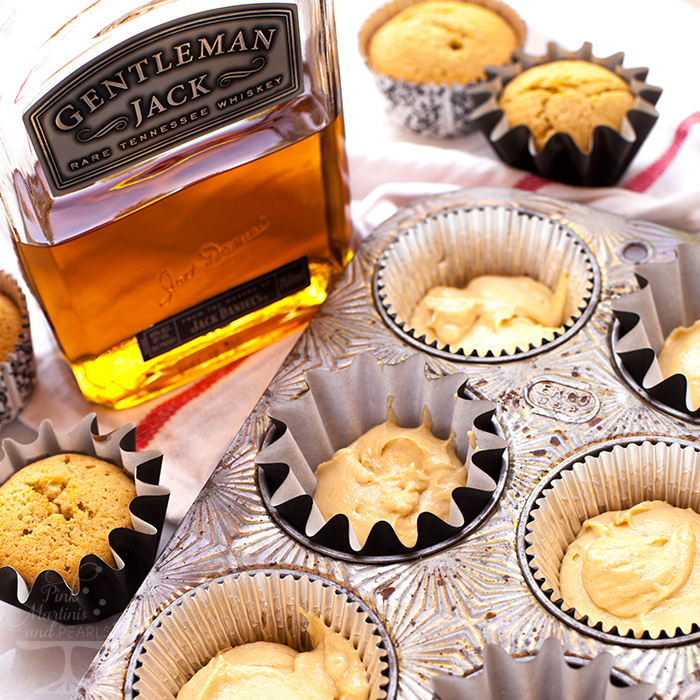 Gentleman Jack is an "80 proof Tennessee whiskey that is twice charcoal mellowed for smoothness." It's made by Jack Daniels. A little trivia here – Did you know the "Jack" in Jack Daniels is actually a nickname for Jasper? Interesting, no? 🙂
But I digress. When I was at the Wilton Sweet Up this past April, being part of the Wilton Sweet Treat Team, we were introduced to a new flavoring system they had developed. These flavorings aren't your mama's vanilla extract. They are flavor intense and wonderfully aromatic. I sampled various flavors infused into sugar cookies and buttercream icing while at the Sweet Up and I went nuts over them! I instinctively knew pairing a smooth, golden whiskey would be like a gentlemen opening the door and the salted caramel flavoring would confidently walk through as if saying, "thank you, that was really nice of you." Truly the perfectly polite, sweet encounter.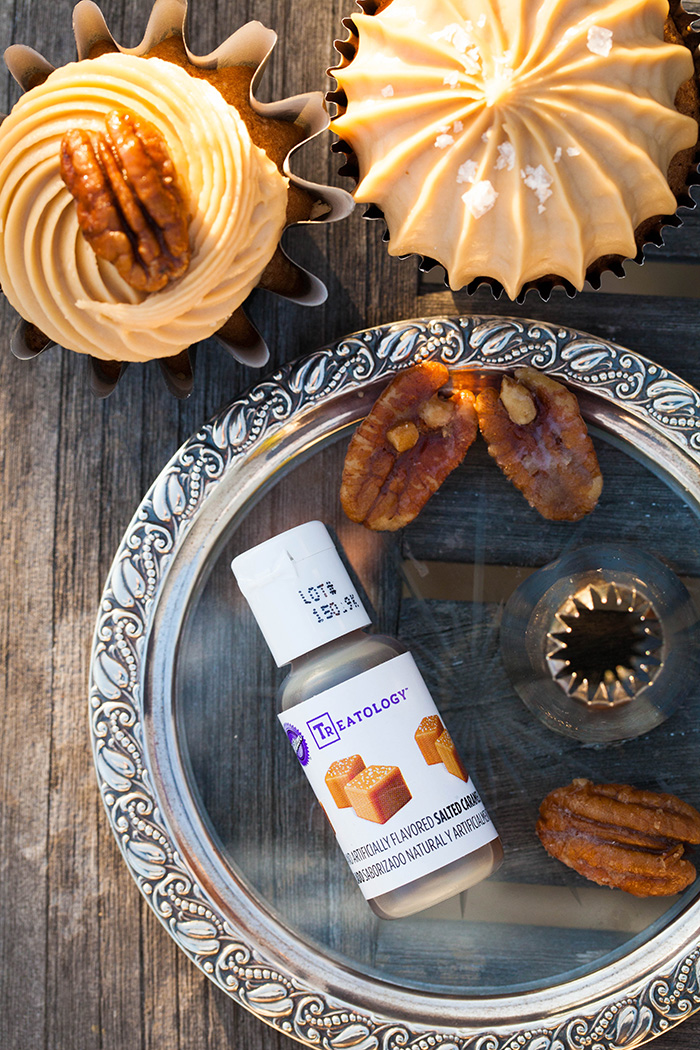 The Treatology Flavoring System is sold in a kit or sold as individual bottles. The kit includes Crisp Champagne, Sweet Meyer Lemon, Fresh Basil, Warm Cinnamon Graham, Juicy Peach, Salted Caramel, Creamy Vanilla Custard and Toasted Coconut. The flavors are made to be mixed, if desired, since many of the flavors partner so well. The kit also includes a printed flavor guide to give you ideas on infusions you can create in your baking and beverages. I knew back in April upon experiencing the Treatology Flavoring System it would be a hit and at least where the Salted Caramel is concerned, (because it's the only flavor I have baked with so far) a wonderful compliment to my baking. I can't wait to try out the other flavorings as well.
The recipe for both the butter cake cupcakes and the icing are below but first a little decorating info:
Believe it or not both decorative icing designs were made with the same large opening decorating tip. On one cupcake I made a swirl (think of making an "@" sign) …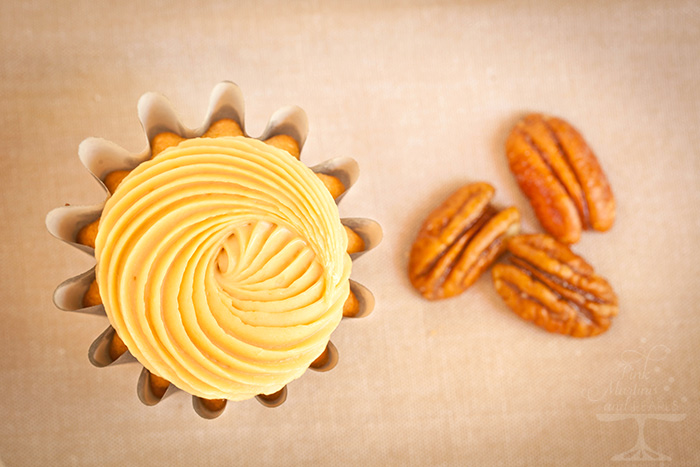 …and on the other, I centered the tip in the center top of the cupcake and just squeezed even pressure while keeping the tip teeth buried in the icing and then I released the pressure making a "kiss."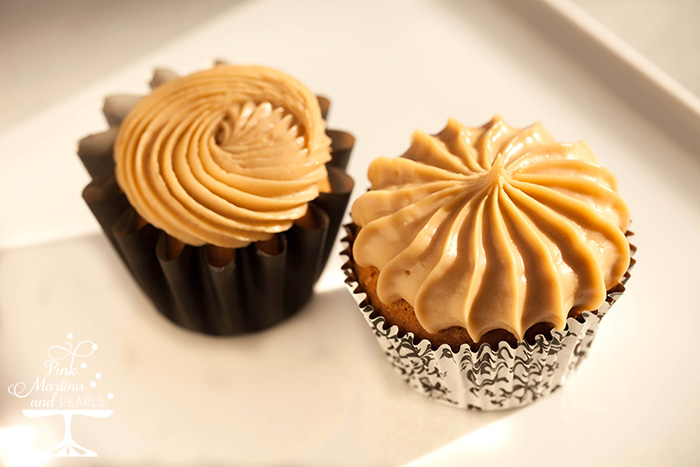 The cupcake wrappers are also made by Wilton. The fluted black are called "Black Wave Baking Cups" and the print wrappers are from the Wilton Damask Cupcake Color Cups collection. Both wrappers held their colors perfectly which Wilton wrappers do so well. I found both at Michaels where you can also find the Treatology Flavoring System.
To finish off the decorated cupcakes, I added a sugared pecan to the swirled-topped cupcakes and flaked sea salt to some of the kiss-topped cupcakes. You can see the flaked salt decoration in the main photo at the top of this post.
Please enjoy these Gentleman Jake Cupcakes responsibly. I felt I had to say that. 🙂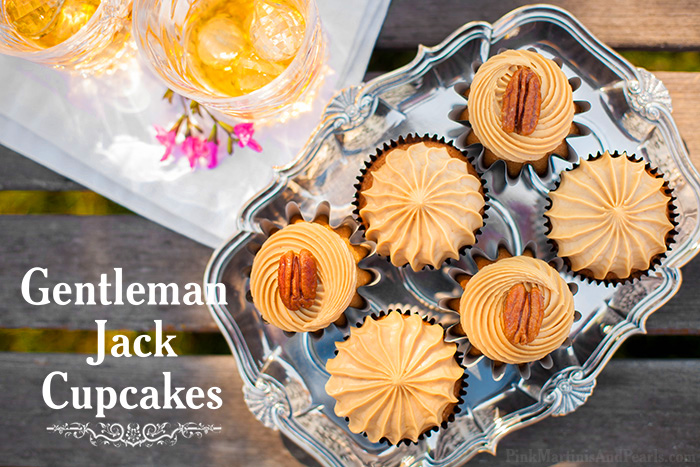 Wilton Cake Decorating Products Used in this post:
Treatology Flavoring System in Salted Caramel
Treatology Flavoring System Kit
Black Wave Baking Cups
Damask Color Cups Baking Cups
As a Wilton Brand Ambassador and member of the Wilton Sweet Treat Team, I received product and/or compensation for this post by Wilton Cake Decorating. All ideas and opinions are my own and all the products were chosen by me to share with you because I use and like them and thought you might like them too. 🙂

Gentleman Jack Cupcakes
2015-06-03 14:32:51
A golden butter cake cupcake and silky icing infused with the pairing of Gentleman Jack Tennessee whiskey, and Wilton Cake Decorating's Salted Caramel Treatology Flavoring.
Cupcakes
4 oz. Butter, salted (1 stick)
6.70 oz. All-purpose flour
1/2 c. Dark brown sugar, packed
1/2 c. Granulated sugar, approx. (see notes)
2 Large eggs + 1 Large egg yolk
4 oz. (1/2 c.) Gentleman Jack whiskey
1 1/2 t. Baking powder
1/4 t. Baking soda
1/4 t. Wilton's Salted Caramel Treatology Flavoring
Icing
4 oz. Salted Butter (1 stick)
1 c. Dark brown sugar, packed
1/4 c. milk or half & half
2 T. Gentleman Jack Tennessee whiskey
3 c. powdered sugar, sifted
1/4 t.Wilton's Salted Caramel Treatology Flavoring
Instructions
Preheat oven to 350
Cake
Bring butter and eggs to room temp.
After measuring the brown sugar, weigh it and add enough granulated sugar to bring the total sugar weight to 7 oz. This is approx. 1/2 cup of granulated sugar.
Cream butter and sugar together.
Add eggs and extra egg yolk and beat until incorporated.
Add whiskey and salted caramel flavoring.
Sift flour, baking powder and baking soda together and add to batter.
Mix batter on medium speed for 3 minutes.
Line cupcake pan with wrappers. Bake for approx. 12-15 minutes until toothpick just comes out clean when inserted. Do not over bake.
Icing
Place butter, dark brown sugar and milk into a saucepan. Bring to a boil. Take the mixture off the heat and add Gentleman Jack and Wilton's Salted Caramel flavoring. Cool to room temp.
Place mixture in mixing bowl and beat powdered sugar into the cooled mixture. If the icing is too thick, thin with a dribble of milk or half & half. If you want it more stiff, add more powdered sugar.
Makes 2 cups - enough for the amount of cupcakes featured.
Notes
For the cake - because the moisture content of the dark brown sugar can vary, I found measuring the total sugar weight along with measuring the flour weight turned out consistent cupcake texture with subsequent batches. I highly recommend doing this.
Sweets To Impress https://www.sweetstoimpress.com/