Happy, happy! Joy, Joy!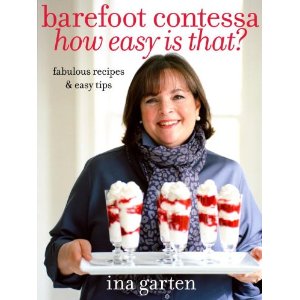 I spent the entire evening visiting with Ina and Jeffrey (we're old friends as I have every one of her books, well, I mean I spent the entire evening reading her new book).
barefoot contessa~ how easy is that?
is true to what Ina does best and why we love her- full beautiful photos, laughing with friends, Jeffrey peppered among the pages and doable recipes for any ability. She invites us to pull up a chair and offers us a glass of wine in her signature goblets. We are home.
Her philosophy in this book is ~
~easy ingredients
~easy shortcuts
~easy techniques
~easy menus
~easy recipes
~no stress
No wonder we feel so at ease in her kitchen.
She whets our appetites with Pink Grapefruit Margaritas (page 37) garnished simply with half a lime circle. Lovely. Gives tips on planning a menu, good equipment, setting the table, and serving dinner in her no-hassle, relaxed style.
Pure Ina.
I highly recommend her recipe for Steakhouse Steaks (page 138) for filet mignons done to perfection. It's the only way I cook them since finding this recipe about a year ago on the Food Network. I'm glad to find it here in a more permanent home.
People also rate it 5 stars out of 5.
If you do try the steak recipe the Roquefort Chive Sauce (page 139) and the Cornmeal Fried Onion Rings are great accompaniments and are killer, plain and simple.
Of course, dessert leaves a wonderful taste in our mouths as the last section with red velvet cupcakes that only use 1 Tbl. of red food color instead of the usual 1 to 2 bottles (very sensible, don't you think?) and fleur de sel caramels (page 239).
I look forward to spattered pages from bubbly concoctions and whirling mixers with my secret notes hidden in the columns to match my other books by Ina.
Are you an Ina fan like me? 🙂