I thought I'd give updates on some of the beauty products I've written about.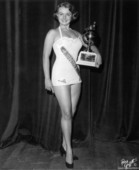 First, I have to say I use no pictures of my own body parts to prove or disprove my reviews. You wouldn't want that. Remember in Nottinghill when Julia Robert's character was talking about using body part doubles and that Clooney did his own 'ass work?' Not me. Not even close. You'll have to trust me then try it out for yourself. Results may vary, yada, yada, yada…
The first product is the often blogged about, always intriguing Bumpits.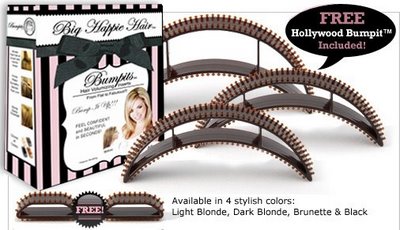 Here is my past post.
Got it today and I have to say I was pleasantly surprised at the results. Upon inspection of said contraption I immediately thought of this –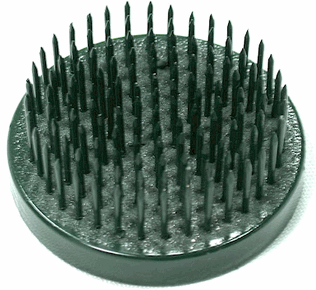 so I figured if it didn't work out I could stick flowers in it and set it on the table. Thicker hair definitely has an advantage to cover it – the Bumpits, not the floral frog. I currently have finer hair than I would normally have due to the Japanese straightening I recently splurged on so I have to tease the base a little more but it really does stay put and looks nice. I put in the largest Bumpits just for fun. It is sometimes referred to as 'The Hollywood' or 'Rockstar' depending on which info-mercial or store you bought it from.
I felt a bit Elvira-ish which was transforming. I instantly felt more like a Real Housewife of Orange County, if you get my meaning.

Around these parts the Bumpits would attract more attention for being the novelty of the two.
The next product is Latisse.

I used Revitalash which has the same active ingridients as Latisse and since I was given some to try I'll talk about Revitalash instead but here is my post on Latisse.
Though I don't use it every night because I forget to, I have to say I have seen a difference in the length and darkness of my lashes so I wonder if I used it consistently what a difference it would make. My lashes seem a little fuller and take mascara better. I have also been sweeping it across my eyebrows and I do believe there has been a noticeable difference in color and filling in of some areas. My eyes are still blue and did not turn brown as a possible side effect but my lids just at the base of the lash line are a little darker but when I stop using the product this goes away very quickly. I correct the darkness with concealer. Big whoop. Small price to pay for nicer lashes. There are many other 'conditioners' out there too.
Coming up at the end of the week ~
The Kate Sommerville Tanning Towelettes review!
3 more days to sign up for the first of my
"All Things Summer Give-Away" too!