Here's a cute and very easy cupcake to make for a baby shower.
Here's what you'll need: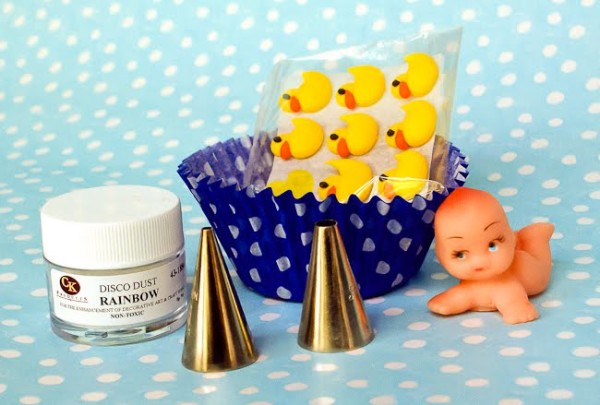 Tips #4 and #8 or similar sizes
Royal icing ducks (you can make your own with the same number tips as above) or purchase if you only need a few. This saves a lot of time.
Disco Dust in Rainbow
Seriously. How cute is this tush?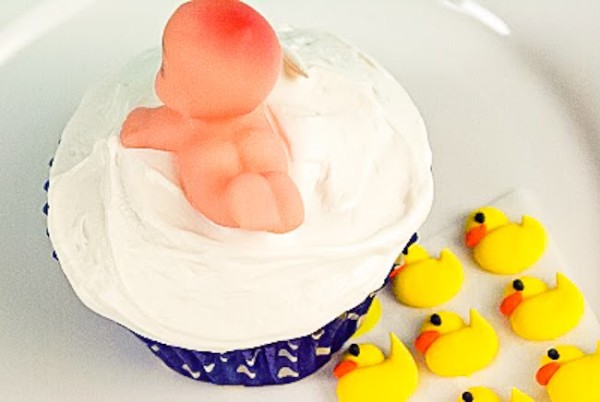 Spread a base of icing on the cupcake and place the baby on top.Next, squeeze drops from the larger tube in a random pattern over the cupcake and the baby except the head and arms. Cover the icing surface with these. If you find yourself making drops with little spiky tops, wait a few minutes for them to set and get a tad crusty and then push them down. This will give you a rounder bubble.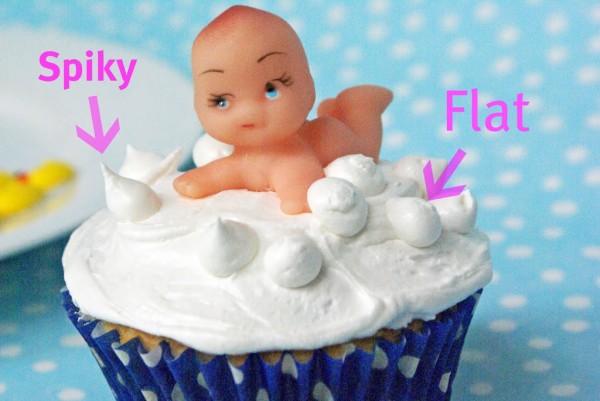 Change out to the smaller tip and make smaller bubbles here and there on top of the larger ones.
Sprinkle with Disco Dust and place a couple of ducks in the tub!
Note: When placing royal icing decorations into buttercream, don't add them more than a day ahead. The grease in the buttercream will start to break down the sugar and meringue base.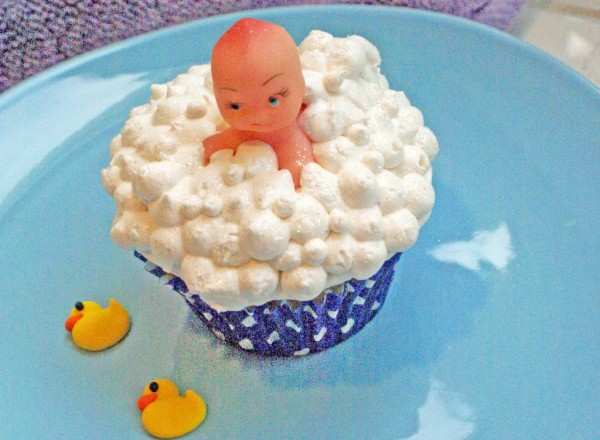 It's bath time!
Icing Tips ~
If you use a Buttercream Icing with vanilla and butter, the icing will not be pure white.
I used Amer-Color Bright White to brighten up the color. It's a liquid. I used quite a bit, about 1/4 cup for a double batch of icing. Cut down on the amount of liquid in your icing recipe to compensate on using added liquid coloring.
If you don't like to use as much of this coloring, use an icing recipe that has only white ingredients.
Here's my recipe I use when I need a true white decorating icing.
It is a tad labor intensive with mixing 2 separate parts and then combining them but it produces a light and fluffy icing with a great flavor.

Decorating Icing
Part 1
3/4 cup Granulated Sugar
2 Tbls. Meringue Powder
1/2 cup (less 2 Tbls.) Water (very hot)
1/4 tsp. salt (optional)
1/2 tsp. almond extract or other clear flavoring
Beat until stiff peaks form with a whisk attachment if using a Kitchen Aid mixer. (Any amount of grease will keep the icing from getting stiff.)
Part 2
2 cups Crisco Shortening
1 lb. Powdered Sugar
Mix until light and fluffy with a paddle attachment if using a Kitchen Aid mixer.
Mix Part 1 into Part 2 and beat well on high speed with a paddle attachment about 8-10 minutes scrapping the bowl and beater. Do not refrigerate.