If you haven't tried homemade pineapple sherbet with fresh lemon and orange juices you don't know what you're missing. Prior to this frozen epiphany, I had only tasted store bought from 31 Flavors which left me ordering Daiquiri Ice next time.
Words I would use to describe ~ cold, icy, refreshingly fresh.
And a phrase ~ "One more little cone won't hurt."
And a sound ~ *sigh*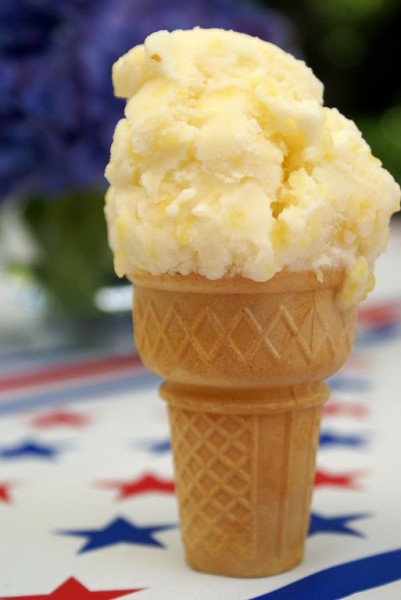 What is particularly nice about this recipe is that it makes 4 quarts from the get go so you actually have enough for company without having to make multiple batches or doubling or tripling the recipe.
It is also a very old recipe.
Lovingly handed down from the Nance family.
To my knowledge it came from their grandmother in Kansas and settled out west in California with their father who recently passed peacefully at 89. I love how recipes are impervious to travel and time but retain their love and connections to so many.
When my boys were younger and we made chocolate chip cookies together they used to ask me why I added 2 drops of boiling water to the dough since they couldn't see how that would make a difference. I told them they were probably right it wouldn't make a difference to the recipe but I do it anyway because it was my grandmother's recipe, then my mom's, now mine and theirs. I do it not so I don't forget, I do it to remember.
This is also quite the unforgettable pineapple sherbet.
Courtesy of Myrtle, then Hal, now Janice, Carole and Cheryl, to me and now, you.
2 – 20 oz. cans crushed pineapple, non-drained
1 1/3 c. fresh lemon juice (approx. 7 lemons)
2/3 c. fresh orange juice (approx. 1 1/2 oranges)
2 quarts milk
4 c. granulated sugar
2 egg whites
Combine pineapple, juices, sugar and milk. Add egg whites. May appear to curdle but will smooth out when freezing. Freeze according to ice cream machine maker's instructions.