If you're wondering what the heck snowflake cookies are doing on my blog on the last day of August it's because my holiday calendar is already filling up with several hands-on holiday cookie decorating workshops in Orange and Los Angeles Counties.  But I can always fly to where you are too.  🙂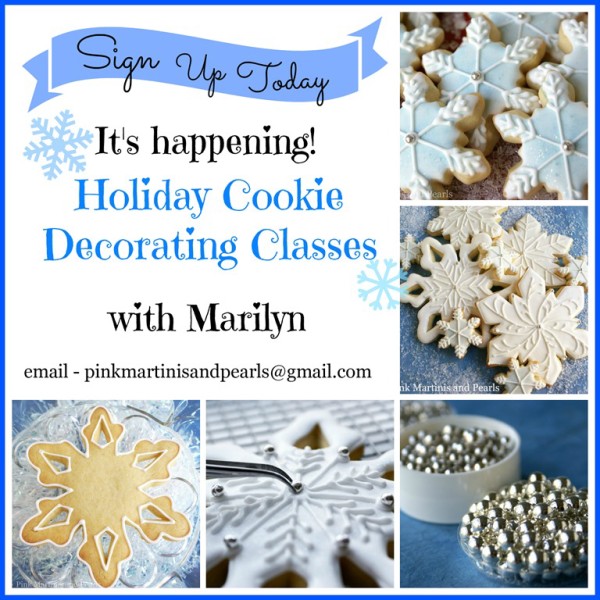 I've just confirmed two more private classes this week –  Newport Beach and Brentwood!  It's very exciting to start thinking about which designs, recipes and techniques to share and what little surprises to plan.
I've already begun to gather supplies this week and have contacted my friend for dragee contraband of the largest and shiniest kind which can't be sold in California.  "Shhhh."  With the weather in the 90's this week in the OC it's hard to imagine glittery snowflakes, gingerbread men and edible snow globes, but I definitely have a flurry of ideas drifting around.
If you're interesting in hosting a group for a hands-on class or demonstration using different techniques, gather your friends, your book club, alumni groups or your volunteer group gals and guys and send me an email at pinkmartinisandpearls@gmail.com so we can plan a fun few hours together.
I know I promised a grilled artichoke post recently but the last of this month got away from me but it's still on my editorial calendar and we grill all year long.
I'll be out of town for the next few weeks so I plan on taking a blogging break during this time but you can find me here and there on Instagram and Facebook.  I've got some fun things I'm going to be doing and I want to enjoy and give them my full attention –  a live photo shoot with Canon, Photoshop World and Photography Expo in Las Vegas all next week, a two day chalkboard calligraphy and lettering class in LA, a delicious Valrhona event (how could it not be), an International food street fair, a DIY project to photograph and write for Tiny Prints, which will bring me to the first cookie decorating workshop of the season for Halloween and Thanksgiving with some tailgate goodies tossed in!
Somewhere in there is my 30th wedding anniversary!  Now that's unbelievable to me! It only seems like a few years ago I was a size 5, I mean, that I was a blushing bride.  Where did those years go to – and the size 5? My wedding dress has been sealed since it was cleaned after my wedding.  Should I plan a big reveal?  What if it's not my dress and hat in the box?!? I've heard that happens.
I'll be checking email, of course, and comments on the blog.  If you're interested in reserving a cookie decorating class, I'd love to be part of your holiday fun!  Email me for available dates.  🙂