The concert was fantastic.
Herb
is such a talented jazz performer.
I cannot believe he is 74!
His style is so distinctive, cool, and clear. Lani's voice was perfection and the trio of the piano, bass and drum set completed the energy. The arrangements were deep and complex grabbing and pulling you in the first bar.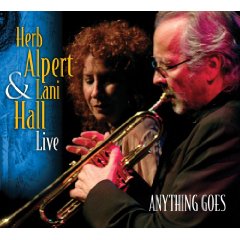 They announced their new CD has been nominated for a Grammy.
They certainly deserve it.
It was an informal evening where Herb took questions a couple of times from the audience and his grand daughter danced to one of the songs. She looked about 12 and is a gymnast. She did wonderfully for her stage premier. Grandpa and Grandma were so proud of her and presented her with a bouquet of flowers. Herb and Lani were also quite affectionate with each other with hugs and little kisses throughout the concert. They've probably been married for over 40 years. What a dynamic duo.
At one point someone asked if the "whipped cream lady" was going to come on stage. Herb said she probably needed a walker if she did. Funny. I think Mr. P.M. and I were the youngest people there besides the trio musicians. We were the hipsters among those who needed hip replacements. 🙂
If they come to your town, grab those tickets. I promise you will love the gig.