First, thank you to all who participated in my last post's Fabulous Fondant Wilton Give-Away. I had fun reading all your comments and seeing how you would use all the wonderful products. I'll be choosing a winner soon!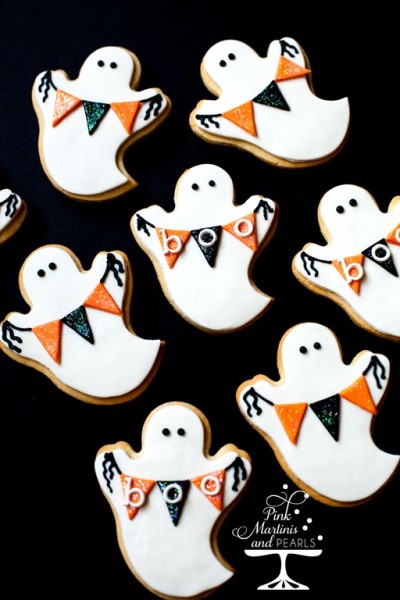 If you've been reading my blog for awhile you know that sometimes, I also like to use fondant to decorate cookies. On my Pinterest Board – Fondant on Cookies & Cupcakes, you'll see lots of cookies I've decorated using fondant.
Today I'm featuring a DIY tutorial for Halloween Ghost Cookies! You can make the fondant ghosts and pennants ahead of time and assemble the cookies a day or two later if you don't have a big block of time available. I'll give you a few tips to make it a success for you!
Are you ready?
I used my wonderful sugar cookie dough recipe that I've used for decades. It tastes buttery and delicious and works beautifully without spreading and holds the shape. Soon I'll have a new feature on my blog that will allow you to print out recipes but for now you'll have to cut and paste. I hear all the time how many readers love this recipe. If you're looking for a great recipe, look no further.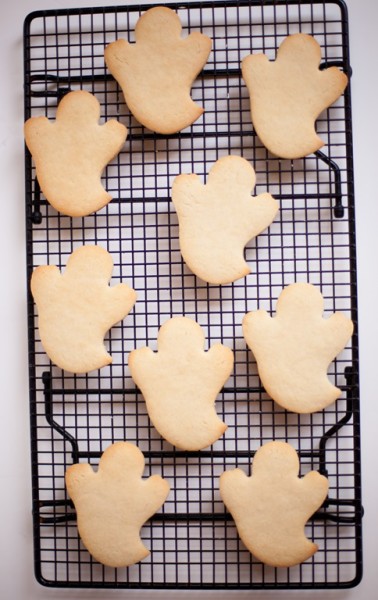 I've had this little ghost cutter by Wilton for a very long time and believe it or not it's the first time I've used it. You could say I hoard cookie cutters but I prefer the term "collector" instead.
I used Wilton's White Decorator Preferred Fondant which is wonderful to work with. It stays soft and malleable until left to dry.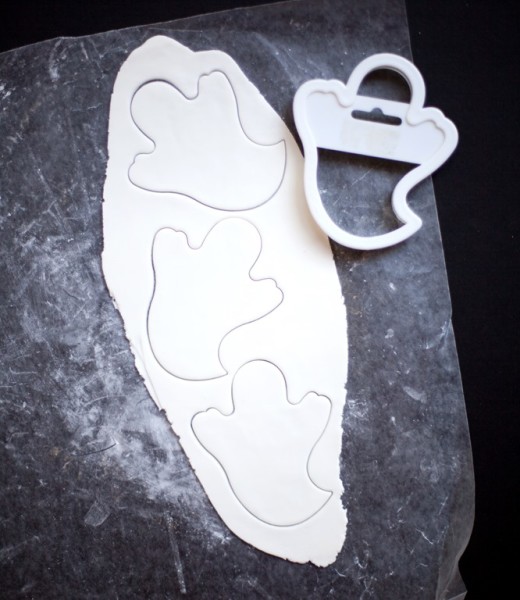 Wilton's rolled fondant also comes in ready-made colors. I used the neon orange as a base and added white to tone down the color. I recommend having a color multi-pack on hand. It's so convenient to have on hand when you need small amounts of multiple colors. I also used Wilton's Decorator Preferred Fondant in black.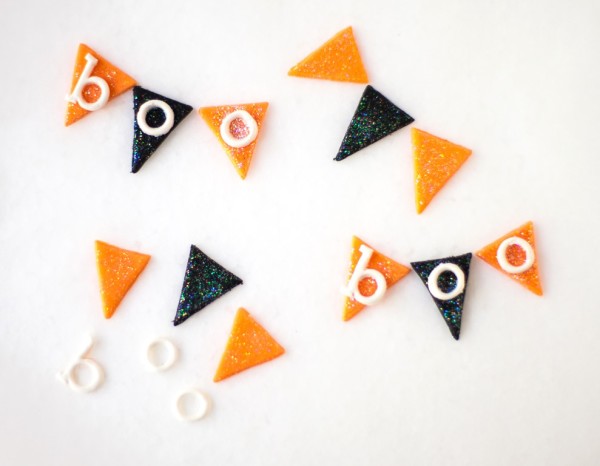 I made the letters by mixing the fondant with a 50-50 mixture of powdered sugar and corn starch to make it very stiff. I then used a mold.
Fondant sticks together when it's moistened with just water. For added sparkle to highlight the pennants, I tapped a brush dipped in Disco Dust edible glitter in Rainbow over the pennants.
Make-ahead fondant tip –
If you're ever concerned about piping or drawing on a fondant covered cookie, cut out the fondant and place it on top of the cookie without attaching it. The fondant will form to the cookie shape and when it dries a little it can be lifted off. You can then decorate the fondant piece and if it turns out the way you like it then attach it to the cookie, if not, cut another piece of fondant and start over. Sometimes when you try to take icing or fondant off a cookie the cookie can break so this is why I'll do this at times.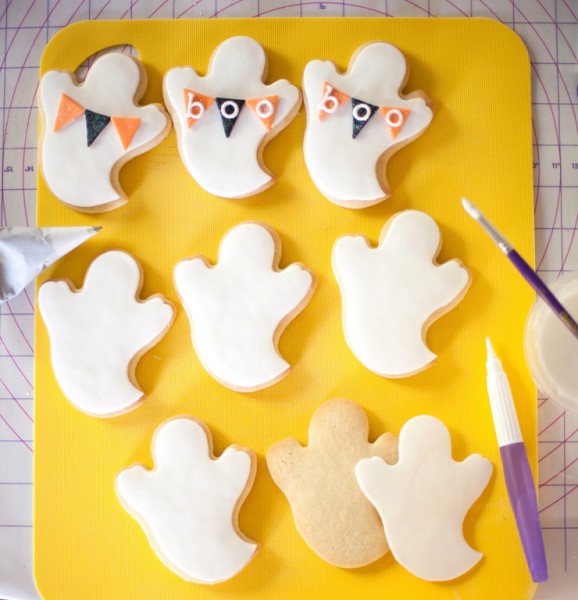 The dried fondant base can be attached to the cookie with dabs of royal icing or piping gel. I used thinned royal icing.
Complete the decorations with black thinned royal icing.
With a #1 (very small round) decorating tip, pipe two eyes and string on the sides of the pennant banner.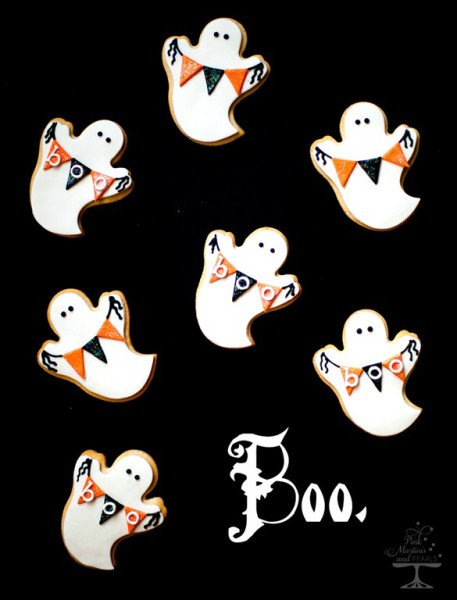 So what do you think? Don't give up the ghost if you haven't tried fondant yet!
You can create spooktacular cookies!
Visit these other past Halloween treats posts!
Halloween Tushie Cookies
Candy & Cupcake Ideas
Party Garland & Cupcakes
Bat Cookies with Fondant
Halloween Cocktails
Boo-zed Basket
Peep Ghosts on a Stick
Past Wilton Posts –
Fabulous Fondant Give-Away
Sea Life Fondant & Gum Paste Mold
Endless Summer Cupcakes
Pretty Pink Petal Cake
Fabulous Fondant Daisies
Father's Day Golf Themed Cupcakes
My Trip to the Wilton Sweet Up (Visiting the Mothership)
Peeps Brunch Bunnies
Whimsical Springtime Brunch
Twist Quick Coupler Review
Sweet Treat Team
As a Wilton Brand Ambassador, I received compensation and/or product from Wilton Cake Decorating. All opinions and endorsements of the products I mention are my own. If I didn't love them… you know. 🙂