I love big bows and I cannot lie as you'll see in the post!
I'm returning to West Elm at South Coast Plaza this Saturday, Dec. 13 to teach an hour DIY Holiday Gift Wrapping Workshop.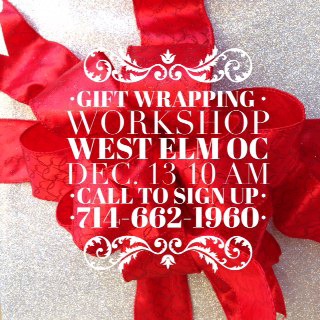 I'm making posh presents pop with that extra panache! (say that fast 5 times).
If you want to learn how to glam up your presents you'll definitely want to sign up for our DIY class.
I'm ready to unwrap my secrets on how to make the perfect showy bow, professional wrapping techniques and bow ideas for shipping your packages.  Plus, we'll dress up a tote bag that will have everyone gasping when you walk into a room. (really, it happens every time).
I guarantee, (disclaimer: figure of speech, but I really do mean it) you'll be known as the go-to gal or guy for posh presents after this class.
If you bring your scissors to cut the wired ribbon and some double stick tape, I'll bring this for you:
gift box to wrap
holiday gift wrap
glittery wired ribbon
tissue paper
cellophane
more ribbon
chenille stems
tote bag
list of resources
You'll take home a perfectly posh gift box all wrapped up that you can deconstruct later and refill, and a tote bag filled to the brim with poufy poshness.
But more importantly behind all the glitz and glamour is the knowledge of how to put it all together:
which ribbons are best to use
why double stick tape is the way to wrap
no more knotted ribbon! (or sticky bows or wire hangers – that's a joke!)
to tulle or not to tulle, hmmm
types of package fillers to use
adding sparkle to your wrapping paper
adding embellishments to your bows and packages
shredding and curling wide ribbon
and more!
And you know what else?  When you know how to make the perfect bow, which is so easy you won't believe it, you can wrap up something really important, like a pie for a surprise birthday party for the guy who has everything.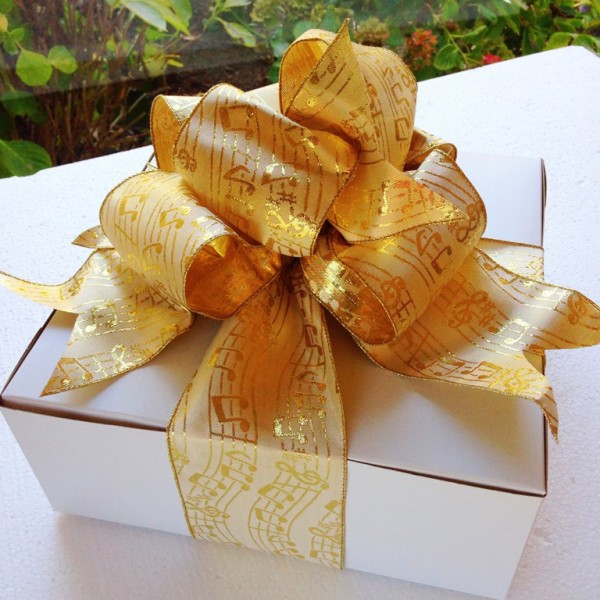 I can't tell you how many people shared with me at the party this past weekend, that the first package they noticed when they walked into the room was the one with the gold shiny bow.
Humble pie?  Not a chance!  Be it ever so unhumble, even pie likes to be the center of attention at a party. 🙂
Don't forget to think beyond the holidays.  Here's some presents I wrapped for bridal and baby showers.
Soft n' Sweet.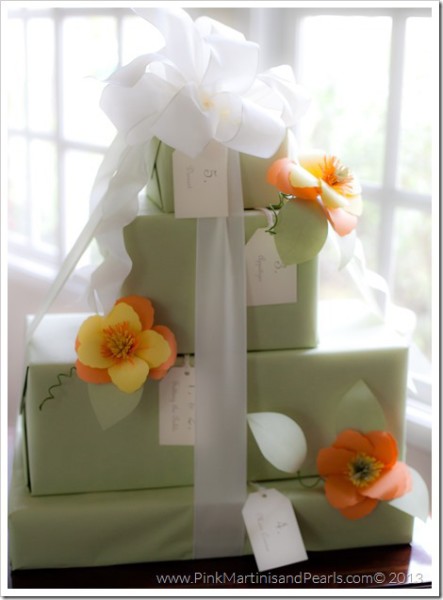 High Tech Kitchen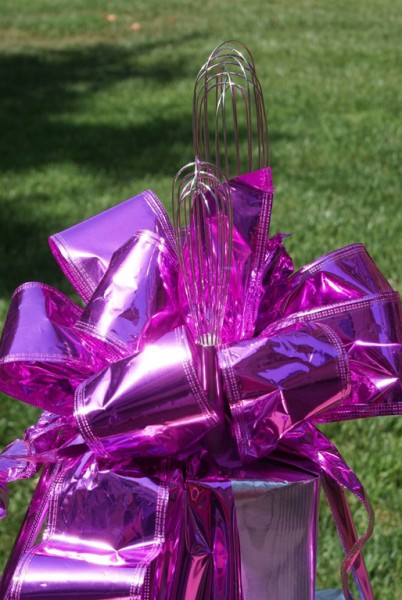 First comes love, then comes marriage…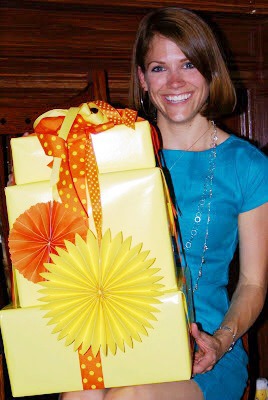 …then comes baby in the baby carriage!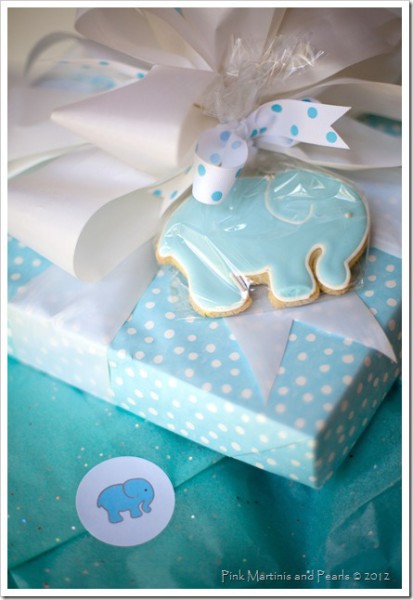 Want to join us?  We hope you do!  Call the store or go to West Elm OC's Facebook page and sign up there.
Wrapping this post up,
xoxo