If the name "granita" is not familiar to you, it's an icy Italian dessert that resembles shave ice in texture and is possibly the most light and refreshing treat you can make this summer. In the snooty culinary world of terminology I'd call it a "deconstructed" popsicle. The ingredients are simple: fresh squeezed citrus juice, sugar and water.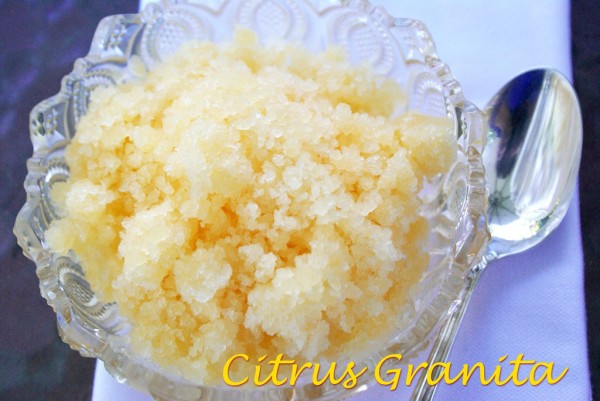 No special ice cream making equipment is necessary. If you've got a metal cake pan or baking dish and a fork, you'll have all the equipment you'll need.
What gives granita its special icy flakes of goodness is stirring the mixture as it freezes or by "raking" the mixture's surface after it has frozen solid. Due to the sugar content the scrapping produces an almost soft textured flake.
This recipe uses a blend of citrus juices but a single fruit flavor, such as tangerine, would be very good too.
Perfect for after dinner on a warm evening and pretty enough for company.
Citrus Granita (serves 6)


2 c. orange juice, freshly squeezed and strained
1/2 c. pink grapefruit juice, freshly squeezed and strained
2 Tbls. lemon juice, freshly squeezed and strained
1 Tbls. lime juice, freshly squeezed and strained
1 1/2 c. water
scant 1 c. superfine sugar (1 cup minus a couple tablespoons)
Combine all the juices, water and sugar in a bowl or pitcher. Stir until the sugar is dissolved. Transfer mixture to a shallow rectangle metal pan or glass baking dish.

I use a 9×13 metal cake pan. I feel the metal freezes the mixture faster and keeps it from melting if I take it out of the freezer to stir it but I usually stir and rake the mixture in the freezer. I also keep a fork in the freezer for convenience.

To obtain ice flakes:
Method #1- Check on the mixture after about a half hour. Ice crystals will have begun to form. Stir mixture. Stir again every half hour until mixture is more solid than liquid.
Method #2- Freeze mixture until solid. Take a fork and scrape it over the frozen mixture in a raking-like motion until icy flakes form.
Bonappetito!