A house divided with tailgate togetherness.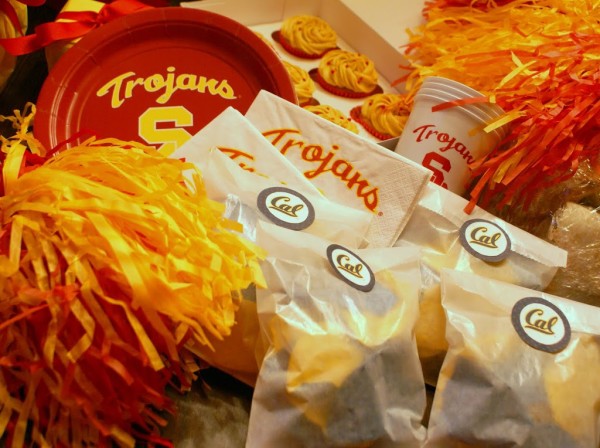 Menu ~
*Chicken Curry Wraps
Lentil Salad
Team Colored Chips
Grapefruit Margaritas
*Vanilla Bean Cupcakes
We kept the menu easy and disposable so we could go directly from the campus to the stadium.
Since the filling for the Chicken Curry Wraps was a beautiful Trojan golden color, I found red tortillas to use for the wraps and cardinal and gold sandwich picks.
Oh, yes I did!
I made yellow cake cupcakes with vanilla bean icing using red wrappers and tinted the icing a golden color and sprinkled with red dragees. I kept and re-used the cupcake holder from the Magnolia Bakery from my trip to NYC last week. Sweet!
Mr. P.M.'s contribution was buying tortilla chips in Cal's team colors. Put it this way, he refused to buy USC's colors. I put the chips in glassine bags so everyone could have their own pack and used the extra Cal stickers I made for cupcake toppers from this post to use as decorative seals.
As painful as it was for me to have this bag in my house it had to do double duty for Cal's colors.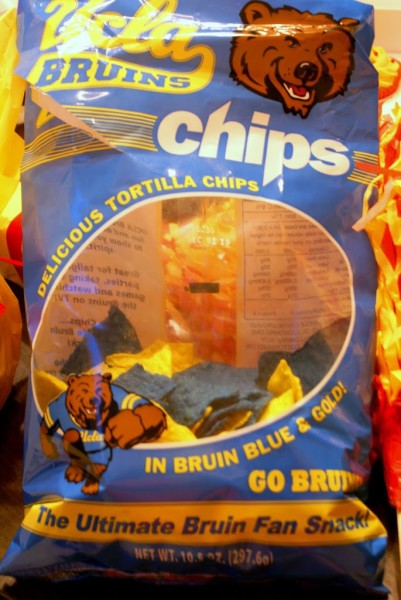 Local readers can find either ucla or USC chips at Pavillion but not in the regular chip section. I found these on an end cap in the liquor department.
The game was a completed blow-out.
USC 48 ~ Cal 14
One thing I wish SC fans wouldn't do is boo when the other team comes out of the tunnel. Afterall, they are just kids and it doesn't show good sportsmanship on our part.
There is nothing worse than arrogant, obnoxious fans on either side of the stadium.
Some SC fans even booed the Cal band! So unnecessary and embarrassing!
We are so fond of a trumpet player in the Cal band who is a friend and was in my sons' high school band and we had the pleasure of seeing him play yesterday.
It was such a thrill for us! Here's a shout out to you Ben!
You looked and sounded terrific!!
Did you see me cheering for the band? 🙂
Okay, now that I have changed everyone's attitude in collegiate sports to be polite and civilized, here are a couple recipes. 🙂
Chicken Curry Salad ~
4 Chicken Breast halves cooked, cooled and cubed
1/2 cup mayo
1/3 cup plain yogurt
5 teaspoons curry powder
2 teaspoons honey
1/4 cup Major Grey's Chutney
1/2 teaspoon ground ginger
1/2 teaspoon salt
1/4 ground black pepper
1 small red bell pepper, chopped
1 medium apple, chopped
1/2 cup seeded and salted pumpkin seeds
Vanilla Bean Icing ~
1 pound powdered sugar
6 Tablespoons butter, softened
1 teaspoon vanilla paste
1/4 teaspoon table salt
1/4 cup milk
Combine all ingredients in mixing bowl. Beat with electric mixer or with heavy spoon until smooth and creamy; scrape bowl often. If too stiff to spread easily, beat in a few drops of milk.
Here's to the Trojans for their victory, to the Cal band and the next excuse to make cupcakes. Also, a heartfelt thank you to our gracious hosts, my former college room mate, Lady Kate, and her husband who is a master of all things cocktail! We had such a great day with you!! xoxo