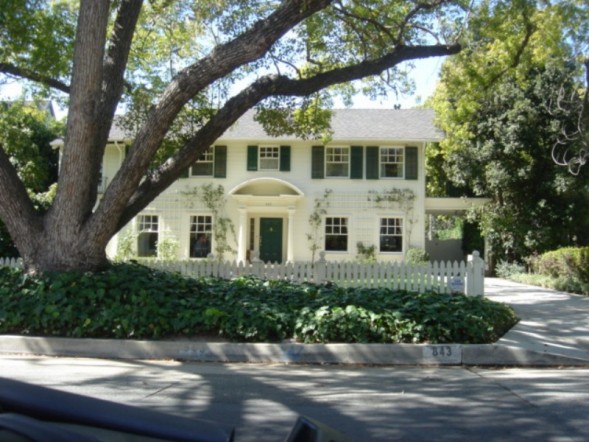 There are some movies that make me feel warm and cozy. They usually have traditional exteriors and interiors that resonate with me. One funny coincidence, is the house in the movie
The Father of the Bride (1991)
. I have passed by this house so often while growing up that it was on my mythical list of houses I must own someday. This New England Federal style house stood out among the California stucco. When watching the movie for the first time, I excitedly pronounced, "That's my house!" It is located in Pasadena on El Molino, a street often filmed for it's traditional and California bungalow style homes and for lush shade trees in the parkway that create an arbor effect.
This house is just an example of why I love the set designs of Nancy Meyers' movies. I'm sure you are familiar with some of her other films. They include, The Parent Trap, Something's Gotta Give, What Women Want, and The Holiday.
Nancy is the queen of interior details.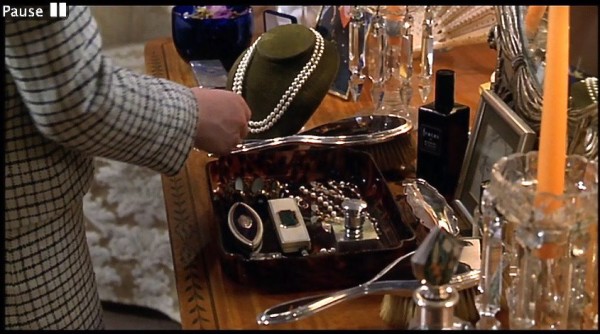 Scene from The Parent Trap, courtesy of Linda Merrill.
Since the sets are back drops, we, as viewers, might not get the time we need to scrutinize what it is that we love about Elizabeth James' vanity table or entry hall in
The Parent Trap
,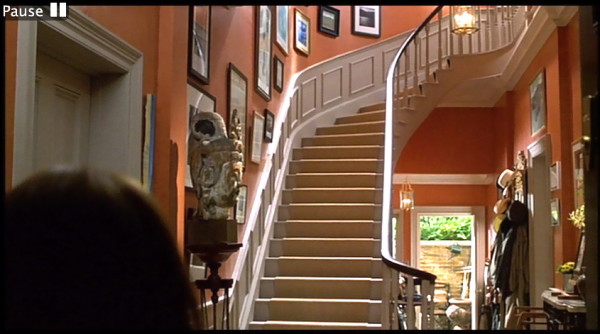 or Erica Barry's kitchen in Something's Gotta Give, but we just know we love it.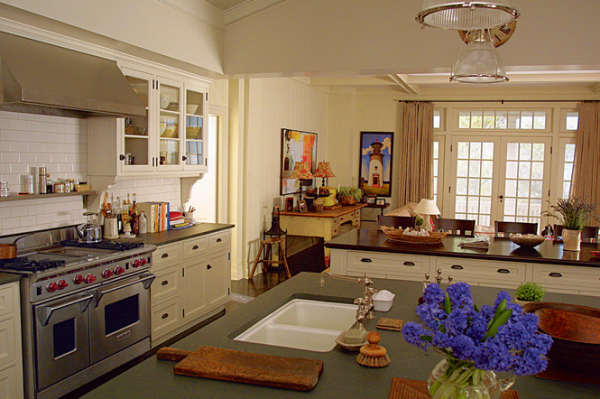 One blog I use as a resource when a movie set catches my eye is Silver Screen Surroundings by Linda Merrill. Linda is an interior designer who is very knowledgeable on set design and has a keen eye for the small details. She uses stills from the movie to analyze the designs. What I learned from reading her posts is that in the aforementioned movies, extensive millwork and contemporary works of art are used. Although I knew I favored elaborate mouldings, her observations on the interiors lead me to make the connection, like putting my finger on what exactly called to me. I don't think I would have put two and two together that I liked something more contemporary paired with this traditional look. It has been fun finding this out. By studying the set design of movies I admire, it has helped me to hone and define my own style.
Another favorite of mine is writer and producer Nora Ephron. Nora has her own look as in When Harry Met Sally, Sleepless in Seattle and You've Got Mail but I'll save Nora for another time. I am still trying to track down Nicole Kidman's chandelier in Bewitched.
Wish I could wiggle my nose for that one.

Movie stills used with permission.
Thank you, Linda!
Music to decorate by: "The Parent Trap" & "Something's Gotta Give" Soundtracks