How has your summer been going? I've been taking a little blogging break, in case you hadn't noticed, to work on organizing some up-coming home projects, adjusting to domestic life for two, and taking some classes online in addition to onsite floral workshops in LA.
It's time for us to catch up!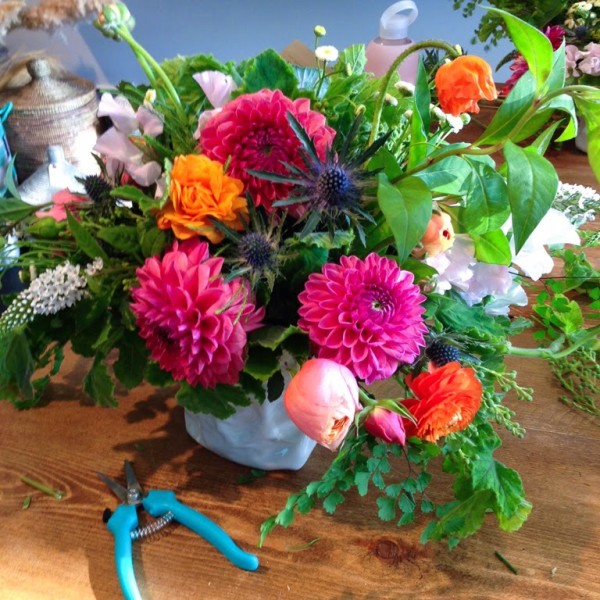 I've always loved floral arranging and although I've never been formally trained, (which I might venture into this fall) I've always had fun dabbling in it for parties or just making an arrangement for my own enjoyment to set on the coffee table.
In May, I took a flower arranging class held at The Unique Space in LA, hosted by Design Love Fest, and taught by Moon Canyon floral designs.
The setting was gorgeous as light filled the white room.  Baskets and containers of red and pink flowers were on every table.
How could I not be inspired?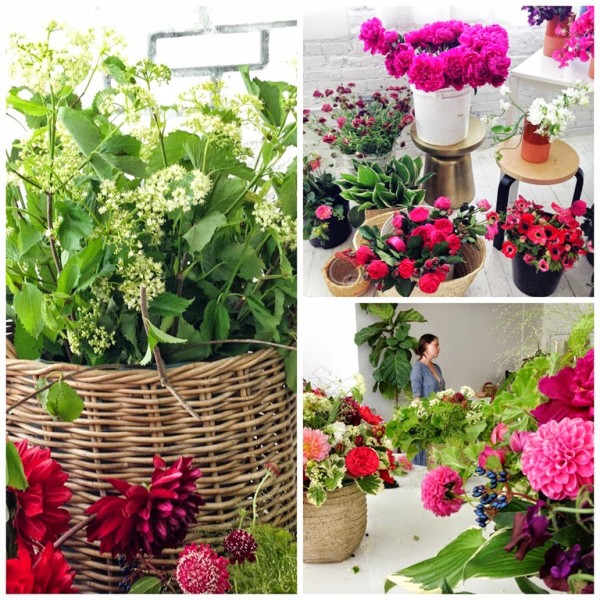 We began with a container from Pottery Barn, I believe, where chicken wire formed a framed work for stem support.  Oh, and geranium leaves seem to be the 'it' greenery at both workshops I attended.
The magenta peonies were definitely the flora superstars.  They were breathtaking!  I couldn't believe I was so fortunate to be working with them.  It was my first peony arranging experience!  I know.  I'm late to the peony party as they were the guest of honor on everyone's Instagram page this past spring.

Can you believe sweet peas were considered a "filler flower''?  Totally in a flower induced euphoria about this time in the class.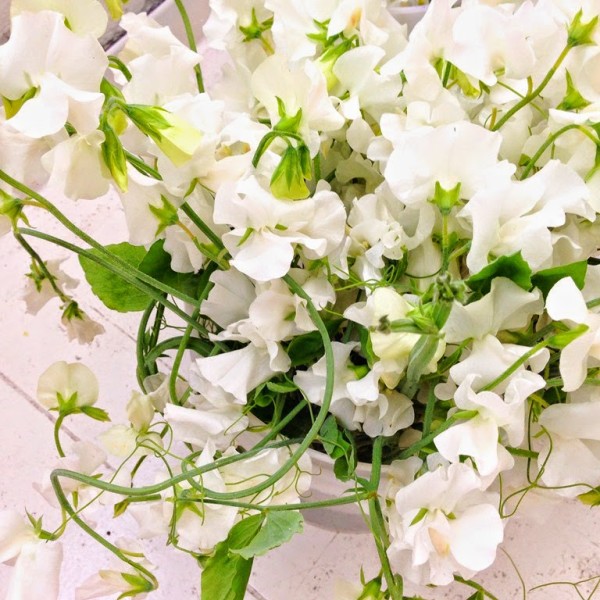 Don't tell the spectacular pink peonies, but these little iridescent navy pearl viburnum berries were my favorite!  How gorgeous would these be in a boutonniere?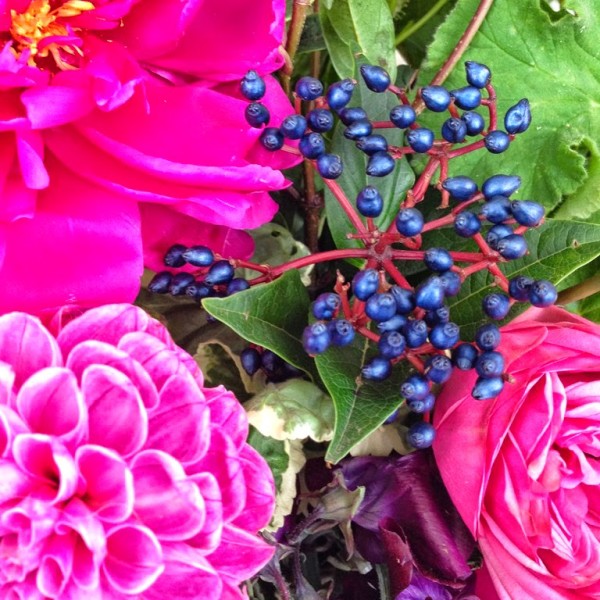 My finished arrangement against a tie-dyed wall backdrop.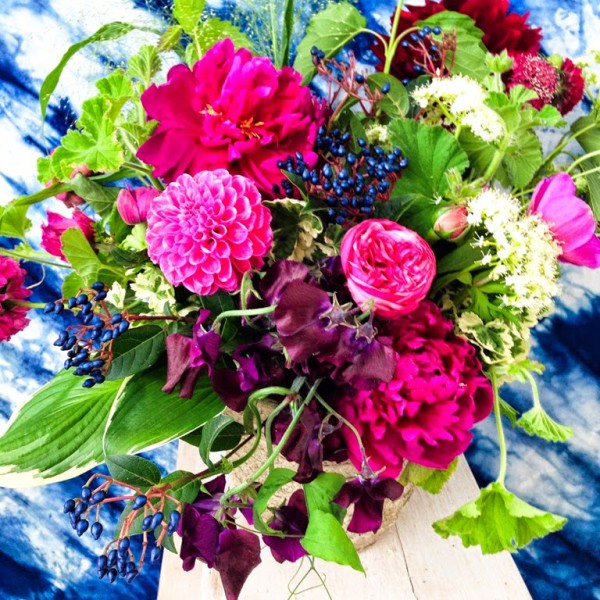 Of course, like anything experienced while in ecstasy, I have no recollection how I put this together.  I wish I remembered.
My second class was taken this past weekend with Heather from Twig & Twine in the Silver Lake district of LA.  It was an intimate class where Heather could give individual instruction when we needed it.  She was so knowledgeable and patient.  I loved how she instructed on design elements so we understood some basic rules, which of course are meant to be broken, but it gave me a focus point which was a good place for me to start.  When there's a roomful of beautiful flowers I want to use all of them!  Talking to myself – focus, focus, focus.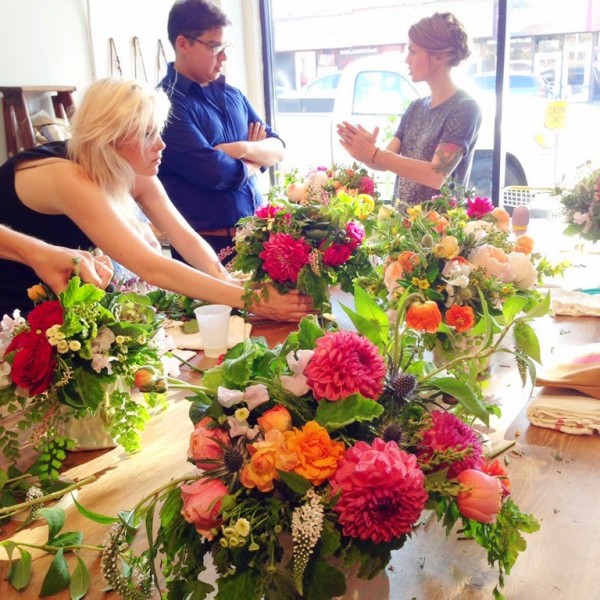 These goodies awaited each participant at our stations  for us to use and take home.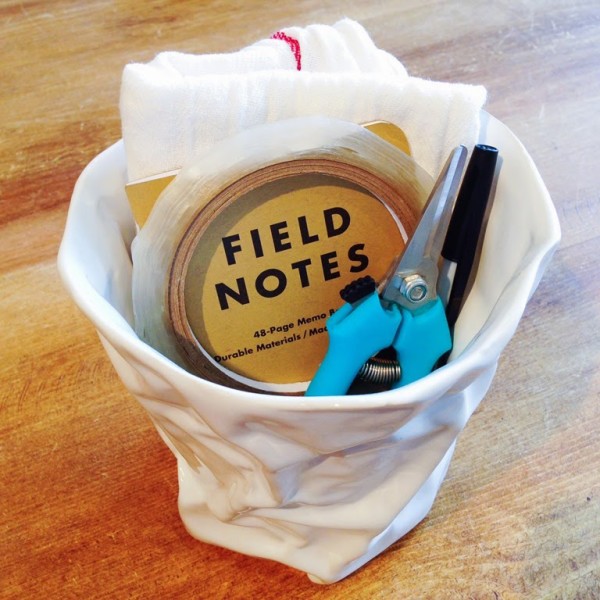 I loved the ceramic container that resembled crinkled paper.
We made the supportive structure by crisscrossing clear florist tape, making a grid on the top of the vase and then running the tape around the outside top to hold the taped lines.
We began by creating the greenery base which was made from geranium leaves similar to the DLF workshop.  Next, I added my 3 focal point dahlias and secondary purple thistle.  Heather shared with us that dark flowers add depth and of course, thistle is a biggie in the texture category.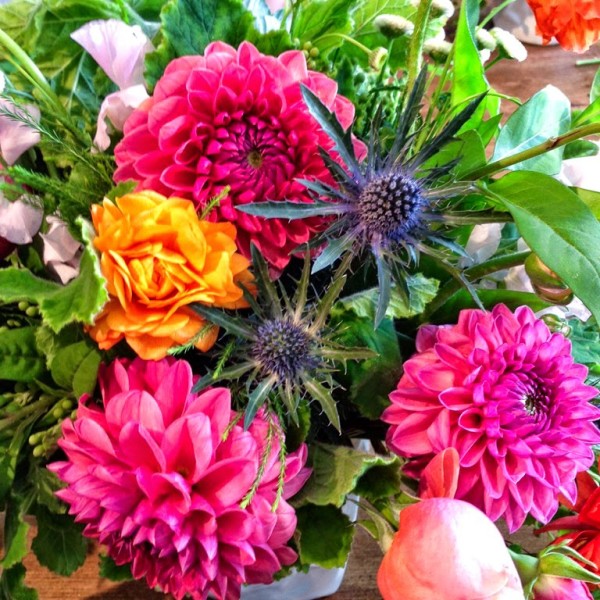 Here are some angled shots of my finished arrangement.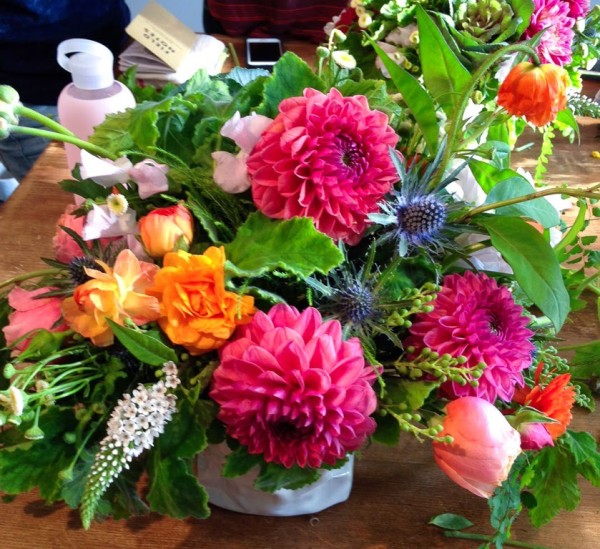 It was a hot day in LA and in the shop so my longer stemmed flowers weren't standing up as straight as when I first began, but then again, neither was I.  haha!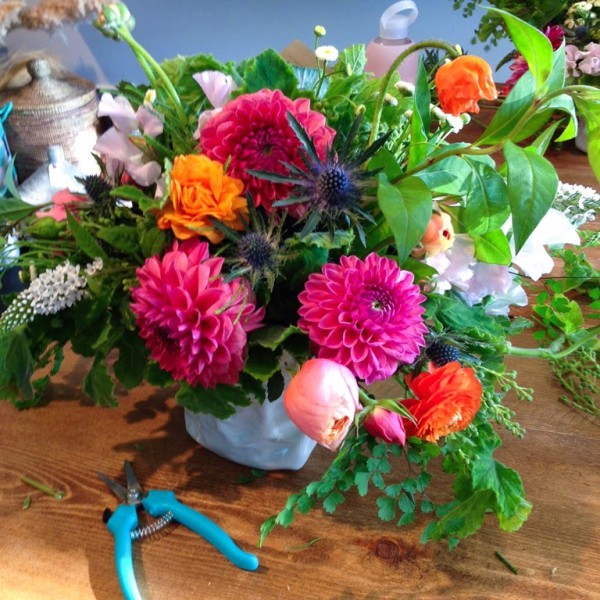 The left side of the arrangement.  A starburst of color and texture.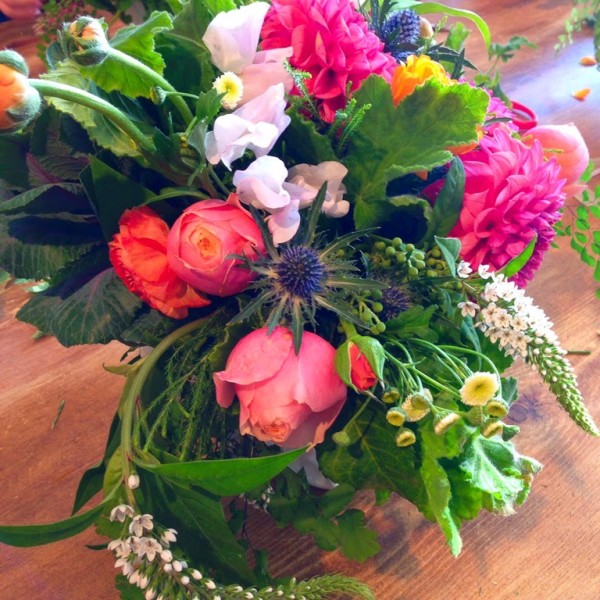 On the back of the arrangement Heather suggested using kale.  You can see it peeking out on the left side of the image above.
Isn't it amazing for adding texture and interest in the arrangement?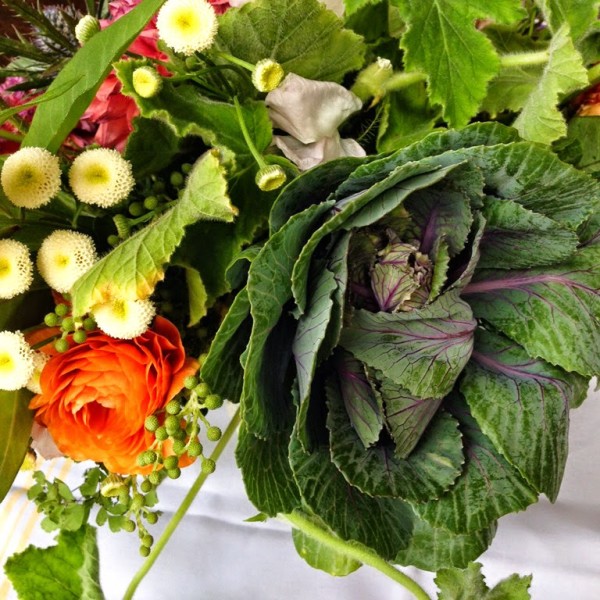 What are your favorite flowers in an arrangement?