Happy December!
I can't believe the countdown has begun! What have you got planned this holiday season?
This year we've been invited to a few parties where, for some reason, I've been asked to bring cookies. 😉 I wanted to design a cookie that said fun + party with more of a generic feeling in the holiday affiliation area but still said "happy holidays".
Did you know I'm crazy for pennants? What says fun + party more than pennants? I knew I had to incorporate them into the design and luckily they are a natural garland. In all my years of decorating cookies I had never made a holiday tree so I do believe it's time!
One of my favorite color combinations is pink and orange and I love decorating with it. It says "merry and bright" to me without it being a traditional holiday combination.
On to cookie decorating!
What you'll need:
The Best Sugar Cookie Recipe & Tutorial (which many of you have shared with me that it is) 🙂 Thank you!
Royal Icing Recipe & Tutorial in pink and white
Wilton's Orange and Rose cake decorating colors to tint the icing (or your own choice of colors and brand)
2 pastry bags
2 couplers for the pastry bag (optional)
2 plain round decorating tips – #2
1 squeeze bottle or spoon to apply thinned icing to cookie
Satin Ice fondant – a couple tablespoons of white (my favorite is Vanilla Buttercream flavor) to be colored orange and pink
Corn Starch for rolling fondant
Small fondant rolling pin
Pastry scraper or knife
assorted dragees – silver, pink or gold
The cookie shape is a basic Christmas tree outlined in pink with a #2 tip and filled in with thinned pink royal icing either using a squeeze bottle or spooning the icing onto the cookie. You can see the technique on the Christmas Ornament Cookies I made recently.
The pennant flags are cut out of rolled fondant that I tinted with Wilton colors – orange and rose. Wilton has the prettiest rose color that stays true when the color is deepened. On the cookies below, I brushed Wilton's pink luster powder over the iced cookie before adding the fondant pennants. The powder streaked a bit but I'm ok with that.
To make the fondant pennants:
Dust the board you will be working on with corn starch or sifted powder sugar. I prefer corn starch.
Roll the colored fondant thin but thick enough to hold its shape when lifted.
Using a knife or a pastry scraper, score the fondant in one diagonal direction keeping the lines intact and straight.
Score a second set of diagonal lines visualizing a pennant shape. Keep spacing equal.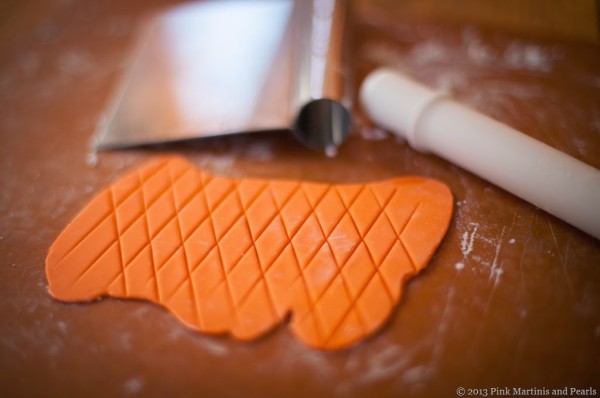 Note: To cut a bunch of pennants out at once, the pieces need to be attached to make all the cuts and that's what scoring does. Also, if you were to cut through the lines completely when the fondant is this thin and 'fresh', it will have a tendency to stick to the knife and the lines won't stay intact to make the other cuts. To keep your sanity, score the fondant for all the cuts and then come back when the fondant has had a chance to set up after a few minutes and either go back over your lines and cut them all the way through or bend the scored lines and separate the pennants into individual pieces. You'll see what I mean in the photos below. 🙂
Score lines horizontally through the intersecting diagonal lines.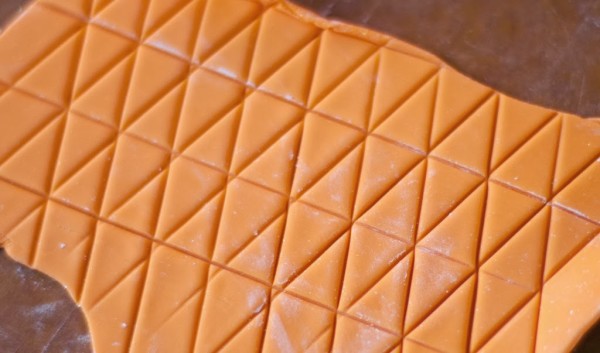 If there are any rough edges after bending and separating the pennants, they can be trimmed up with a paring knife on the board.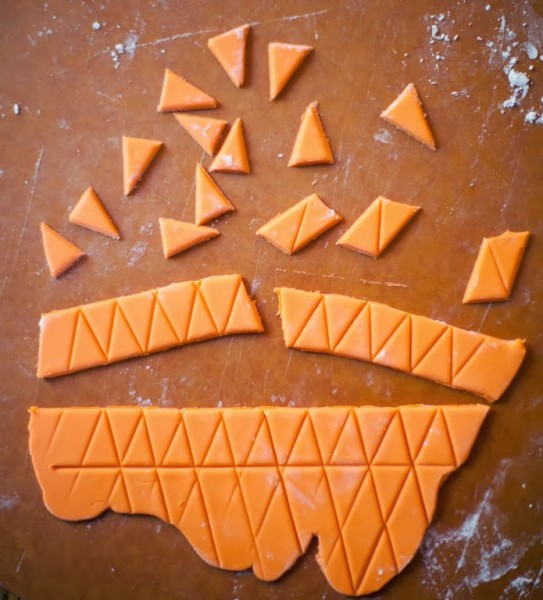 To finish the pennants, brush with a slightly wet brush to moisten the surface.
Sprinkle with Disco Dust in rainbow for added sparkle.
Note: You can make all sort of decorations with fondant. Let them dry and keep them in a container. They'll last indefinitely.
To Decorate the Cookie:
After you have piped the outline and filled in the cookie let it dry completely.
Pipe a graceful line of white icing with a #2 plain round tip. This will act as the garland the pennants are attached to.
Place the pennants on the line of icing.
Place choice of dragees close to the pennants. I experimented and tried different dragee colors and placement on the cookies. Totally a matter of preference. Which do you like?
And the sparkly 'snow'? Another great Wilton product called Cake Sparkles.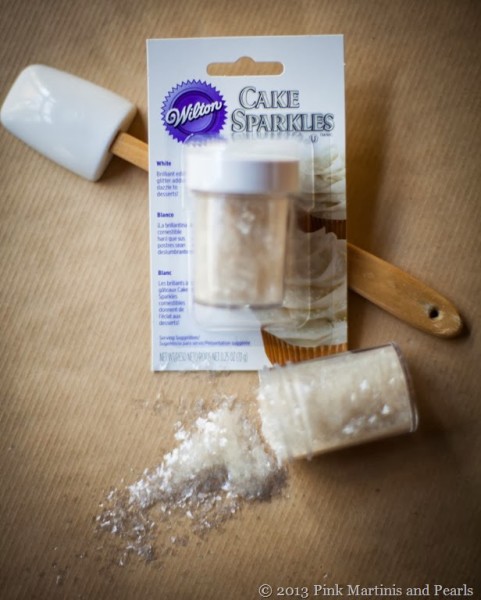 It's better used on top of buttercream icing on a cake or cupcake than on thinned royal icing as it melts into thinned icing but I also like using it on a plate or tray as a sparkly background to present holiday treats this time of year.
I was finally able to use my over-the-top pink pearl dragees for tree toppers. They're chocolate inside. Aren't they wonderful? I wish I could remember where I bought them so I could share that information with you. One option is to make little fondant balls and brush them with pearlized luster dust or perhaps a small fondant star but if you like these I'm guessing you'll be able to find them.
Remember my give-away for the snowflake fondant plunger cutters continue this week. Click on the link above and enter!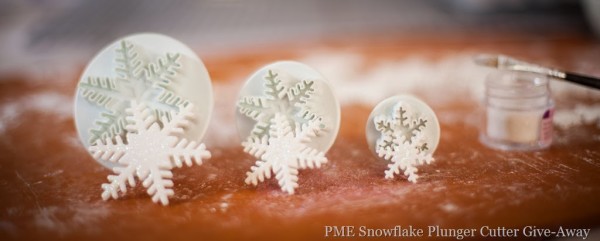 Wishing you a great first week of the last month of 2013!