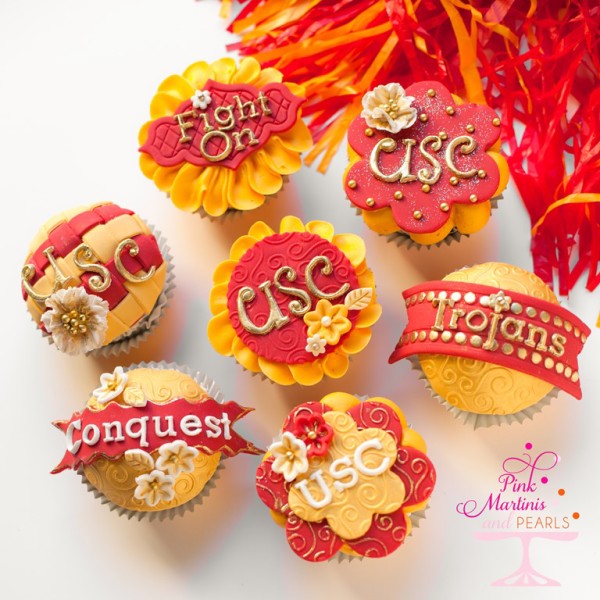 While I was making the USC cupcakes I had to open my college box and see what was in there since I haven't opened it up in a couple decades. I loved seeing dozens and dozens of handwritten letters from my friends. What a gift! There were letters detailing how they spent their summer vacations and hopes for the next school year. Lots of love letters from various gentlemen which were fun to read. Nothing will make you feel younger and older at the same time! I revisited the humor of my senior year room mate, Lorraine, who is the funniest person I've ever known and I even found letters written to me by my husband-to-be when he was a freshman in college and I was still in high school. He told me I was one of the nicest people he knew while he thanked me for making him chocolate chip cookies!
Each letter from my friends and family is priceless. I had no idea then how special those handwritten pieces of our souls would be. You can feel every emotion and every ounce of personality in one's handwriting with pen to paper. That just isn't possible with email.
I also found these – various spirit buttons I would buy at the bookstore before a game.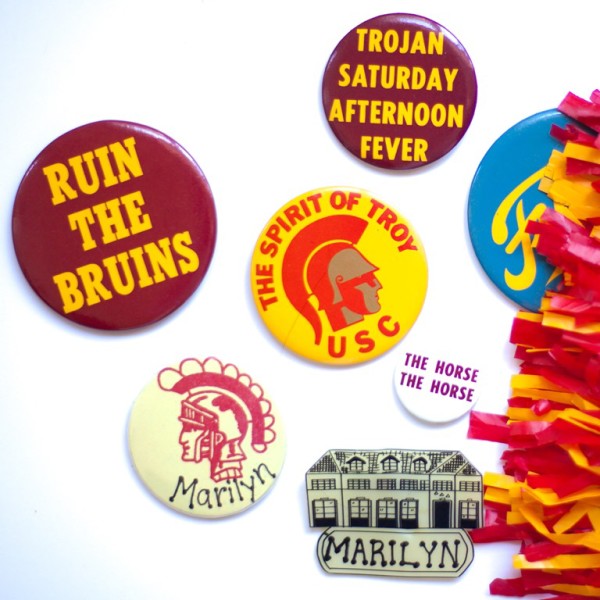 The house button was used during sorority rush at the Tri-Delta house. In my senior year I was voted VP. By that big front door under the Deltas, after one of the football games, I was given a kiss that made my toes curl and liked it so much I asked for another. Months later but right before graduation, in the same spot, my heart was broken into a million little pieces. In the box, I found a summer letter with news of an engagement. I remember reading that letter over and over as if doing so could change the contents. It was painful. We ultimately attended our respective weddings. Funny how things work out.
I was at the Rose Bowl on New Year's Day when USC won the championship against Michigan. The energy was incredible. I will always think USC and the team they're going to beat should be the only teams allowed to play in the Rose Bowl on January 1. It's true Trojan mentality.
I loved my time at SC. All of it. I hope you loved my USC cupcakes even if you're a fan of that "other" team. A cross-town rivalry is always fun to have but if you really want to score points, at halftime, go write a letter to someone special in your life, a real one, with a pen.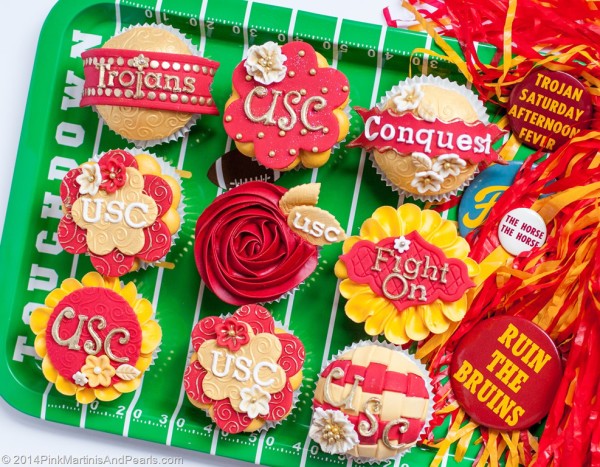 FIGHT ON! May the best team win. Like we don't know who that is! 🙂
Update: Ugh. Better luck next year!