Let's create a big bang with Red, White & Blue Daiquiri Cocktails for the 4th of July!
These festive cocktails always hit the top of my blog post trends this time of year so I'm posting a slightly revised post for new readers. The daiquiris are festive, refreshing, absolutely delicious and always make a big impact on guests! Just perfect for backyard celebrations on the 4th of July.
Of course, you can always make them a mock-tail by leaving out the rum since the flavor base is made with frozen limeade and lemonade.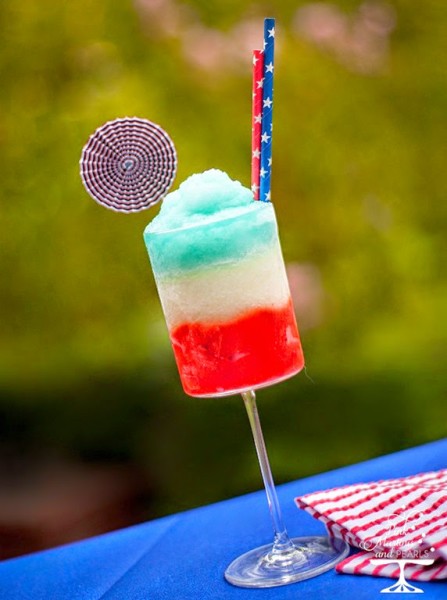 Besides adding a festive touch to your party, the daiquiris can be prepared ahead of time and stored in the freezer in plastic containers (my choice) or plastic ziploc-type food storage bags. I always do this so they are ready to go when guests arrive. If you have the vertical space in your freezer, you could pre-layer the drinks in the glasses and greet your guests at the door with one! How great would that be? See more tips below.
Your guests can choose their daiquiris or layer all three colors into the glass. The individual flavors blend perfectly: "Red" (strawberry), "White" (lemon-lime), and "Blue" (tinted with a splash of blue curacao, an orange flavored liqueur but because it's such a small amount the orange flavor is not noticable). Layering all three colors in the glass is my favorite look for the the 4th of July.
I planned ahead and froze fresh strawberries when they were at their peak locally but store-bought works just fine.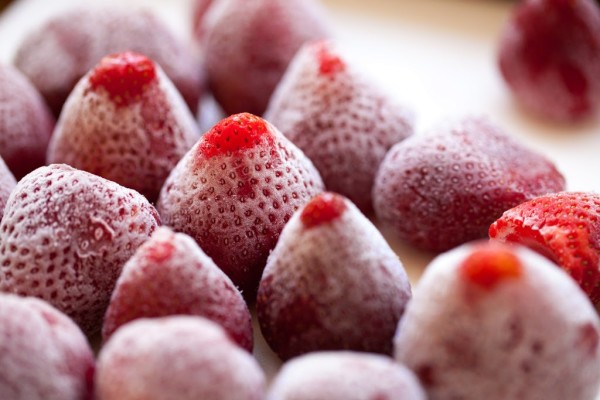 Tips:
The drinks can also be pre-poured into glasses and left in the freezer. This will save even more time during a party and frost the glass.
If drinks are kept in the freezer, the alcohol in the drinks will keep the mixture from freezing solid and will retain a perfect slushy texture. If your drinks are non-alcoholic, the mixture will freeze solid but will thaw quickly.
If you layer the red, white and blue daiquiris into one glass, spoon the second and third layers over each other instead of pouring. Pouring may mix your colors depending on how liquid the consistency is.
Each daiquiri flavor also makes a great icy dessert that can be spooned into a dish.
All frosty for the 4th!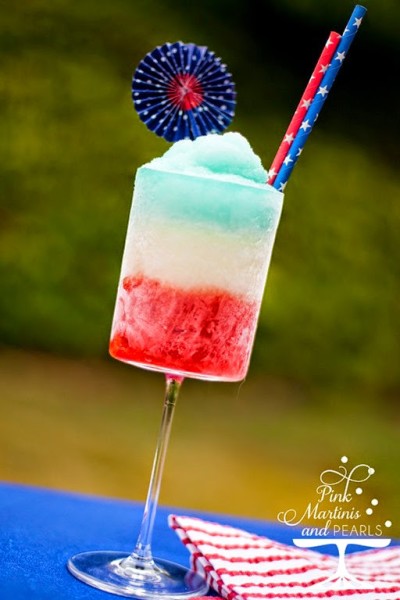 The Cocktail Base:
1 – 6-oz. can frozen lemonade concentrate (2/3 c.)
1/2 of a 6-oz. can frozen limeade concentrate (1/3 c.)
2/3 c. light rum *you can use the 6 oz. lemonade can to measure
1/4 to 1/3 cup powdered sugar (or more to taste)
3 c. ice cubes
Garnish (see below)
White Daiquiris ~
In a blender combine lemonade and limeade concentrates, rum and powdered sugar. Cover and blend until smooth. Add ice blending until slushy.
Makes 6 ~ 5oz. servings.
Blue Daiquiris ~
Prepare as for white daiquiris, except add 1/4 c. blue curacao along with the frozen lemonade and limeade concentrates, rum and powdered sugar.
Makes 6 ~ 6oz. servings.
Red Daiquiris ~
Prepare as for white daiquiris, except use one 6-oz. can of frozen lemonade or limeade concentrate. Add 2 cups frozen unsweetened strawberries or slightly sweetened red raspberries to the blender with the concentrate, rum and powdered sugar.
Makes 6 ~ 6oz. servings.
For Non-Alcoholic Daiquiris ~ Substitute pineapple juice or water for the rum. Add a touch of blue food coloring for the blue "daiquiris".

For extra bang! and pop!~
Dip strawberries into white chocolate and sprinkle with patriotic confections and slip onto the side of the glass for a garnish.
Cross-cut star fruit can also serve as a garnish.
Dip the rim of the glass into red, white or blue sugar.

Serve with festive patriotic straws.
Have a very happy 4th of July!