Happy Easter and Passover week!
I'd like to share with you what the latest in fashion accessories is for Peeps this spring season.
…but before we hit the runway…
Did I tell you I was in the Chicago area over the weekend? I attended a fabulous conference at Wilton Industries where I met fellow Sweet Team Members, members of the Wilton School of Cake Decorating, toured the headquarters (incredible) and did some hands-on decorating. I can't wait to show you the latest trends in decorating and baking but that will have to wait until my phone is fixed so I can grab all my photos. You can get a sneak peek on my Instagram page.
Back to the fashion show, I had this crafty DIY idea of making Easter Bonnets for Peeps before I left for my trip. I wanted my Peeps to be girlie and fun and something to use as a garnish for dessert dishes and beverages.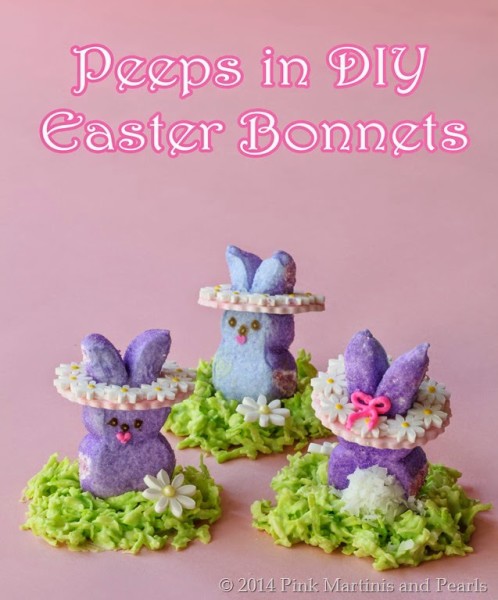 Rolled fondant makes it easy to cut-out a round ring to use for the hat and a daisy fondant plunger cutter creates the cute little flowers. Make extras to use on the green coconut/candy melts grass and for cupcakes or for other baking projects this spring.
Here's how to make the bonnets: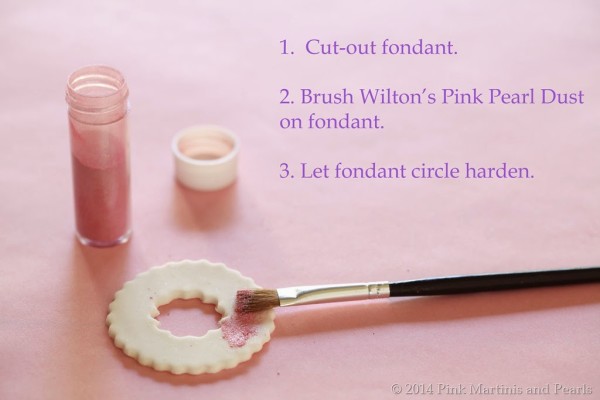 Color fondant daisy centers with Wilton's Food Writer.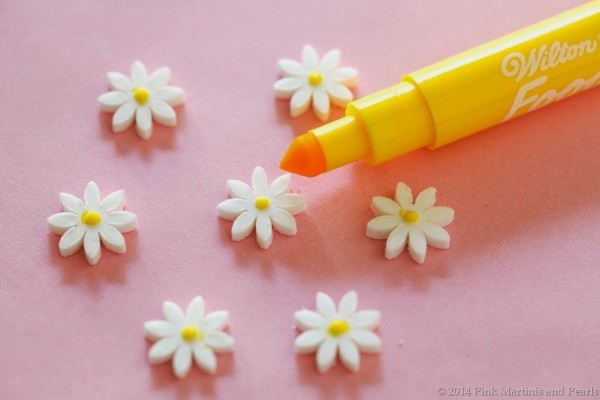 To save time and materials in not making a batch of icing when I needed only a couple tablespoons, I used Wilton's Ready-to-Decorate Buttercream icing in a piping can. I'm really surprised how much I loved the taste. It tastes very good, like you wouldn't mind if your entire cupcake was covered in it. That's my taste test. It was convenient to have on hand when I just needed a touch to adhere the fondant daisies to the bonnets and to make a tiny amount of icing to use for the lips, eyelashes and bow for the back of the bonnet. The icing comes in nine colors and has four interchangeable tips. I think it's…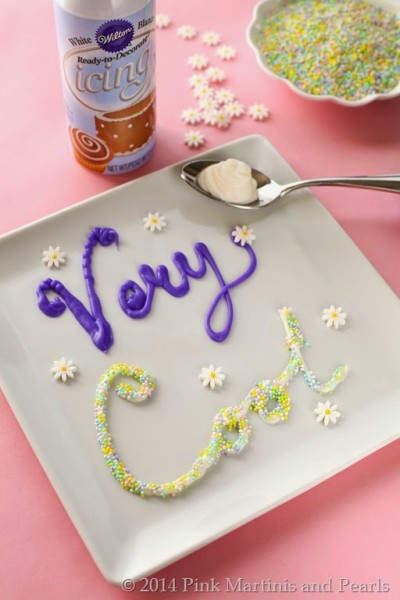 Back to the bonnets…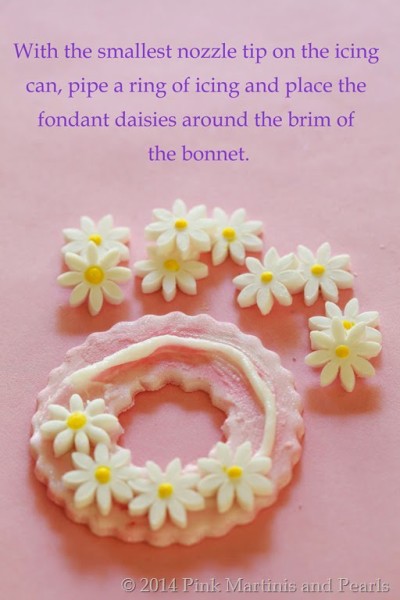 To place the fondant ring over the bunny ears, work from the under side gently tucking the bottoms of the ears up through the center hole. If you try to pull the ears upwards from the top, the marshmallow will stretch and tear.
TIP – To take care of those open marshmallow wounds on the sides of the Peeps that occur when separating the marshmallows, take sanding sugar in the same color as the Peep and dip it into the sugar. Regular granulated sugar can also be tinted with decorating colors.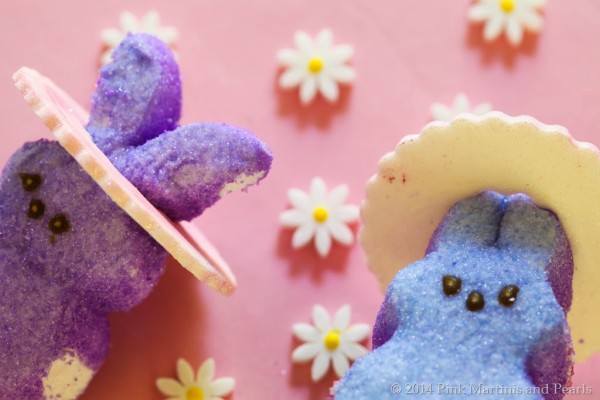 The edible grass is made from flaked coconut that has been tinted using a bright green decorating color. Melt Wilton's Key Lime Pie Candy Melts and mix it into the coconut. Holy moly! These little limey green discs are good! No, they are incredibly good. No wait! They are unbelievably good! Boy, are they good.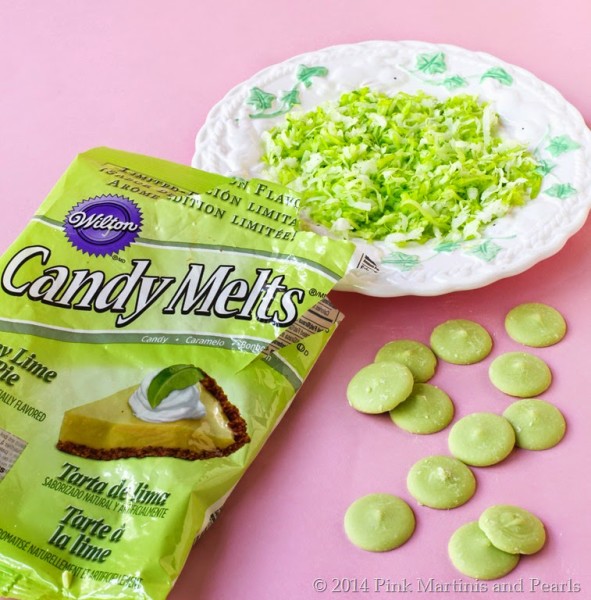 And because a gal's got to look her best for Easter brunch, cheery pink lipstick and mascara is a must!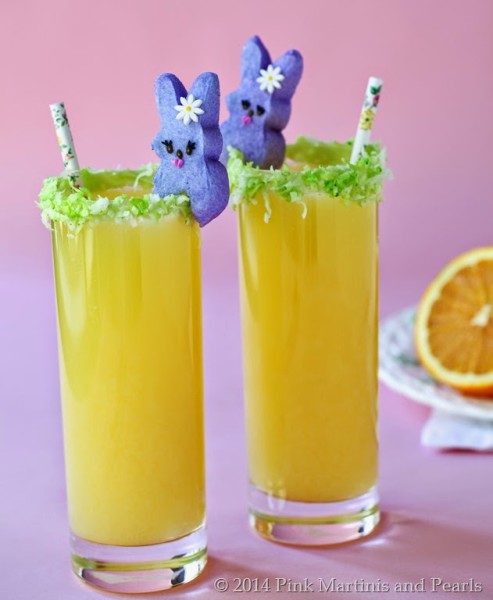 Pink martinis, anyone? Well, just one to be polite.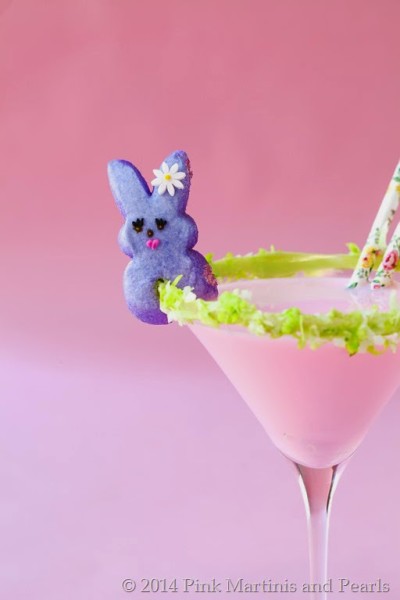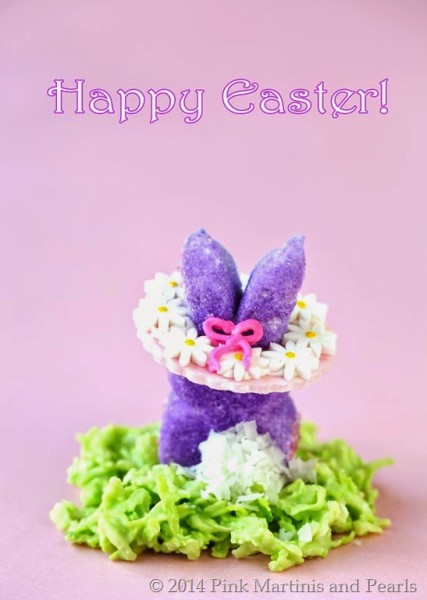 Still hungry? Brunch is served!
Disclaimer: I received the Peeps, Key Lime Pie Candy Melts, Ready-to-Decorate Icing, and Food Writers from Wilton as a Wilton Brand Ambassador. This post was something I created for my own pleasure and I hope it gave you some ideas to dress up your Easter brunches. All concepts, commentary, photography and product opinions are my own.