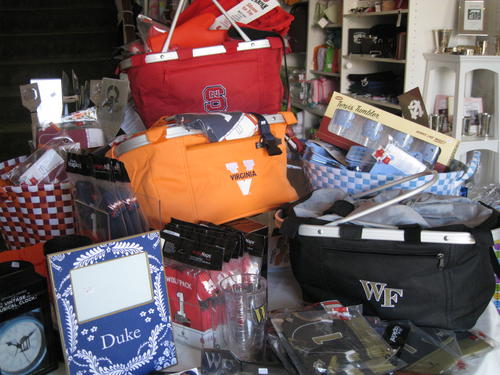 I LOVE all things collegiate not only because I am a
USC
alum and proud of it but all things collegiate were indoctrinated in me from birth. Orange County is Trojan Country although those from that
other
school across town and which must not be named
would have a different opinion. As I tell anyone my favorite teams are
USC
and
anyone
that is playing
UCLA
However, after spending this morning googling and checking out websites for collegiate needlepoint belts which will be another post this weekend, I have to admit by the sheer mass of collegiate items available to southern colleges no one seems to do tailgate better or celebrate the season as do the fans in the south and I raise my foam finger to them in respect. They are #1.
Look at these awesome tailgate finds from
Janice Crain Stationery
that I have never seen before
. Click on
Collegiate Items
on the side bar. I've seen the Tervis tumblers with the team logo but insulated collapsible picnic baskets? Very cool.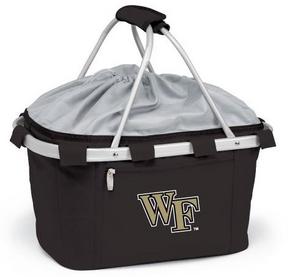 They can also be monogrammed.
Napkins that stand up in your team's jersey for your tailgate table scape.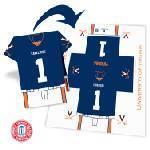 Touchdown!
Taking your meat and pride very seriously.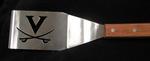 No putting a little shrimp on the bar-b here.
No sirree (shiska) bob!
And while the opposing team is getting their just desserts you can have yours too because winning the game was a piece of cake!

North Carolina cake pan
So enjoy your college game this weekend and I hope your team charges to victory unless your team is Washington State.
Here's my favorite wings recipe from the Steel Magnolia herself, Paula. These wings get an additional flavor boost since the wings are seasoned before they are cooked.
They are truly incredible! Enjoy!
Uncle Bubba's Wings
Ingredients
3 pounds chicken wings
1 1/2 cups hot Sauce
1 1/2 tablespoons Cajun spice
1/2 tablespoons cayenne pepper
3/4 tablespoon garlic powder
Oil, for frying
Buffalo Sauce, recipe follows
Directions
Combine hot sauce, and Cajun spice, pepper and garlic powder. Mix well and cover wings. Cover and let sit in the refrigerator for 24 hours.
Heat oil in a deep fryer or deep sided pot to 350 degrees.
Remove wings from marinade and drain off excess moisture. Add wings carefully and in batches to hot oil, it splatters. Cook until crispy about 10 minutes. Serve with dipping sauces.
Buffalo sauce:
8 tablespoons softened butter
8 tablespoons hot sauce
Combine butter and hot sauce. Whisk until blended.