Note: For the Bridal Shower Cookies seen on Classic Casual Home click HERE.

Happy Monday!
I hope everyone had a lovely Valentine's Day. It's hard for me to put away the pink and red hearts. I just love everything leading up to the day. One thing I missed this Valentine's Day were the green hills that would normally be here in February. Is anyone's weather what they expected this year?
I'm working on my next project – wedding dress cookies for a bridal shower. I've been sketching to try out different skirts and bodices. I'm far from being a pencil to paper artist so I decided to have some fun playing around with an app called Waterlogue. People have been using it like crazy on Instagram so I decided to give it a try because it's so cool. I love it. It's amazing how it transforms a photo into a water color 'painting' as you watch.
Here's the photo with the app. I'm showing it first so if the photo shows up as a thumb nail on your blog, you'll have the prettier of the two photos.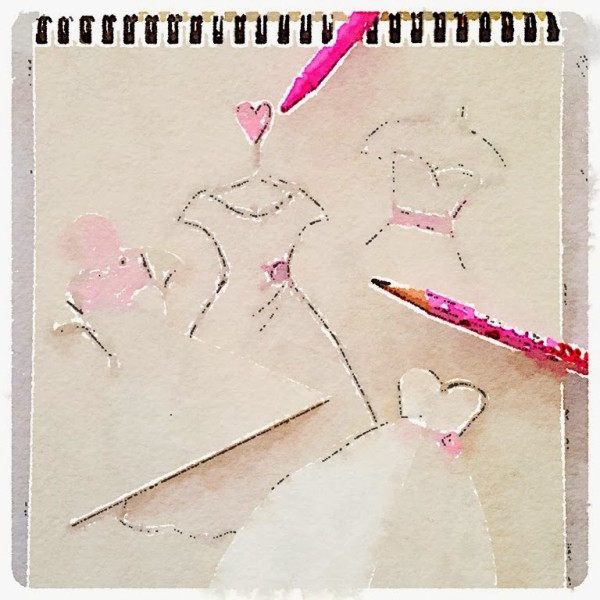 Below is the original photo. I feel like I'm showing you what I look like without make-up. Look quickly then avert your eyes! I told you I'm not a sketch artist. My sketches look a LOT better and artsy with the app.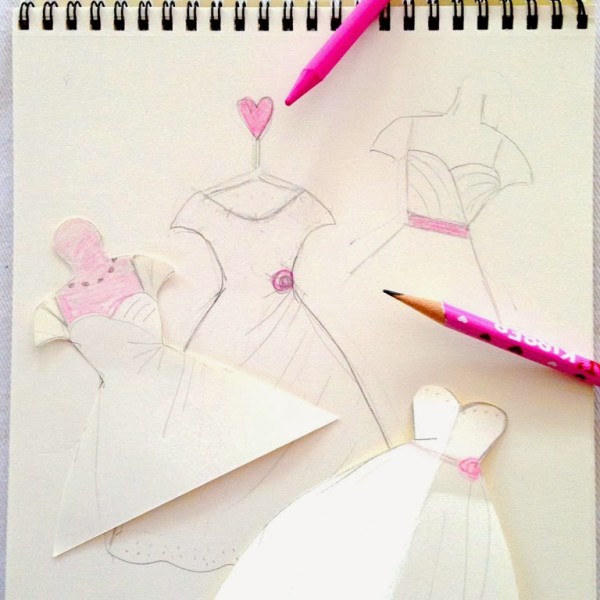 Pets get the Waterlogue treatment quite often on IG. Here's my sweet girl. This was taken at 3 AM when I couldn't sleep one night. She was sitting next to me on the sofa on a tan blanket with a blue towel from the clean laundry heap yet to be folded (did I say that outloud?) so I just snapped a photo of her and applied the app to it. So you can see the photo doesn't need to be stellar to begin with for it to come out terrific.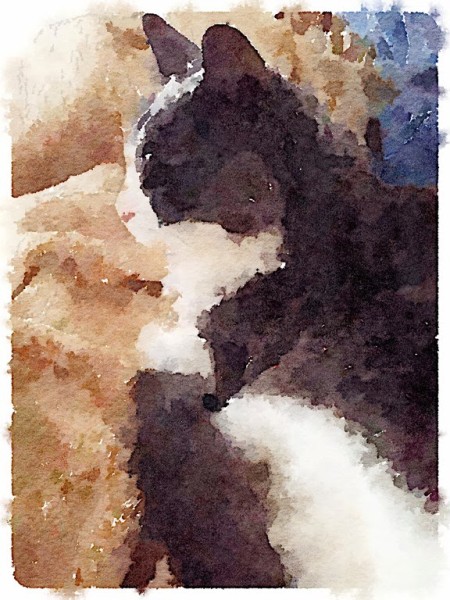 I also played around with Photoshop (PS) while vegging with a relapse this weekend of whatever I had after New Year's and never quite got over. A couple weeks ago I took an online PS class by Blogshop specially for bloggers. It was more graphic oriented than photo editing which is exactly what I had been looking for.
Even though I've learned the technique of dropping a photo into a shape in other PS classes I've taken at my community college, for some reason it clicked listening the the Blogshop girls. I highly recommend the online class if you've got a few bills designated to further your education.
Here I've taken a photo of flowers from my Valentine and dropped it into the heart shape. They're the most beautiful purple tulips. The chocolates are gone but the flowers remain. 🙂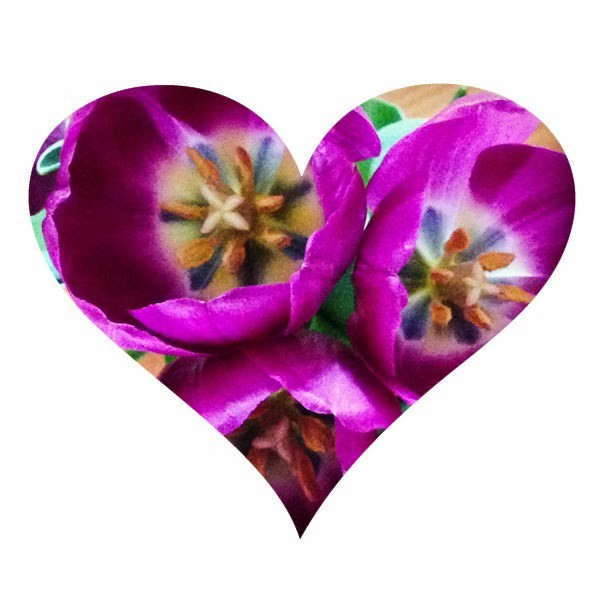 What's coming up next for you? Are you already onto spring? St. Patrick's Day and Easter? Suddenly I feel behind!
Have a good week! When the cookies are finished I'll post photos. 🙂