At first, Danny, my go-to guy at the salon told me if I bought one Brazilian procedure the
other
one
was free. I told him my Tierra del Fuego was off limits and I was there for north of the equator maintenance, not south of the border. Well, you know what I mean and what what I'm talking about, right?
The Brazilian Blowout.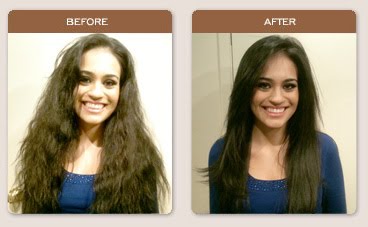 (Not me but my hair is naturally like this.)
The Brazilian Blowout (B.B.) is a process to tame all frizziness, leaving hair smooth and shiny. Unlike the Japanese Straightening (J.S.), this process leaves body in your hair although my natural waviness has also been tamed a bit more at the roots I still have about 3/4 of my hair that has the Japanese Straightening in effect.
Reasons for the B.B. ~
Wanting to try something less caustic on my hair.
Half the cost. (usually $250 but I was charged $200 for medium length)
Body remains in the hair.
Process ~
With the J.S. you can not wash the hair until 3 days after processing. With the B.B., hair can be washed immediately. In effect, there is no down time or hiding at home. I would call those 'my flat hair days'. There is still the chemical solution process, the wash, the flat ironing and the washing again but with the B.B. there is no neutralizing solution. The last step with the B.B. is a deep conditioner that put me under the dryer for about 20 minutes. The last step can be done at home the next day but I had it done while I was there.
After Treatment ~
The B.B. fades away after about 12 weeks, so I'm told, and there is special shampoo and conditioner that prolongs it. My hair is so smooth that I find I don't need the conditioner. The J.S. is permanent until it grows out but when it would be time for me to do it again, the bend was slightly returning to my hair.


Color Treated Hair ~
With the J.S. because it is so harsh, I would have to come back after a week and then get color. With the B.B. I got my color first, then a cut and then the process. I was told it actually helps to lock in the color by doing the process afterwards. It saves a lot of time in the end doing it all in one visit. In all, I was there 3.5 hours for the color, cut and process which is close to what the J.S. is alone.
So I'll see how it is and how it holds up.
As for that other Brazilian import ~ I'm stickin' with Sergio Mendes.
Here's more info on the Brazilian Blowout.