One of the most fun experiences I've had being a blogger, besides being a member of Wilton's Sweet Treat Team, was attending the #WiltonSweetUp last year in Chicago. The Sweet Up at Wilton's headquarters is host to what I would call a celebration as they reveal their new products and where decorating trends are announced. I loved being in the middle of all the excitement last year and I'm thrilled to be going again next week and in a way, you get to come with me! I'll be posting on Facebook and Instagram.
Because everyone is invited to virtually attend the event with me, Wilton is sponsoring an incredible SWEET UP SWAG BAG GIVEAWAY to ONE very lucky winner of Pink Martinis and Pearls! Yay!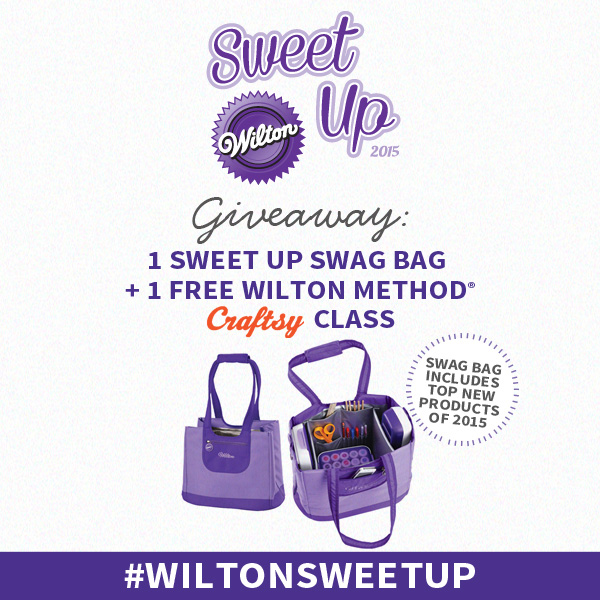 I was fortunate to have previewed and played with the new products I can tell you, what's in this Swag Bag are some products that you've never seen before and they are AWESOME!
Here's what's in the bag –
Color-Right – custom mix your own colors drop by drop with a blending chart to guide you!
Treatology Flavor System – custom blend your own icing flavors, yes, please! I love the coconut.
Color Swirl Tri-Color Coupler – swirling 3 colors at once is now very easy!
Mega Mini Muffin Pan – complete efficiency. crank 'em out 48 at a time!
Mega Cookie Sheet – 21″ x 15″
Variety of Cupcake Liners – you can never have enough. did you see the ones I Instagramed? gorgeous!
Display Your Way Cake Stand – a cake stand you can decorate with your party's colors. so cool!
Display Your Way Cupcake Stand – what a display! adjustable too from 5 to 25 cupcakes.
Cupcake Cone Rack – a surprise for me too! can't wait to see it!
The winner should expect a big box on their door step… but WAIT! There's more! 🙂
The winner of the #WiltonSweetUp GIVEAWAY will also win a FREE Wilton Method® Craftsy online class!
With the Craftsy class and all the wonderful products in the swag bag, you'll be all set for summer and beyond. Wait until you see these new products! Wow! They'll make the sprinkles fly off your cupcakes!
The sweepstakes is open to U.S. residents.
How to enter:
1. Leave a comment on this post with the hash tag #WiltonSweetUp
2. Visit Wilton's Facebook page and give it a "like" or go to their Instagram page and "like" it. You can find them by searching @wiltoncakes.
Click on the Rafflecopter form below to enter.
a Rafflecopter giveaway
THE GIVEAWAY HAS ENDED. Thank you for entering.