When you return from a vacation does it always take you awhile to acclimate again? I spent last weekend in Berkeley and Lake Tahoe with all my men and it was gorgeous! Did I even take one photo? No! I can't believe it but it proves how much I drank in the moment without a thought about getting a shot to post on Instagram or Facebook. In my zen state-of-mind I kind of forgot Easter is nearly here too! Instead of getting right back into baking and decorating as I had planned on doing yesterday, I decided to play hooky and go to the OC Flower Mart and buy a package of Peeps along the way for an idea I had. I may have not been in the kitchen but I'm always thinking of something to create.
The flowers were incredible! I decided on only four varieties – dahlias, ranunculus, purple stock and mini green hydrangea. The yellow center of the dahlias was a color I wanted to highlight with, you guessed it…. yellow Peeps!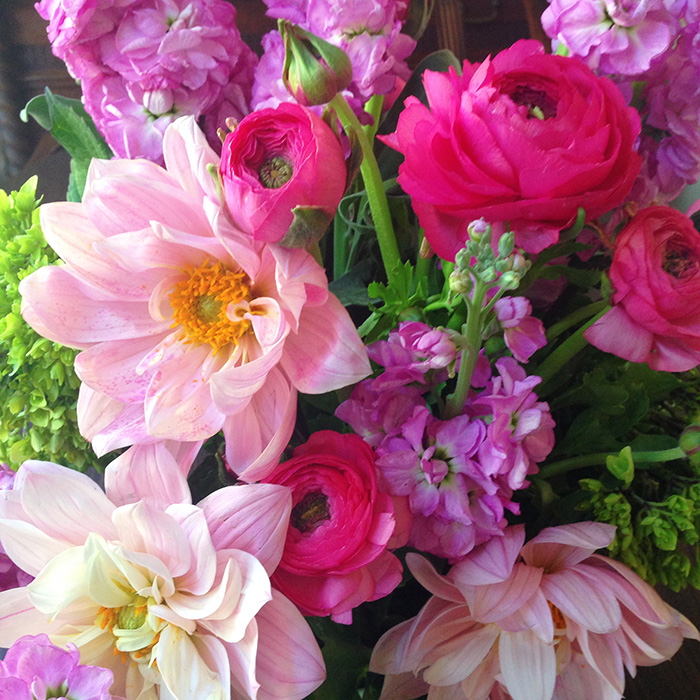 Just for little spring fling fun. I'll show you how simple it is. It's literally as simple as 1-2-3!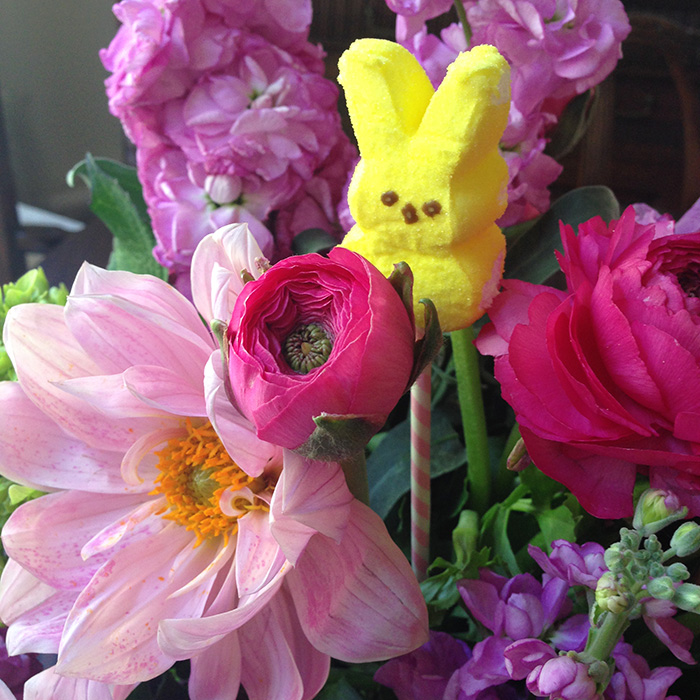 Things You'll Need:
Peeps
Washi Tape
Lollipop sticks (long is best)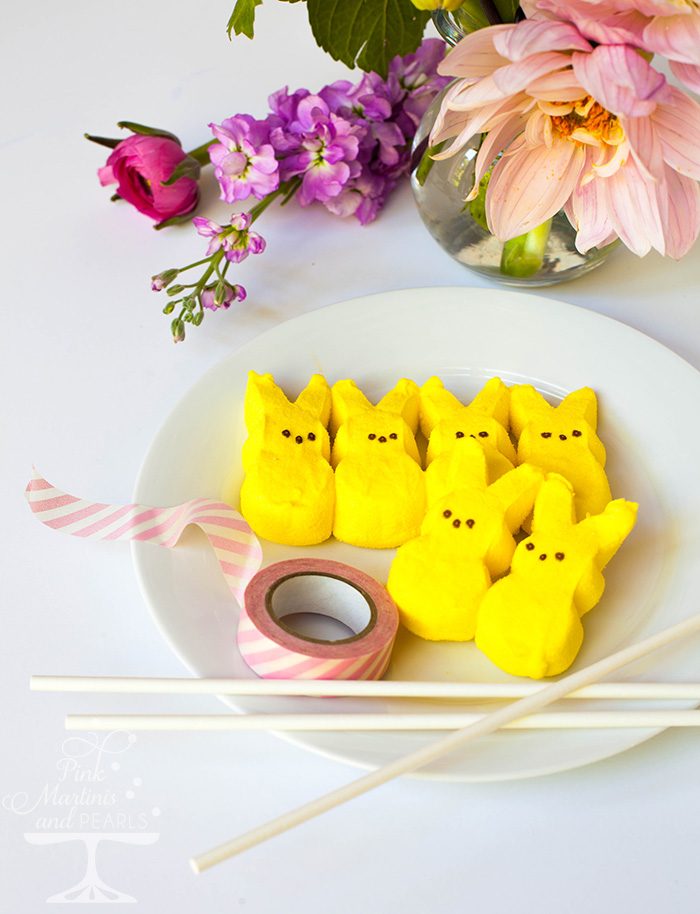 Steps:
Take a long lollipop stick and run a length of washi tape over the stick so the stick sits in the center of the tape length. The tape is re-positional so don't worry if the stick is not exactly centered. You could also position the edge of the tape on the stick but I prefer securing the stick in the center of the tape so I know it's even.
Roll one side of the tape over the stick and then the other. Cut or tear off any extra tape from the stick ends.
Gently push the stick up through the bottom of the Peep. Twisting the stick as you go might help to position the stick if the marshmallow is fresh.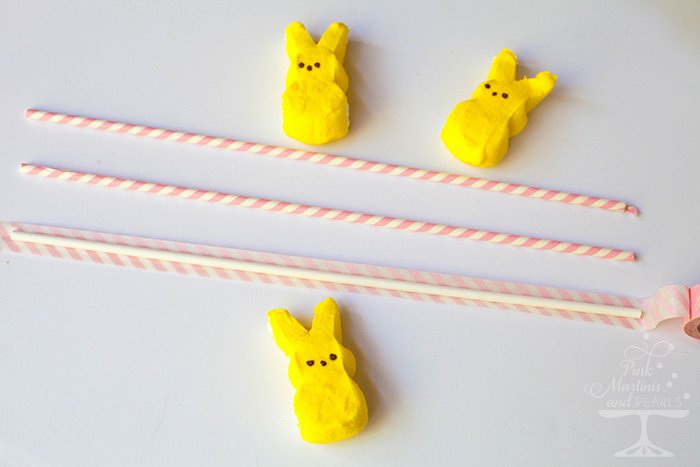 That's all there is to it! Snap the sticks to the desired lengths and place it into your arrangement. Go for a big Peep-a-palooza effect….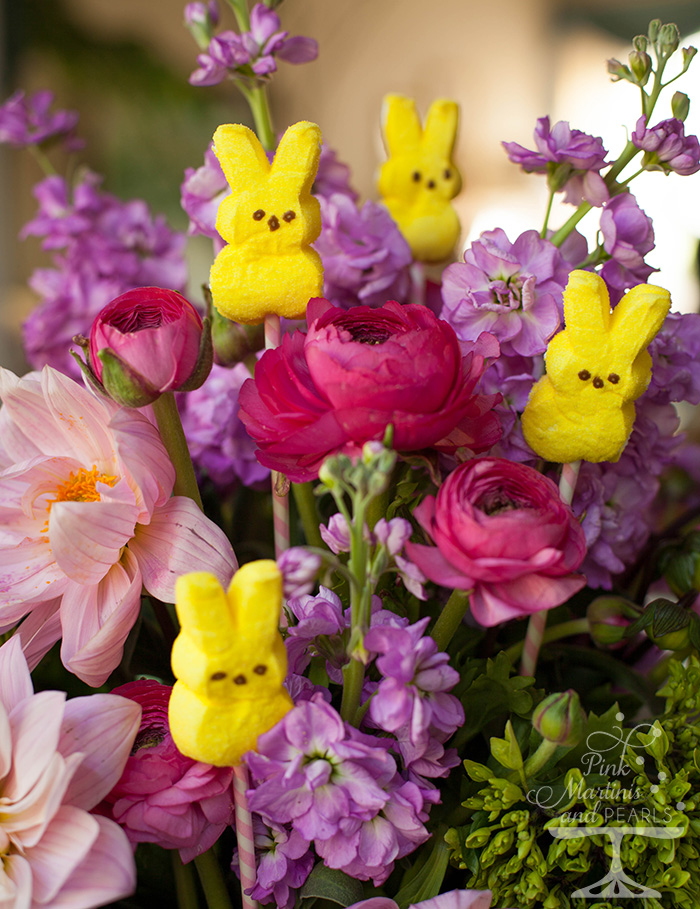 … or go for just a peep of a Peep.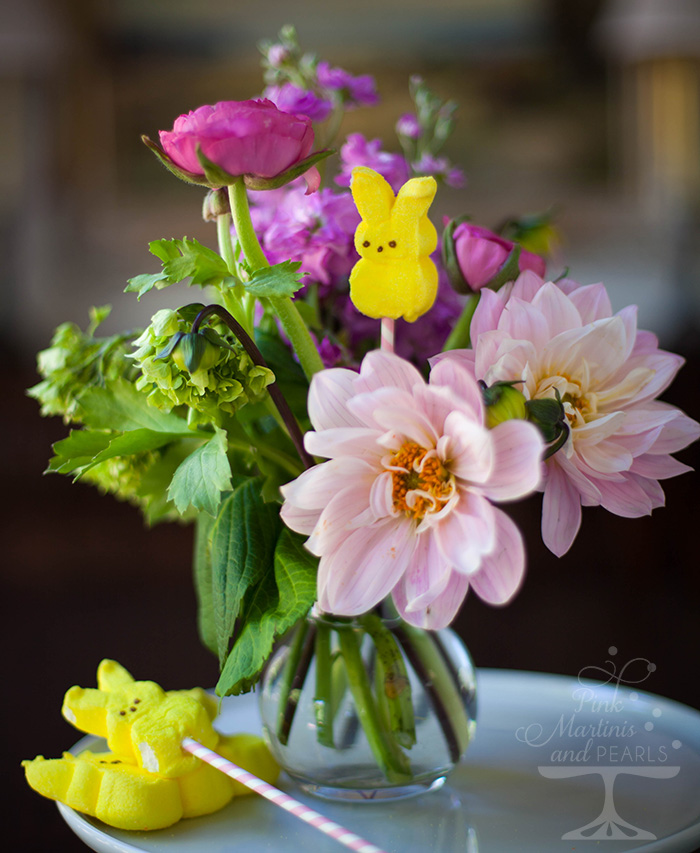 I took over the larger arrangement when I finished to my mother-in-love's place who is 92 years young and she loved the Peeps in the flowers and so did her friend who rang her doorbell to collect her for dinner. I think the Peeps are an unexpected addition to a spring bouquet and just a fun element to celebrate the season.
Have a Peep-a-licious day!
See the posts below for more "Peeps On Sticks" and Washi tape creations.