Growing up, I was always aware of the Chinese New Year or Lunar New Year, as it's becoming more commonly called it seems. Both my brother and I were born in the heart of Chinatown in downtown Los Angeles and my mother would recollect that when my brother was born fireworks were going off. Since his birthday is on Valentine's Day there's a good chance that this coincided with the Chinese New Year. No fireworks for me when I arrived in June, but apparently I chased the southland's June gloom away the day I was born. They were nice stories to begin our respective new years.
To honor the Lunar New Year this year, I decided to make almond cookies and decorate them with rolled fondant in traditional good fortune colors of red and gold. Since almond cookies accompany Chinese take-out, I thought Chinese take-out containers for the cookies' presentation would be the way to go.
I had used the Wilton 14pc. Flowers Cupcake Decorating Set for gold and white cupcake decorations around the holidays. It's a completely different look than for the New Year's cookies even though I used gold dragees and gold flowers on both designs. You can read the post here. And I only used one pattern of this impression kit. There are 12 other pieces to make countless designs but the flower stamp is my favorite. 🙂
To make the decorations for the almond cookies I used the following Wilton products:
Red Decorator Preferred Fondant
Yellow Decorator Preferred Fondant
Wilton 14pc. Flowers Cupcake Decorating Set
9″ Fondant Roller
Flower and Mini Leaf Fondant Cut-Outs Set
Water Brush
Dust n' Store Pouch
Gold Pearl Dust
The cookie recipe I developed turned out great in flavor, texture and for adding the fondant decorating top piece or cap. I've included a recipe below. If you want the traditional almond cookie crackle on top, then make sure you brush the cookie top with an egg wash. More about this in the recipe card at the end of the post because we're going to talk decorating first! Yay!
Below, is what I began with to make the decorations. Wilton's Decorator Preferred Fondant rolls out like a dream. I love working with it because it doesn't dry out quickly. I don't know what makes the rolling pin so special but it is. Trust me, I've got lots of rolling pins in my arsenal but I wouldn't be surprised if it's made for this formulation of fondant since the two together are perfection.
You can see I used the pink rolling guides to roll out the fondant very thin. Next comes making the impression with the stamp and then cutting it with the round cutter. This diameter works well for cupcakes. I adjusted the size of my cookie so the fondant round would fit. I did this by trying out different sized scoops of cookie dough, then baking samples to see what size of baked cookie would be the best fit.
My little trick for a perfectly formed fondant top is to place it on top of the cookie after cutting it while its still soft. There's usually enough moisture in the fondant so it will adhere to the cookie. Sometimes I'll give it a small dab of piping gel if it needs more sticking power but usually it doesn't. Weather probably has something to do with it too.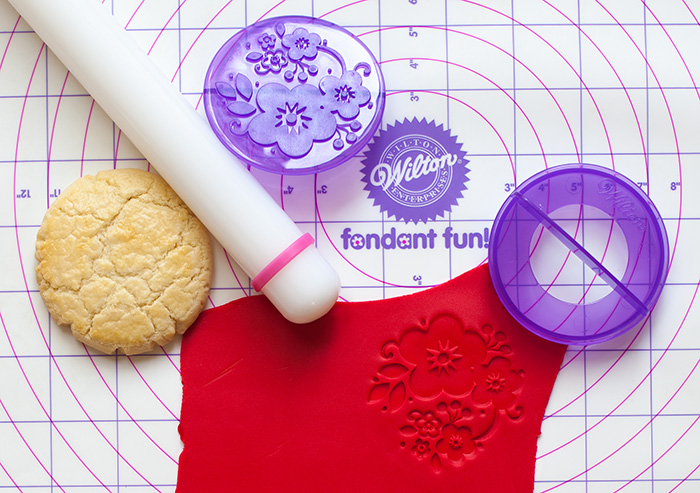 I love the look of the simplicity of the embossed fondant all by itself. At first, I was thinking of packaging the embossed cookies in the take-out box and only one fancy cookie on top but I love to decorate so I couldn't hold back!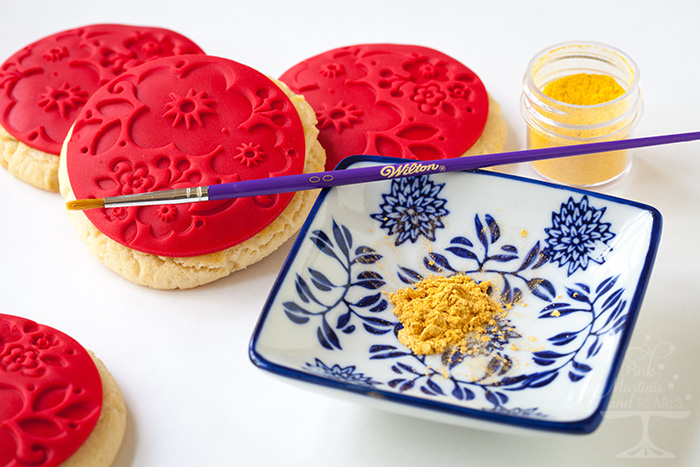 The gold pearl dust, used dry, makes such a pretty, glowing effect.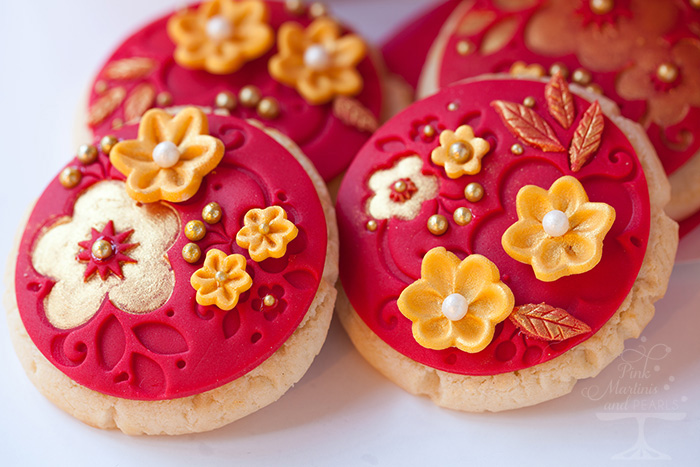 The yellow flowers were made with the Yellow Decorator Preferred Fondant and the large flower plunger from the Flower and Mini Leaf Fondant Cut-Outs Set. I would have used the leaf plunger but my garbage disposal ate it. I'm so sad. I loved my little leaf plunger but it was easy enough to cut leaves out with the tip of a small paring knife. I dusted the leaves first then pressed the knife tip in to make the veins. Making the vein impressions after the dusting shows more of the veining effect.
I attached everything on the red fondant with water using the Water Brush or the end of the small brush dipped in water for the tiniest gold dragees.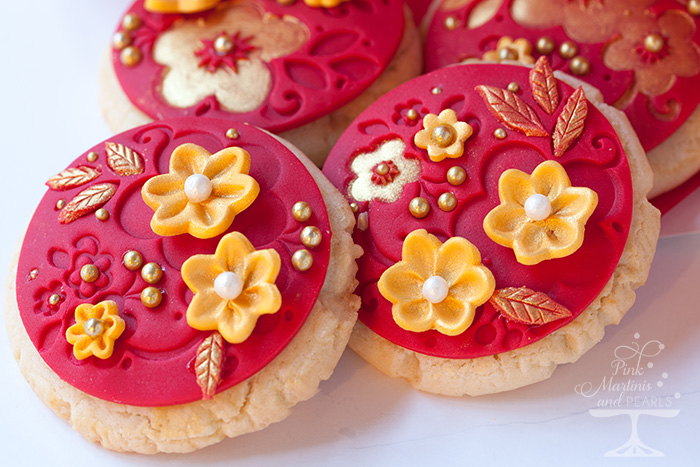 I used red glassine paper to line the box and tied it with red grosgrain ribbon for the handle.
If you're thinking all the decoration accoutrements might be too much to bite into, the fondant top pops right off with a nudge. The little dragees and flowers can be flicked off too. 🙂
All ready for delivery!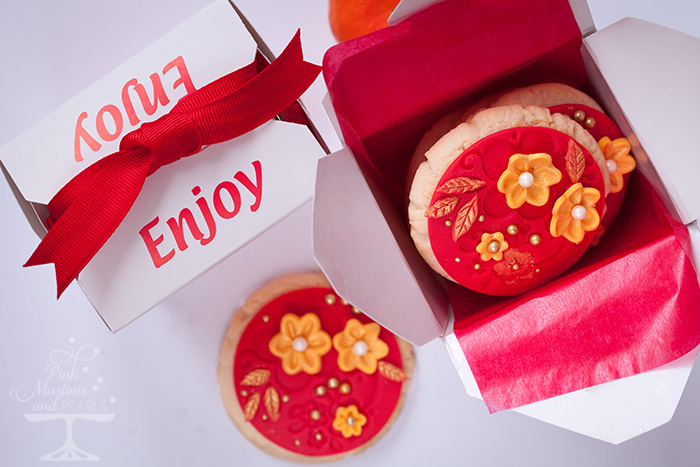 Happy New Year!
Almond Cookies for Chinese New Year
2015-02-19 04:10:34
A tender, intensely flavored buttery sugar cookie that's perfect for tea.
Ingredients
2 cups all-purpose flour
3/4 cup granulated sugar
1 1/2 tsp. baking powder
1/8 tsp. salt
3/4 c. butter
1 large egg
1 1/4 tsp. almond extract
Egg Wash
1 egg, slightly beaten
2 tsp. water
Bake at 350 until golden, approx. 12 minutes.
Instructions
Cream softened butter and sugar. Add egg and beat. Add extract. Sift flour, baking powder and salt together and add to wet ingredients to combine.
Dough can be scooped immediately or refrigerated. Line a baking sheet with parchment and scoop approx. 1 1/4 in. balls onto sheet. Press each ball down with the bottom of a glass to flatten to about 1/4 in.
Notes
1. Brushing the tops of the unbaked cookies with the egg wash will give the traditional crackled top. if you prefer a more yellow color, use only the egg yolk and water omitting the egg white.
Sweets To Impress https://www.sweetstoimpress.com/